Waivering: Week 10
1541511655
By JEFF PAUR
Sr Fantasy Writer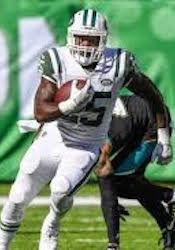 McGuire returned from injury
There continues to be a handful of players that are emerging at this point of the season. These guys are likely available in your fantasy leagues, so give them consideration if you need the help. You can never count on a player to be a stud that you just picked up off waivers, but there always is that chance that there recent strong play can continue. Below are some possible fantasy players that could help fantasy teams the rest of the year.
QUARTERBACKS
Case Keenum, Broncos. Keenum threw for 290 yards and a touchdown last week without an interception. He has 290-plus passing yards three of five games and 260-plus passing yards four of those games. He is getting his yards and some scores, proving to be a decent streaming option for fantasy teams.
Nick Mullens, 49ers. Mullens was a huge surprise last week. He got his first NFL start and the undrafted rookie looked like he had been playing for 10 years. He was 16-of-22 for 262 yards and three touchdowns without an interception. He could get another start this week and might be worth using against a struggling Giants team.
Baker Mayfield, Browns. Mayfield has multiple touchdowns three straight games. He also has 290-plus passing yards three of seven games. He has posted some pretty good numbers for fantasy teams and has some favorable matchups in the coming weeks. He is worth a look if you need quarterback help.
RUNNING BACKS
Mike Davis, Seahawks. Davis led the Seahawks in rushing last week, rushing 15 times for 62 yards. But more impressively, Davis caught seven passes for 45 yards. He has double-digit carries four of five games. He is the backup to Chris Carson but getting his weekly chances and has some value as a flex play in the right matchup.
Ito Smith, Falcons. Smith scored another touchdown last week, giving him four touchdowns in five games. He had a season-high in rushing last week, running 10 times for 60 yards. He has good touchdown potential in this offense and is available in 38 percent of leagues.
Elijah McGuire, Jets. McGuire returned from Injured Reserve last week and looked good in his first game back from a foot injury. He was heavily involved in the offense, rushing seven times for 30 yards. He also had three catches for 37 yards, giving him 10 touches for 67 yards. He could be the top change-of-pace back for the Jets the rest of the year. He has good potential going forward and is available in 74 percent of leagues.
Duke Johnson, Browns. Johnson finally was heavily involved in the offense, getting nine receptions for 78 yard and two touchdowns. A new coach and offensive coordinator could be just the thing to get Johnson going in this offense. Johnson has at least four receptions three of four games and can be one of the top pass-catching backs in the game. He is available in 33 percent of leagues.
WIDE RECEIVERS
Curtis Samuel, Panthers. Samuel had two touchdowns last week - one rushing and one receiving. He had three touches in the game but made the most of his chances. He is a big-play threat that could be getting more chances in this offense going forward. He might be worth a speculative add for fantasy teams.
Adam Humphries, Bucs. Despite his recent surge in production, Humphries continues to get little respect in fantasy circles. He is available in 95 percent of leagues, but that is likely to change this week. He had his best game of the season in Week 9, catching eight passes for 82 yards and two touchdowns. He has 15 receptions for 158 yards his last two games and at least four receptions four of five games. He has value as a low-end No. 3 or 4 fantasy receiver int his pass-first offense.
Maurice Harris, Redskins. Harris was a huge surprise last week, catching 10 passes for 124 yards. He had just 11 receptions for 102 yards coming into this game. Harris has emerged as the slot receiver for the Redskins, though, and could be getting more and more work the rest of the year, especially with Paul Richardson out for the season.
Willie Snead, Ravens. Snead led the Ravens in receiving last week, catching seven passes for 58 yards. He has 12 receptions his last two games and at least five receptions five of six games. He has gotten a lot of weekly targets and produced consistent numbers for fantasy teams. Snead remains available in 62 percent of leagues.
Cordarrelle Patterson, Patriots. Patterson continues to get chances at running back and is taking advantage of his workload. He rushed 11 times for 61 yards and a touchdown in Week 9, leading the Patriots in rushing. Patterson is likely to continue to have a role as a running back going forward but his workload could be sporadic with Sony Michel expected to return.
TIGHT ENDS
Jeff Heuerman, Broncos. Heuerman emerged as the top threat in the Broncos passing game last week, catching 10 passes for 83 yards. This game came a little out of nowhere for Heuerman, who had more than 50 yards just once all season before this big game. But he does have scores two straight and is quickly gaining the confidence of Case Keenum. He might be a good spot start the rest of the way for fantasy teams.
Christopher Herndon, Jets. Herndon broke his touchdown streak last week but had a season high in yards. He finished with four receptions for 62 yards. Herndon has touchdowns three of four games and multiple catches three of those games. He has become a consistent threat in the Jets passing game, giving him some value to fantasy teams.
Jeff Paur is a two-time finalist for FSWA Fantasy Football Writer of the Year and won the FSWA award for Best Fantasy Football Article on the Web in 2011. He also was the most accurate expert in 2012, winning the FSTA Fantasy Football Accuracy Award. If you have any questions for Jeff, email him at jeff@rtsports.com. Follow Jeff on Twitter @jeffpaur.