Early ADP Trends
Tue Jul 16 4:14pm ET
By JEFF PAUR
Sr Fantasy Writer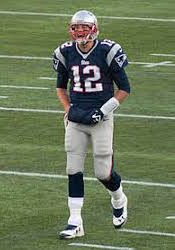 Brady is 18th quarterback selected
It is very early, but trends are starting to form in drafts. There have been a ton of drafts on our site already, giving us a pretty good indication of ADP. We thought it might be a good time to take a closer look at the ADP numbers and what it might mean to you.
First off, any of the big four running backs (Barkley, McCaffrey, Elliott or Kamara) are getting picked with the first four picks. But for now, Barkley is the consensus No. 1 overall pick, followed by McCaffrey, Elliott and Kamara. Either way, if you want one of these four backs, you better have a top-four pick.
The tight end position is an interesting one this year. The top three consensus tight ends are Travis Kelce, Zach Ertz and George Kittle. If you want one of these guys, you better act early. They are not lasting long. Kelce is even going in the first round in some drafts. He has an ADP of 14.94. Ertz is more of a second-round pick, having an ADP of 25.08. Kittle is a second or third round pick with an ADP of 30.47. The next tight end getting picked is O.J. Howard. His ADP is just 60.44, though, going 30 picks later than Kittle.
Patrick Mahomes is the clear No. 1 quarterback in early drafts. He has an ADP of 33.66. He goes well before the second quarterback selected, which is Andrew Luck at 58.61. So if you think Mahomes is going to repeat and have another huge season, you better act early to get him. He is going in the third or fourth round of most drafts.
The Baker Mayfield hype is in full effect. He is the fifth quarterback off the board with an ADP of 85.21. He is getting selected ahead of players like Matt Ryan, Russell Wilson and Drew Brees. Another young quarterback that is getting early love is Kyler Murray. He is the 12th quarterback off the board and has an ADP of 115.51. Murray is getting picked as a low-end No. 1, showing that a lot of fantasy owners have faith in him for a big first season.
Tom Brady might be the biggest surprise at quarterback right now. You never thought you would hear this, but he is currently the 18th quarterback getting selected in drafts. He has an ADP of 145.71 and is getting picked after guys like Mitch Trubisky, Dak Prescott and Kirk Cousins. It is a little surprising to see him falling, but Brady certainly has questions marks the year with his age and lack of depth at receiver and tight end for the Patriots.
Toddy Gurley is a big question mark for the coming year because of his knee issue, which limited him down the stretch last year. You just don't know how he is going to respond this year and if he will get the workload of past seasons. But even with that said, his ADP is 16.43. Owners are still taking him the second round of drafts because of his past history and huge potential if healthy and playing at a high level.
Josh Jacobs is the first rookie running back getting selected and also the highest rookie overall. He has an ADP of 31.34. Jacobs is the unquestioned starter in Oakland and has little competition for carries, which is driving up his price tag for the coming year. The next rookie back off the board is David Montgomery. He has an ADP of 50.50. Montgomery has more question marks than Jacobs for the coming year, but certainly has potential for big things if he gets the work.
The receiver position has a few notable trends. First off, JuJu Smith-Schuster (15.12) is getting picked before Antonio Brown (20.26). Smith-Schuster is the clear No. 1 target for the Steelers with Brown gone. The move to Oakland has clearly hurt the value of Brown. We'll see how it all plays out this coming season.
Larry Fitzgerald is an intriguing fantasy receiver. He is dirt cheap right now, having an ADP of 101.65. The veteran receiver isn't getting any younger but hasn't shown a ton of signs of slowing down in recent years. And now he gets to play in a wide open, pass-first offense with a promising rookie at the helm. He could be worth grabbing at his current price.
Amari Cooper is another somewhat polarizing fantasy figure. He can be huge one week but disappear the next. A move to Dallas is supposed to help stabilize his production. We'll see. For now, you need to act pretty early to get the Cowboys early No. 1 receiver. Cooper has an ADP of 32.86, making him a third-round pick.
A couple injury and suspended players are worthing looking at too. Tyreek Hill is the big one. We aren't sure how long or if he will be suspended at this point, causing him to be a huge fantasy question mark. Hill has an ADP of 52.98. This could end up being a wasted pick or a great one, depending on how the possible suspension plays out.
Josh Gordon is another player with suspension issues. He is currently suspended but could be reinstated at some point this year. If that happens, he could play a huge role in a passing game looking for options. Gordon has an ADP of 174.10, meaning he is getting picked near the end of drafts.
Cam Newton is returning from offseason shoulder surgery and is currently the ninth quarterback off the board. He has an ADP of 109.68. Newton missed two games last year because of injury and was still 14th overall in fantasy quarterback scoring. His shoulder is a concern going forward but his current ADP and the depth of the quarterback position make Newton a risk that might be worth taking because of his past success.
Hunter Henry missed all of last season because of a torn ACL but his stock is pretty high despite returning from a major injury. He is the sixth tight end selected, having an ADP of 70.82. He seems to be an early target for all of those owners that passed on one of the big-three tight ends.
So with this all said, don't use ADP as your rankings. These are a tool to help you come draft day. The ADP gives you an idea of where players are being selected. Either way, we always suggest targeting some players for the season and grabbing them. You might have to go a round or two earlier to get them but that is alright. Get the players you want on your roster. Good luck in all your drafts!
Jeff Paur is a two-time finalist for FSWA Fantasy Football Writer of the Year and won the FSWA award for Best Fantasy Football Article on the Web in 2011. He also was the most accurate expert in 2012, winning the FSTA Fantasy Football Accuracy Award. If you have any questions for Jeff, email him at jeff@rtsports.com. Follow Jeff on Twitter @jeffpaur.