The Latest: Lions fans still angry about Monday officiating
Sun Oct 20 1:22pm ET
By The Associated Press

Players: Ryan Tannehill, Teddy Bridgewater, Marcus Mariota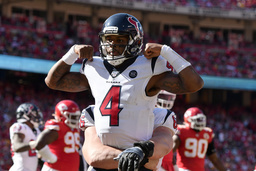 Houston Texans quarterback Deshaun Watson (4) celebrates his touchdown against the Kansas City Chiefs during the second half of an NFL football game in Kansas City, Mo., Sunday, Oct. 13, 2019. (AP Photo/Ed Zurga)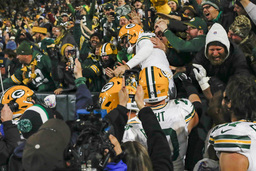 Green Bay Packers kicker Mason Crosby celebrates kicking the game-winning field goal by jumping in the stands following an NFL football game against the Detroit Lions, Monday, Oct. 14, 2019, in Green Bay, Wis. Green Bay won 23-22. (AP Photo/Jeffrey Phelps)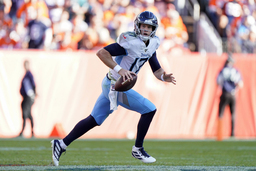 Tennessee Titans quarterback Ryan Tannehill scrambles during the second half of an NFL football game against the Denver Broncos, Sunday, Oct. 13, 2019, in Denver. (AP Photo/Jack Dempsey)
The Latest on Week 7 in the NFL (all times EDT):
1:10 p.m.
It's a different officiating crew this week, but Detroit fans don't care.
Lions fans booed loudly when the official began talking during the opening coin toss before Sunday's game against Minnesota. It clearly was a reaction to Monday night's game at Green Bay, where Detroit was on the short end of some questionable calls in a 23-22 loss.
The first flag of this weekend's game drew boos immediately when it was thrown. Then those became cheers when it turned out the penalty was on Minnesota.
- Noah Trister reporting from Detroit