Lineup Prep: Week 11
Wed Nov 13 10:28am ET
By JEFF PAUR
Sr Fantasy Writer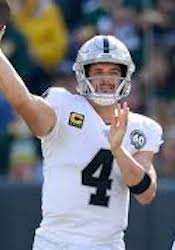 Carr can shine in Week 11
Well, it is do or die for many teams at this point of the season. Some teams need a win in the worst way to keep their playoff hopes alive. Time is running out for a lot of teams. Hopefully, your team is in position for a long playoff run. But if not, now is the time to make your move. There is still hope if you are sitting outside the playoffs. Things can turn around in a hurry. Don't give up yet but get on that winning streak now.
Now for my random thoughts for the week. . . . .
I didn't think there would be a player for a long time that could match Patrick Mahomes when it comes to excitement on the field, but I think Lamar Jackson rivals him as one of the most dynamic players in the league. Jackson sure is fun to watch. He is appointment television in my view. I just love watching this guy play. Mahomes and Jackson are quite the draw for the NFL. They are two of the big reasons why so many fans watch this game. And from a fantasy perspective, they are my top two fantasy quarterbacks right now. Not too shabby.
I said this earlier this season, but I don't care how many times he turns the ball over. Jameis Winston is one of the top fantasy quarterbacks in the game. He is rated fifth overall at quarterback. He has four straight 300-yard games and six total this season. He also has touchdowns every game and multiple scores five games. His consistency in this pass-first offense makes him a great weekly start. He can turn the ball over every game as long as he keeps producing when on the field.
Don't forget about Nick Foles. He is back in the starting lineup this week and takes over the starting duties for a team that has enjoyed plenty of success this year throwing the ball. Foles was looking good in Week 1 before getting hurt, going 5-of-8 for 75 yards and a touchdown. I think he could be a fantasy factor the rest of the way. Gardner Minshew is rated 13th overall at quarterback, so I think Foles can at least match that production for the Jaguars He certainly has the track record to do so.
If Tyler Lockett misses any time because of his leg injury, which seems very possible, I think D.K. Metcalf can be a legit No. 1 for fantasy teams while Lockett is out. Metcalf is showing signs of playing a bigger role in the offense to begin with, which is a great sign. He was targeted a season high 10 times last week and has six receptions each of his last two games. The rookie is a big-time talent that can be a big mismatch for defenses. I would be very excited to have him on my roster the rest of the way. I think good things are coming for Metcalf.
I would be worried if I had any Rams on my team. This team is trending the wrong way, mainly because Jared Goff has taken a step backwards this year. He just isn't playing near the level of last year. Cooper Kupp didn't even catch a pass last week. Todd Gurley has been a disappointment all season. Things just have't gone as expected for the Rams this year. The team does play well at home and against weaker defenses, but road matchups and tough defenses are their kryptonite.
I think the season of Allen Robinson is really being overlooked. This guy is having some kind of year if you consider Mitchell Trubisky is throwing him the ball. Trubisky is a train wreck, but Robinson is still 15th overall in fantasy receiver scoring. He has at least five receptions all but two games. I would love to see Robinson with a great quarterback throwing him the ball. He is a special talent at the receiver spot.
David Johnson just doesn't look healthy. He played last week but obviously wasn't 100 percent in the game. He had five carries for two yards. Kenyan Drake ended up getting more work and that should be the case going forward until Johnson is near his old self. For now, I think Johnson belongs on fantasy benches. I just don't trust him. Remember, he has 40 or fewer rushing yards six of the eight games he has played. The only thing saving him all year was his work in the passing game.
As always, don't forget to check out my weekly rankings here: Week 11 rankings.
News and Notes: The Ravens signed defensive tackles Domata Peko and Justin Ellis on Tuesday. The team is looking to add some depth at the position because of injury. Both veteran players could find their way in the rotation in the near future. . . . . Quarterback Colin Kaepernick is scheduled to hold a private workout for NFL teams in Atlanta on Saturday. The session will reportedly include an on-field workout as well as an interview.
HOT PLAYS
Derek Carr, QB, Raiders. Carr didn't have a great game last week but his numbers have been solid all season. He has multiple touchdowns five of his last seven games and 240-plus passing yards five games. He has been getting it done for his fantasy owners, especially of late. He has 20-plus fantasy points three of four games. Expect his good production to continue this week against the Bengals. Cincinnati allows the fourth most fantasy points to quarterbacks and rank 22nd overall against the pass.
Curtis Samuel, WR, Panthers. Samuel continues to find the end zone, scoring a touchdown last week. He has scores three of four games. His yardage numbers aren't great but he is getting his catches and finding the end zone. Samuel has at least three receptions every game. He can find the end zone again this week against the Falcons, a team that has allowed 19-passing touchdowns. The Falcons allow the sixth most fantasy points to receivers.
Melvin Gordon, RB, Chargers. Gordon finally got it going on the ground last week, rushing 22 times for 108 yards and a touchdown. He has scores four straight games and topped 100 total yards two straight. He is round into form at a good time for fantasy owners. He should keep up his hot ways this week against the Chiefs. Kansas City allows the second most fantasy points to running backs and rank 31st overall against the run.
Devin Singletary, RB, Bills. Singletary didn't do much last week but his chances weren't off the charts. He ran just eight times for 42 yards. He did catch three passes, though, giving him at least three receptions three straight games. Singletary is the top back in this offense right now and should lead the team in touches again this week against the Dolphins. Miami is 30th against the rush, allowing 146-rushing yards per game. The Dolphins allow the seventh most fantasy points to running backs.
Courtland Sutton, WR, Broncos. Sutton might have a new quarterback throwing to him, but he continues to produce. He found the end zone his last time out and has at least three receptions every game this year. He also has more than 55 yards in all but a game. His numbers have been very consistent as the top receiver for the Broncos. Expect continued success this week against the Vikings, a team that has struggled to stop the pass. Minnesota allows the third most fantasy points to receivers.
COLD PLAYS
Jordan Howard, RB, Eagles. Howard is playing his best football right now. He has scores two straight and 80-plus rushing yards each of those games. His value is trending up. But even with that all said, Howard can produce poorly at times. He has fewer than 10 fantasy points five games and has one or no receptions six of nine games. His lack of work in the passing game really hurts his fantasy value, especially when he goes up against a good rush defense. And the Patriots have a solid rush defense. New England is 11th against the run and allowed just five rushing touchdowns this year.
Stefon Diggs, WR, Vikings. Diggs is back on one of his cold streaks. He has fewer than 50 yards two straight games. He has six games with fewer than 50 yards this season, producing wildly inconsistent numbers for his fantasy owners. He is always capable of the huge game, so he is tough to sit. But expect some mediocre production at times, especially this week against the Broncos. Denver has been very good against the pass, allowing the third fewest fantasy points to receivers.
Jared Goff, QB, Rams. Goff is a mes right now. He even lost out on some playing time to Blake Bortles last week, which isn't a great sign for him. Goff didn't score a touchdown last week and has one or no scores four of nine games. He has just one three-touchdown game this season. Goff has not come near his production of last season. He plays better at home but it is tough to start him this week because of his recent play and a matchup against the Bears. Chicago allows the seventh fewest fantasy points quarterbacks.
Larry Fitzgerald, WR, Cardinals. Fitzgerald tied a season high with eight receptions last week. He has at least five receptions all but three games. Unfortunately, those three games came the last four weeks. His play has dipped some in recent weeks. He really struggled against the 49ers two weeks back, catching four passes for 38 yards. He plays this same San Francisco team this week. The 49ers allow the fifth fewest fantasy points to receivers and are first overall against the pass.
Phillip Lindsay, RB, Broncos. Lindsay had 92 yards and a score his last time but had just nine touches in the game. This was a season low for Lindsay. This was the first time all year that Lindsay didn't have double-digit touches in a game. Lindsay has struggled a little more in recent weeks, having fewer than 60-rushing yards two of three games. He could have more issues this week against a Vikings defense that shutdown Ezekiel Elliott last week. Minnesota allows the fifth fewest fantasy points to running backs and rank seventh overall against the run.
SLEEPERS
Deebo Samuel, WR, 49ers. Samuel had the first 100-yard game of his career last week. He was targeted 11 times in the game, getting a ton of chances with Emmanuel Sanders banged up. Sanders could miss time, making Samuel the likely top target in the passing game. Samuel has at least three receptions three straight games. HIs production has been trending up, having 18 targets his last two games. He should get plenty of chances again this week against the Cardinals. Arizona is 31st against the pass, allowing 287-passing yards per game. Samuel is a good injury replacement or bye-week fill-in for Week 11.
Kyle Allen, QB, Panthers. Allen had the first 300-yard game of his career last week. And he did this on the road against a good Packers defense. Allen continues to gain confidence as the starter for the Panthers and his play seems to get better every week. He has three multiple touchdown games and 225-plus passing yards five of seven games. He can help as a spot starter in the right matchup. And a game this week against the Falcons is a good one for Allen. Atlanta did hold Drew Brees in check last week, but don't look into that too much. The Saints just stalled in the red zone, but moved the ball well through the air. Atlanta is 25th against the pass and allow the fifth most fantasy points to quarterbacks.
Brian Hill, RB, Falcons. Hill gets the start this week with Devonta Freeman hurting. He has been trending up even with Freeman on the field. Hill has scores two straight games and a season-high 71 total yards last week. Hill has some total yardage potential in a starting role and could be a good flex option in Week 11. Hill gets the Panthers, a team that allows the fourth most fantasy points to running backs.
Randall Cobb, WR, Cowboys. Cobb had his first 100-yard game of the season last week. He also scored a touchdown for the first time since Week 1. Cobb has at least six receptions two straight games. He is getting a few more looks in recent weeks, which is encouraging for his fantasy value. He has some value as a spot starter, especially if the Cowboys continue to have struggles running the ball. Cobb has a matchup to continue his solid play, getting the Lions. Detroit is 28th against the run and allow 26 points per game.
Gerald Everett, TE, Rams. Everett continues to emerge as a low-end No. 1 tight end. He had a season-high eight receptions last week. He has been targeted double-digit times three of five games. He isn't a sure thing because of some up and down production, but is worth using as a streamer. He gets the Bears this week, a team that has struggled to stop the tight end. Chicago allows the fifth most fantasy points to tight ends. So despite what looks like a tough matchup for the Rams passing game, Everett is a good play in this one. He could get a lot of looks.
High/Low Scoring Games
Each week we will take a look at some of the high and low scoring games for the coming week. In high scoring affairs, get your marginal players on those teams in your lineup to take advantage of the possible points barrage. And in the low scoring games, keep those marginal players on the bench and make sure to have your defenses involved in those contests.
High Scoring Games: Cowboys/Lions, Saints/Bucs, Falcons/Panthers, Texans/Ravens, Chiefs/Chargers.
Low Scoring Games: Broncos/Vikings, Jets/Redskins.
Bye Weeks: Packers, Giants, Seahawks, Titans.
Jeff Paur is a two-time finalist for FSWA Fantasy Football Writer of the Year and won the FSWA award for Best Fantasy Football Article on the Web in 2011. He also was the most accurate expert in 2012, winning the FSTA Fantasy Football Accuracy Award. If you have any questions for Jeff, email him at jeff@rtsports.com. Follow Jeff on Twitter @jeffpaur.