Preseason News and Notes: Week 2
Tue Aug 20 5:24pm ET
By JEFF PAUR
Sr Fantasy Writer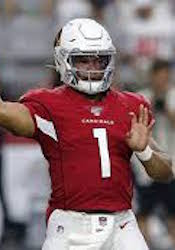 Murray struggled last time out
It is hard to believe, but we are already halfway through the preseason schedule. There are just two weeks left before some real football. But before that happens, there is a lot to be decided. Below is the latest look from around the league, taking a closer look at the preseason games in Week 2 and what it means to fantasy owners.
Rookie quarterback Kyler Murray had a decent first game but had a rough showing his second time out. Murray was just 3-of-8 for 12 yards and was sacked twice. He missed on some throws and looked tentative in the pocket. It shouldn't be a huge a surprise he had some struggles, though. He is a rookie and is playing in an offense that isn't the best. Fantasy teams might want to temper their expectations a little with the rookie quarterback.
Broncos receiver Emmanuel Sanders played in his first game of the preseason, trying to return from his torn Achilles' tendon. Sanders looked good in his return, showing off the speed from past years. He ran once for 19 yards and caught a pass for five yards. Sanders is making a strong recovery and should be ready for Week 1.
Patriots rookie running back Damien Harris got a big workload in the second preseason game and did well with his chances. He had 14 carries for 80 yards and caught four passes for 23 yards. Harris could be playing his way into a role with the Patriots for the coming year. There could be a logjam at running back for the Patriots this year with several quality options on the team.
Former rugby star Christian Wade continues to make plays with his chances. He ran twice for just four yards but had a reception for 48 yards. It seemed like he might be a long shot to make the roster at first but Wade is playing well. He could crack the roster to start the year and eventually carve out a speciality niche with the team.
Cowboys rookie running back Tony Pollard is alleviating some of the worries about Ezekiel Elliott holding out. Pollard had a great game his last time out, rushing five times for 42 yards and a touchdown. He also caught a pass for nine yards. He is proving capable in a starting role, which could make it harder for the Cowboys to cave in to Elliott's demands. We'll see.
Patriots rookie receiver Jakobi Meyers continues to make his presence known. He led the Patriots in receiving again, catching six passes for 82 yards. He is outplaying first-round pick N'Keal Harry despite not even being drafted. Meyers is making a strong case to not only make the roster but earn playing time for a shallow receiving corps.
All the talk in Steelers camp is Donte Moncrief currently is the starter opposite JuJu Smith-Schuster. James Washington is making a push, though, especially after his last preseason game. Washington had four receptions for 78 yards. Don't discount Washington for the starter's job just yet. He still has a legit shot to earn it before the preseason is over.
The Bills signed receiver Cole Beasley this offseason to take over a slot receiver role with the team. He seems to have quickly become a favorite target of Josh Allen. Beasley had five receptions for 44 yards their last preseason game. Beasley could really rack up the receptions in this offense.
Bucs tight end Tanner Hudson had another huge game, finishing with six receptions for 93 yards and a touchdown. He has been the talk of camp for the Bucs but still isn't even guaranteed a roster spot because the team is deep at the position. He is a player to keep an eye on, though, if he makes the team. He could push Cameron Brate for the No. 2 job.
San Francisco quarterback Jimmy Garoppolo had a preseason debut to forget. He was 1-of-6 with an interception. This comes after reports of Garoppolo throwing five interceptions in practice earlier in the week. He obviously has a ways to go to get back to his old self, returning from a torn ACL. He could have some issues early in the season.
Jeff Paur is a two-time finalist for FSWA Fantasy Football Writer of the Year and won the FSWA award for Best Fantasy Football Article on the Web in 2011. He also was the most accurate expert in 2012, winning the FSTA Fantasy Football Accuracy Award. If you have any questions for Jeff, email him at jeff@rtsports.com. Follow Jeff on Twitter @jeffpaur.