Rivera: Panthers sticking with Allen as starting QB vs 49ers
Mon Oct 21 2:54pm ET
By STEVE REED
AP Sports Writer
Players: Cam Newton, Kyle Allen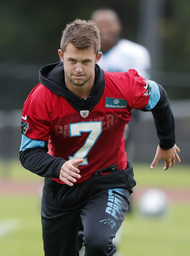 Panthers QB Kyle Allen warms up during a NFL training session of the Carolina Panthers at Harrow School in London, Friday, Oct. 11, 2019. The Carolina Panthers are preparing for an NFL regular season game against the Tampa Bay Buccaneers in London on Sunday. (AP Photo/Frank Augstein)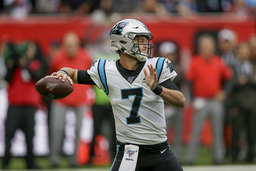 Carolina Panthers quarterback Kyle Allen (7) passes against the Tampa Bay Buccaneers during the second quarter of an NFL football game, Sunday, Oct. 13, 2019, at Tottenham Hotspur Stadium in London. (AP Photo/Tim Ireland)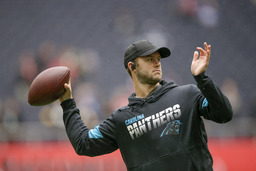 Carolina Panthers quarterback Kyle Allen warms up before an NFL football game against the Tampa Bay Buccaneers, Sunday, Oct. 13, 2019, at Tottenham Hotspur Stadium in London. (AP Photo/Tim Ireland)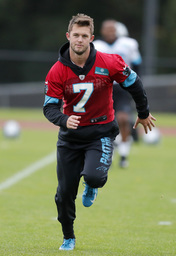 Panthers QB Kyle Allen warms up during a NFL training session of the Carolina Panthers at Harrow School in London, Friday, Oct. 11, 2019. The Carolina Panthers are preparing for an NFL regular season game against the Tampa Bay Buccaneers in London on Sunday. (AP Photo/Frank Augstein)
CHARLOTTE, N.C. (AP) Panthers coach Ron Rivera ended any suspense over his quarterback situation, saying Kyle Allen will remain the starter when Carolina visits the unbeaten San Francisco 49ers on Sunday.
Allen is 4-0 as Carolina's starter this season since taking over for the injured Cam Newton.
Rivera says Newton will work with trainers this week at practice, but isn't sure how much - if at all - the 2015 league MVP will practice. Newton has missed four games with a mid-foot sprain and hasn't practiced since a Week 2 loss to Tampa Bay.
The Panthers return to practice Tuesday.
Allen, who went undrafted in 2018, has helped dig the Panthers (4-2) out of a 0-2 hole to start the season. He has the fourth-best QB rating (106.6) in the league.