Wentz throws 3 TD passes, Eagles look Super vs. Giants
Thu Oct 11 11:42pm ET
By TOM CANAVAN
AP Sports Writer
Players: Zach Ertz, Alshon Jeffery, Carson Wentz, Corey Clement, Jake Elliott, Aldrick Rosas, Saquon Barkley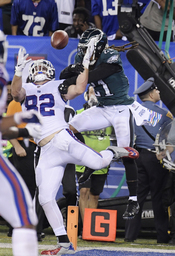 Philadelphia Eagles cornerback Ronald Darby (21) defends against New York Giants tight end Scott Simonson (82) during the first half of an NFL football game Thursday, Oct. 11, 2018, in East Rutherford, N.J. (AP Photo/Bill Kostroun)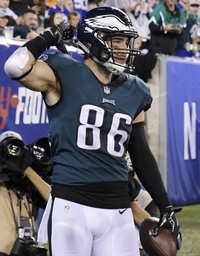 Philadelphia Eagles' Zach Ertz celebrates after catching a pass for a touchdown during the first half of the team's NFL football game against the New York Giants on Thursday, Oct. 11, 2018, in East Rutherford, N.J. (AP Photo/Bill Kostroun)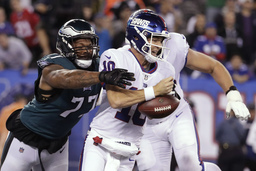 Philadelphia Eagles defensive end Michael Bennett (77) strips the ball from New York Giants quarterback Eli Manning during the first half of an NFL football game Thursday, Oct. 11, 2018, in East Rutherford, N.J. (AP Photo/Julio Cortez)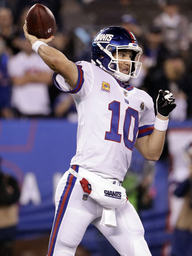 New York Giants quarterback Eli Manning throws a pass during the first half of the team's NFL football game against the Philadelphia Eagles on Thursday, Oct. 11, 2018, in East Rutherford, N.J. (AP Photo/Julio Cortez)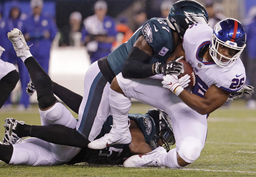 New York Giants running back Saquon Barkley (26) is tackled by Philadelphia Eagles' Malcolm Jenkins (27) during the first half of an NFL football game Thursday, Oct. 11, 2018, in East Rutherford, N.J. (AP Photo/Julio Cortez)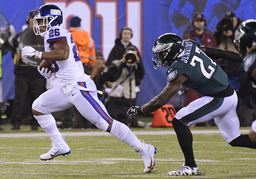 New York Giants running back Saquon Barkley (26) runs away from Philadelphia Eagles' Malcolm Jenkins (27) and Jalen Mills (31) during the first half of an NFL football game Thursday, Oct. 11, 2018, in East Rutherford, N.J. (AP Photo/Bill Kostroun)
EAST RUTHERFORD, N.J. (AP) Carson Wentz threw a season-high three touchdown passes and Philadelphia Eagles got an early lift from their defense and special teams in beating the struggling New York Giants 34-13 on Thursday night, avoiding their first three-game losing streak since the 2016 season.
Wentz sandwiched touchdowns passes of 13 and 1 yard to Alshon Jeffery around a 10-yarder to tight end Zach Ertz to help the Eagles (3-3) build a 31-6 lead. They beat the Giants (1-5) for the fourth straight time and seventh in eight games.
Corey Clement scored on a 1-yard run and Jake Elliott added field goals of 33 and 30 yards for the defending Super Bowl champions.
Rookie halfback Saquon Barkley scored on a 50-yard run and rushed for 130 yards in one of the few bright spots for the Giants' offense, which was booed repeatedly in losing at home for the third time. Aldrick Rosas had field goals of 33 and 21 yards.