Lineup Prep: Divisional Round
1547127517
By JEFF PAUR
Sr Fantasy Writer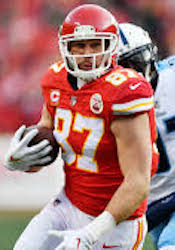 Kelce looking good this week
The games last weekend weren't too exciting. Hopefully, the action this weekend is a little more compelling. It sure looks like on paper that the games should be good ones. There are some great matchups. Here is to hoping for a little more excitement this weekend. Now for my random thoughts for the week. . . . . .
I think the hire of Matt LaFleur is a good one from a fantasy perspective for the Packers. His offense wasn't anything special in Tennessee this year, but he dealt with injuries to their starting quarterback and didn't have much to work with compared to other teams. He has a track record of success, working with top offenses like the Rams and Falcons. He should bring life to that offense and provide a boost to Aaron Rodgers after a down year this past season.
I'm wondering how the tight end position might play out next year. It was as top heavy as ever this year. The top options were great but they sure dropped off in a hurry. I was always a proponent of waiting on a tight end, getting two guys to platoon later in the draft. But after this past year, I might revisit that strategy. It really might be worth getting a guy like Travis Kelce or Zach Ertz in the third round. These guys produce similar to an elite No. 1 receiver. The options after the elite guys are a huge drop off right now.
It is looking more and more like Antonio Brown might be on his way out of Pittsburgh. This leaves JuJu Smith-Schuster as the No. 1 receiver for the Steelers. Smith-Schuster was eighth overall in fantasy scoring this year. He could be a top-five receiver in the lead receiver role for the Steelers next season. The sky is the limit for Smith-Schuster, especially if Brown is gone. His stock is going way up in my view.
I'm anxious to see what happens with Jordan Howard next year. He had an up and down season with the Bears this year, but finished the season well. He had scores three straight games to end the year and 100-yard showings two of those games. I still think Howard has some talent as a lead back and can produce well in that role. A change of scenery might be a good thing for Howard. I'm not sure he reaches his fantasy potential as long as Tarik Cohen is around in Chicago.
Keke Coutee is on my radar for next season. He had an injury plagued year but showed flashes of big things in this offense. He led the way at receiving for the Texans last week in their playoff game, catching 11 passes for 110 yards and a touchdown. This was his second game with double-digit receptions and second with 100-plus yards. He also had three other games with five or more receptions. He is a great fit for the slot in this pass-first offense. As long as he can stay healthy, Coutee has good reception potential.
News and Notes: The Packers hired Titans offensive coordinator Matt LaFleur as their head coach. LaFleur is considered a top, young offensive mind, having worked with the Rams and Falcons in recent seasons. . . . . The Bucs hired former Cardinals coach Bruce Arians as their next head coach. Arians is a great hire for the offense, having some past history with quarterback Jameis Winston and a track record of a lot of success. . . . .The Cardinals hired Kliff Kingsbury to be their next head coach. Kingsbury was just hired by USC to take over their program, but leaves after a month. He is another bright, young offensive mind but doesn't have much experience, especially at the pro level.
HOT PLAYS
Marlon Mack, RB, Colts. Mack had his second straight 100-yard game last week and has 100-yard games three of four. He has topped 20 fantasy points in those three games as well. He has touchdowns five straight games. Mack is getting it done on a weekly basis and should be leaned on again this week against the Chiefs. Kansas City allows the third most fantasy points to running backs and rank 27th overall against the run.
Alshon Jeffery, WR, Eagles. Jeffery had another big game as the top target for Nick Foles last week, catching six passes for 82 yards on nine targets. He has at least five receptions four of five games. He also has 80-plus yards three of four. Jeffery should get his work again this week against the Saints, a team that allowed the most fantasy points to receivers during the regular season. Jeffery is a top fantasy option in this matchup.
Travis Kelce, TE, Chiefs. Kelce had a career season, topping 100 receptions while finishing with 1,336 yards and 10 touchdowns. He had at least five receptions all but the first game of the season. He is a top fantasy force in tis explosive offense. Kelce might the focal point of the passing game this week. The Colts have a much improved defense but struggled to stop the tight end during the regular season. Indy allowed the second most fantasy points to tight ends, which bodes well for Kelce to produce big in this one.
COLD PLAYS
C.J. Anderson, RB, Rams. Anderson was a huge surprise for the Rams and fantasy teams late in the year, having two straight games with 130-plus rushing yards to end his season. He also scored touchdowns in each of those games. He proved he can still help NFL and fantasy teams, serving as a lead back. Todd Gurley is expected to return this week and assume the No. 1 running back duties. The Rams claim Anderson could still be involved this week even with Gurley back, but we wouldn't count on it. Gurley is the focal point of this offense as long as he is healthy. Expect Anderson to get just a handful of touches against the Cowboys, a team that allows the ninth fewest fantasy points to running backs.
Tom Brady, QB, Patriots. It is hard to bet against Brady because of his track record and huge amount of success, but he hasn't looked quite like the Brady of past seasons this year. He has just one touchdown pass three of five games. He finished with 31 total touchdowns, which isn't bad, but that numbers was padded by his four-touchdown performance the last week of the season. Brady has been pretty mediocre most weeks. And we think this could be another mediocre showing against the Chargers. Los Angeles has been great defensively the second half of the season and allow the sixth fewest fantasy points to quarterbacks. The Chargers completely shutdown the Ravens passing attack last week.
Tyreek Hill, WR, Chiefs. Hill is another player that is tough to bet against, being matchup proof much of the season. He has endured a few down games, though, having fewer than 50 yards two of his last five games. Hill has a tough matchup this week against the Colts. Indy has been great against receivers this year, allowing the third fewest fantasy points to receivers. The Colts could hold Hill in check in this one.
SLEEPERS
Dak Prescott, QB, Cowboys. Prescott had a solid showing last week against a good Seahawks defense. He had two touchdowns and threw for 226 yards. He has multiple touchdowns three straight games. Prescott also has more than 30 fantasy points three of his last seven games. He might be counted on to carry the offense this week against a Rams team that allowed 31-passing touchdowns this season. Los Angeles is likely to make the Cowboys throw the ball to beat them, making Prescott a sneaky play for fantasy teams.
Darren Sproles, RB, Eagles. Sproles didn't have a great game last week but led the Eagles in carries, rushing 13 times. He also caught two passes for 14 yards. He has multiple receptions five straight games. Sproles is being leaned on a lot more down the stretch by the Eagles, which should continue this week. And with the Saints being a team that struggles to stop the pass, Sproles could be setup for a big game in this matchup.
Dontrelle Inman, WR, Colts. Inman has become a legit option in the Colts passing game. He caught four passes for 53 yards and a touchdown last week. He has touchdowns three straight games and at least four receptions all of those games. The game could be a shootout this week, making Inman an option for fantasy teams. He can get his work in this offense this week.
High/Low Scoring Games
Each week we will take a look at some of the high and low scoring games for the coming week. In high scoring affairs, get your marginal players on those teams in your lineup to take advantage of the possible points barrage. And in the low scoring games, keep those marginal players on the bench and make sure to have your defenses involved in those contests.
High Scoring Games: Colts/Chiefs, Eagles/Saints.
Low Scoring Games: None.
Jeff Paur is a two-time finalist for FSWA Fantasy Football Writer of the Year and won the FSWA award for Best Fantasy Football Article on the Web in 2011. He also was the most accurate expert in 2012, winning the FSTA Fantasy Football Accuracy Award. If you have any questions for Jeff, email him at jeff@rtsports.com. Follow Jeff on Twitter @jeffpaur.