Lineup Prep: Super Bowl
1517406959
By JEFF PAUR
Sr Fantasy Writer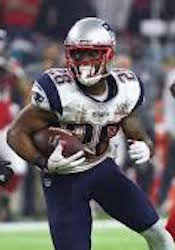 White looks for repeat showing
Time sure flies, right? It is hard to believe this is the last week of the season. Hopefully, the season ends on a high note and we get to see a great Super Bowl. On paper, it would seem the game should be a good one but nothing is ever certain when it comes to this stuff. We will find out soon enough. Now for my random thoughts for the week. . . . .
Alright, here is my prediction for the game. I'm going with the Patriots, winning 28-24. I think it will be a close game but the Patriots are just too much for the Eagles, especially with Carson Wentz out of the lineup. If Wentz were in there, I think I pick the Eagles to win it all. He is too big of a difference maker for the offense to overcome. I know Nick Foles looked great his last time out but I have a hard time seeing him match that production in the Super Bowl. Tom Brady just wins big games and I think he will win another one this weekend.
I think my fifth-grade son was the only person on the planet excited about the Pro Bowl last weekend. He was glued to the television, watching the game and the festivities leading up to it. So kudos to the NFL for at least getting one fan interested in the Pro Bowl. I'm not sure if anyone watched it besides him.
I'm really anxious to see how all the quarterback needy teams address the position this offseason. There is going to be a lot of movement on this front in both free agency and through the draft. And I'm not convinced there is a quarterback that can step right in and be an impact player next season - like Deshaun Watson from this past year. All the top quarterbacks have some growing to do at the position.
I like the hire of Matt LaFleur as offensive coordinator in Tennessee. I think this could be a great thing for Marcus Mariota. LaFleur has learned from some of the best the last few seasons and should provide a boost to a pretty stagnant offense from this past season. Don't give up on Mariota just yet to be a fantasy superstar. He can still get it going, especially with LaFleur now calling plays.
It isn't official yet but the Colts are going to hire Josh McDaniels after the Super Bowl to be their head coach. Needless to say, this is great news for Andrew Luck if he comes back healthy. McDaniels should be a great get for this offense from a fantasy perspective, especially if Luck is playing. Luck could be a monster in this offensive scheme.
So Alex Smith heads to the Redskins. We get our first big trade and it isn't even officially the offseason yet. Smith should be a good fit for the Redskins. I doubt he repeats his huge numbers from this past season with the Chiefs, but he is going to get his chances to air it out in this offense. The Redskins are a pass-first offense, which is good news for Smith's fantasy value. Smith could be a low-end No. 1 for the '18 season. He could have some big games - similar to Kirk Cousins. As for Cousins, he is going to land a huge contract with some quarterback-needy team this offseason. It will be interesting to see where he lands.
HOT PLAYS
Danny Amendola, WR, Patriots. Amendola has been the go-to target for the Patriots in the playoffs. He has 18 receptions for 202 yards and two scores in two games. He has been targeted 22 times in two games. We would expect his workload to be heavy once again this week against the Eagles. Amendola is a tough cover out of the slot - even for a good Eagles pass defense.
Zach Ertz, TE, Eagles. Ertz was a little quiet in the Eagles playoff opener but was a force in their last game, catching eight passes for 93 yards. He should be targeted heavily in the Super Bowl. Ertz is the top playmaker in the passing game for the Eagles. The Patriots have improved against the pass throughout the season but still ranked 30th overall against the pass for the year. Ertz can have a lot of success in this matchup.
COLD PLAYS
Jay Ajayi, RB, Eagles. Ajayi is getting the most work in the Eagles backfield but that doesn't mean he is producing huge numbers in that role. He has not scored in the playoffs and had just two scores all season. He is getting some yards but still hasn't topped 75-rushing yards in a game since Week 11. He has been pretty mediocre most weeks. Expect similar production this week from Ajayi.
Chris Hogan, WR, Patriots. Hogan had a great start to his season but injury keep him out of hotel lineup nearly the entire second half of the year. And he has done little since his return. He did score a touchdown in the Patriots playoff opener but has just three receptions for 24 yards in the two playoff games. He is a hard guy to trust right now, producing very little since returning to the lineup.
SLEEPERS
Nick Foles, QB, Eagles. Foles had a game to remember his last time out, playing near flawless football against a very good Vikings pass defense. He was 26-of-33 for 352 yards and three touchdowns without a turnover. He has a lot more pressure on him this week, but also a much easier matchup. We wouldn't be surprised if he posts big numbers once again this week. The Patriots allowed the seven most fantasy points to quarterbacks during the regular season.
James White, RB, Patriots. Remember last year's Super Bowl? Well, he is a refresher. White had a career game, finishing with three touchdowns, including the game-winning score. He also had 14 receptions for 110 yards in the game. White has touchdowns in each of the two playoff games this year, so he is coming into the playoffs hot. He could have another big game in the Super Bowl.