Interview with a King 
Thu Aug 22 7:02pm ET
By JEFF PAUR
Sr Fantasy Writer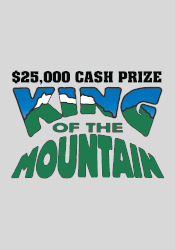 RealTime Fantasy Sports is proud to announce George Pouria as our winner of the '18 King of the Mountain contest. Barczak was the last owner standing in our fantasy contest, winning a prize of $25,000 for his efforts.
If you aren't familiar, here is how the King of the Mountain contest works. You pick one simple lineup each week, consisting of one quarterback, one running back and one receiver/tight end. If the team you pick scores better than just the worst one-third of teams in the contest, you advance to the next week. But here is the catch, you can only pick a player for your team once during season, including the playoffs. If you are the last owner standing, you take home a $25,000 prize for winning the King of the Mountain contest.
Pouria was the winner in last year's contest. He had a strategy for the contest but it almost burnt him, running low on players as he continued to survive in the contest. But ultimately, his strategy was the winning one in the end.
"I had played in a similar contest a few years ago and found that stacking my quarterback with their most likely receiver made a lot of sense," said George Pouria. "Unfortunately, I didn't read the rules very carefully, and didn't realize until Week 17 that the contest ran thru the first two playoff weeks, so I was very low on usable quarterbacks for the last two weeks."
But even with that said, Pouria was able to win it all. It did not come without some close calls, though. It was not all smooth sailing for Pouria.
"My one serious close call was in Week 10," Pouria said. "I got caught trying to look too far ahead instead of at that particular week and was only one point above the cutline."
That close call in Week 10 helped Pouria the rest of the way. He changed up his strategy a bit, which proved to be a good move en route to his big win.
"That week was a turning point," Pouria said. "After that, I went with whomever I determined had the top potential for that week and stopped worrying about saving them for a future week."
The unlikely combination of Nick Foles, Damien Williams and Travis Kelce ended up being the final lineup for Pouria. This combination scored 52.25 points in Week 19. Water Boys 2 was the other team remaining and had a lineup of Drew Brees, Marlon Mack and Julian Edelman. Unfortunately for Water Boys, that lineup managed just 43.45 points as Mack struggled to do much of anything that week.
"Actually, because of my careless reading of the rules, I really didn't think I would win," Pouria said. "I had to choose Lamar Jackson for Week 18 because I only had Foles and Trubisky left besides him. By taking Jackson, barring an injury, I would have either Foles or Trubisky left for the final week. And I knew that Water Boys 2 still hadn't used Brees."
Pouria wasn't super nervous the last week of the contest because he didn't like his chances all that much, but that quickly changed after the games started.
"I think because I didn't think my chances were too good, I wasn't nervous watching the early game," Pouria said. "But when Damien Williams outscored his running back (Mack) by a wide margin, I did start to get antsy."
So now that Pouria is $25,000 richer, does he have big plans for the winnings? Well, you won't be surprised to see some of his winnings will go towards the sport that won him the money.
"My son and I take a fall golf/Giants football weekend every year somewhere warm," Pouria said. "We will probably get better seats for this year's game in Tampa."
If you want to try to dethrone the king, sign up here: King of the Mountain. The clock is ticking to get in this year's contest. Do it now for a chance to win $25,000.
Jeff Paur is a two-time finalist for FSWA Fantasy Football Writer of the Year and won the FSWA award for Best Fantasy Football Article on the Web in 2011. He also was the most accurate expert in 2012, winning the FSTA Fantasy Football Accuracy Award. If you have any questions for Jeff, email him at jeff@rtsports.com. Follow Jeff on Twitter @jeffpaur.