Studs and Duds: Championship Games
1516628967
By JEFF PAUR
Sr Fantasy Writer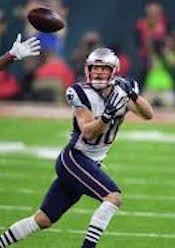 Amendola comes up big again
Well, we had one very entertaining game, so that was good. The other was good if you were a Philly fan. The first game was great, though. Good stuff until the end. The other good news is there were some big fantasy performances. It wasn't always the top players coming up big, but some of the secondary players were the difference makers for fantasy teams this week. This shouldn't be a huge surprise at this point of the season, though. There always seems to be players that come up big that surprise in the playoffs.
Patriots 24, Jaguars 20
Fantasy Stud: Danny Amendola. Amendola had another big playoff performance, catching seven passes for 84 yards and two touchdowns. He had just two touchdowns all season coming into this game. Amendola has 18 receptions for 196 yards and two scores in the Patriots two playoff games. He has been a fantasy force in the playoffs.
Fantasy Dud: Chris Hogan. Many thought Hogan might be a bigger part of offense this week with the Jaguars top cover corners taking care of Brandin Cooks, Danny Amendola and Rob Gronkowski. That wasn't the case, though, as Hogan caught just two passes for 20 yards. In two playoff games, Hogan has three recipients for 24 yards. He is not worth using for fantasy teams.
Game Notes: Rob Gronkowski was knocked from the game because of a concussion. He had a catch for 21 yards before getting hurt. Having the week off before the Super Bowl should help get Gronk ready for the big game.
Blake Bortles played very well in defeat for the Jaguars. He was 23-of-36 for 293 yards and a touchdown without a turnover. Bortles had three touchdowns without a turnover in the Jaguars three playoff games.
Eagles 38, Vikings 7
Fantasy Stud: Nick Foles. Foles was near flawless against one of the best defenses in football. It was an amazing performance from the backup quarterback of the Eagles. He was 26-of-33 for 352 yards and three touchdowns without a turnover. Foles has missed on just seven passes on each of his two playoff games this year. He is playing some great football right now.
Fantasy Dud: Adam Thielen. Thielen wasn't much of a factor, catching three passes for 28 yards. Thielen had a great overall season but did have a few duds down the stretch, having 30 or fewer yards three of his last five games. Hopefully, this isn't a sign of things to come from Thielen. He had a monster season besides his erratic play down the stretch.
Game Notes: Alshon Jeffery caught five passes for 85 yards and two touchdowns. This was just the second time he had two touchdowns in a game this season.
Jerrick McKinnon had a big fantasy performance, getting a ton of receptions as an outlet for the passing game. He led the Vikings in rushing and receiving. He ran 10 times for 40 yards and also caught 11 passes for 86 yards.