Jags' Coughlin calls out Ramsey, Smith for skipping workouts
Thu Apr 18 2:10pm ET
By MARK LONG
AP Sports Writer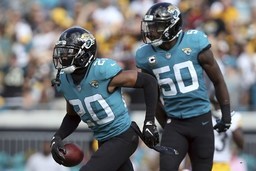 Jacksonville Jaguars cornerback Jalen Ramsey (20) celebrates after intercepting a pass against the Pittsburgh Steelers during the first half of an NFL football game, Sunday, Nov. 18, 2018, in Jacksonville, Fla. (AP Photo/Gary McCullough)
JACKSONVILLE, Fla. (AP) Tom Coughlin took a not-so-subtle shot at two of Jacksonville's top defenders, cornerback Jalen Ramsey and linebacker Telvin Smith, for skipping voluntary workouts.
The team's executive vice president of football operations said Thursday that ''championship teams are dominated by selfless individuals who recognize that the welfare of the team must always be paramount to any other consideration.''
Ramsey and Smith are the team's only players who didn't show up for the start of the team's offseason program. Coach Doug Marrone said he reached out to both players and didn't hear back from either one.
Ramsey also skipped voluntary workouts last year, choosing instead to spend the offseason working out at his father's training facility in Nashville, Tennessee.
Smith's absence was more surprising, especially since he's been in attendance each of his first five years in the league.