Lineup Prep: Week 7
Wed Oct 16 9:51am ET
By JEFF PAUR
Sr Fantasy Writer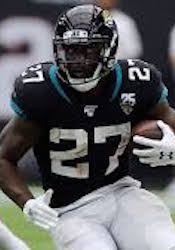 Fournette ready for big Week 7
Well, the season just keeps chugging along. We are about at the halfway point, so it could be now or never for some fantasy teams. Just remember, you have time to get it going. All you need to do is get hot and make the playoffs. It doesn't matter if you win first overall in your league. You can still win by getting that last spot in the playoffs. The best team all year doesn't always win their league. So now is the time to start heating up. Make your trades and waiver wire pickups to put your team in the best position for a strong second half. Get it going now!

Now for my random thoughts for the week. . . .
For me, I think the Rams are the most disappointing team in the NFL to date, especially from a fantasy perspective. This offense is really struggling. Just look at last week. The lack of a running game has really impacted the entire offense. Todd Gurley was really the cog in the offense that made things click. He just isn't healthy and showing like he did the past few years. Plus, you have to figure the rest of the league is figuring things out with the Rams. Defensive coordinators had a whole offseason to adjust to what the Rams have been doing offensively. And Jared Goff seems to have regressed. He just doesn't look very good right now. Not good.
Patrick Mahomes is human. He is fourth overall in fantasy quarterback scoring, which is a bit of a surprise. His receivers are dropping some passes, though, and his running game isn't doing much. This isn't great news for Mahomes. Fear not, though. Mahomes can still finish first overall in scoring. He has just hit a little bump in the road. We wouldn't set off the alarm bells just yet. He still has just one interception all year and thrown for 300-plus yards all but a game.
If you can, I would sell high on Carlos Hyde. He is coming off a season best game and has scores three of four games. I'm just not convinced he keeps up this good play. He has just six receptions all season, which really holds back his fantasy value. And he has 60 or fewer rushing yards three of his last four games. This is still a pass-first team that has issues running the ball. Hyde is not going to keep playing at his current level, especially if you consider his play the last few seasons.
One guy I'm not selling high on is Chris Godwin. I have him in like 80 percent of my leagues and feeling great about that. He had double-digit receptions last week for the second time all year. He is the leading fantasy receiver right now. It is a little bit of a concern seeing Jameis Winston playing poorly but that doesn't bother me too much. This team can't run the ball, so I expect them to keep airing it out often despite Winston's turnover issues. This means Godwin will continue to rack up the catches and yards. It is a lot of fun to watch Godwin have his breakout season. He is the real deal.
The Vikings are becoming a really scary team. Minnesota is playing at a high level right now both offensively and defensively. This is a pretty complete team. The rise of Kirk Cousins takes this offense to a different level and I don't think it is a fluke. He has two of the best receivers in the game to work with, and Cousins has produced at a high level in recent years. I'm buying his recent play as well as the entire Vikings offense. And we cant forget about Dalvin Cook, having a breakout season at running back. He makes the entire offense go.
So Austin Hooper is first overall in fantasy tight end scoring. I don't think that is a fluke. He is getting a ton of work and making some big plays along the way. He has 100-yard games two of his last three. He has at least six receptions all but a game in the Falcons pass-happy offense. I really think he can make a run at finishing first overall in tight end scoring. There are a lot of options in this passing game, which is a little bit of a concern, but the Falcons are throwing the ball so much that I'm not sure that matters. Kudos to you if you grabbed Hooper in this year's draft. He is sure paying off for all those owners that waited on a tight end.
Last week was the first time all year Austin Ekeler was a dud for his fantasy owners. And I'm sorry to say this, but I wouldn't be surprised if this happens a few more times the rest of the way. The return of Melvin Gordon is really a concern. Gordon started last week and had 11 touches compared to eight for Ekeler. I don't think I would dump Ekeler unless I get some value in return, but be ready for a few more up and down performances. He is going to be more of a flex play going forward. He'll still get his weekly touches and receptions, but probably not the volume of past weeks. And I'm not sure Gordon reaches his full fantasy potential with Ekeler around and getting so much work in the passing game. Both these players are hurting the fantasy value of each other.
This didn't used to be the case, but the trade deadline in the NFL is a lot more active these days. We already have seen several trades happen this week and the deadline isn't until next week (Tuesday, Oct. 29). This is something to watch for fantasy owners. Trades can really impact fantasy value - good and bad - so keep up with all the trades from around the league when they happen. It could be an interesting week around the league.
As always, don't forget to check out my weekly rankings here: Week 7 rankings.
News and Notes: The Patriots signed tight end Eric Tomlinson on Tuesday. He gives the team some more depth at the tight end position. . . . .The Browns traded offensive lineman Austin Corbett to the Los Angeles Rams in exchange for a fifth-round pick in the 2021 NFL Draft on Tuesday. . . . .The Rams traded cornerback Marcus Peters to the Ravens in exchange for linebacker Kenny Young and an undisclosed 2020 draft pick on Tuesday. . . .The Jaguars traded cornerback Jalen Ramsey to the Los Angeles Rams in exchange for first-round picks in 2020 and 2021, and a fourth-round selection in the 2021 NFL Draft. . . . .The Titans announced Ryan Tannehill will start the Week 7 game. This sends Marcus Mariota to the bench.
HOT PLAYS
Leonard Fournette, RB, Jaguars. Fournette isn't having a banner season but a solid one, especially compared to last year. He is ninth overall in fantasy running back scoring and sixth overall in his last three games. Fournette has three straight games with more than 100 total yards. A big plus for him this year is added work in the passing game, having at least four receptions all but a game. He should get a huge workload this week against the Bengals. Cincinnati allows the most fantasy points to running backs. The Bengals have been a disaster against the run, ranking dead last. They allow 185-rushing yards per game.
Kyler Murray, QB, Cardinals. Murray is playing at a high level right now, taking advantage of some poor defenses in recent weeks. He has 27-plus fantasy points two straight games. He had his first three-touchdown game of his career last week. Murray is up to seventh overall in fantasy quarterback scoring. He is getting it done on a weekly basis. Murray has his third straight poor opponent this week, facing the Giants. New York allows the sixth most fantasy points to quarterbacks and rank 31st against the pass, allowing 285-passing yards per game.
Robert Woods, WR, Rams. Woods scored his first touchdown of the season last week, which was a rushing score. But even despite a lack of scores, Woods is 26th overall in fantasy receiver scoring. He is capable of the big game in this offense as evident by his huge game in Week 4 against the Bucs. Some fantasy owners might be shying away from the Rams this week after their awful game last week, but a Week 7 matchup against the Falcons should get this offense healthy. The Falcons are 27th against the pass and have allowed 15-passing touchdowns this season.
Devonta Freeman, RB, Falcons. Freeman is starting to show some signs of life rushing the ball. He scored two touchdowns last week and has scores two straight games. He tied a season high in rushing yards last week with 88 yards. The biggest plus for Freeman this year has been his work in the passing game, having at least three receptions every game. This can save his fantasy numbers if he is shutdown rushing the ball. He should find more success this week against the Rams. Los Angeles is reeling right now and are 16th against the run. Freeman could find the end zone, facing a team that has allowed seven rushing touchdowns.
Michael Gallup, WR, Cowboys. Gallup wasn't great last week, having four receptions for 48 yards on seven targets, but his numbers weren't terrible. He has 100-yard games two of four and at least six receptions in all but a game. Amari Cooper is hurting, which could make Gallup the No. 1 receiver this week against the Eagles. This is a great matchup for Gallup, getting a team that has allowed the most fantasy points to receivers this year. Gallup can produce elite numbers in Week 7.
COLD PLAYS
LeVeon Bell, RB, Jets. Bell has been pretty mediocre in recent weeks. He scored a touchdown last week, which saved his otherwise poor fantasy games. He had 15 touches for just 53 yards. He has 50 or fewer rushing yards three straight games and his season high in rushing is just 68 yards. Bell had 20-plus fantasy points each of his first two games but done little since. He gets a Patriots team this week that should focus their game plan on shutting down Bell. New England allows the second fewest fantasy points to running backs and just eight points per game.
Matthew Stafford, QB, Lions. Stafford has been a big surprise this year, ranking 11th overall in fantasy quarterback scoring. He has multiple touchdowns three of five games and at least 245-passing yards all but a game. He is healthy and producing once again. He did fail to score a touchdown last week, though, and has fewer than 15 fantasy points two of his past three games. He has another tough one this week against the Vikings. Minnesota allows the 10th fewest fantasy points to quarterbacks and rank seventh overall against the pass.
Emmanuel Sanders, WR, Broncos. Some might look at the matchup this week and think Sanders is a must start for fantasy teams, getting a Chiefs team that can struggled defensively. But it is sure hard to recommend playing Sanders despite the great matchup. He has two catches for nine yards his last two games. He has 10 or fewer yards three of his last four games. Sure, he could go off in this one, but it is hard to be confident playing him because of his recent play and production. We would just avoid him right now.
Damien Williams, RB, Chiefs. Williams returned to the lineup Week 5, but has done little since his return. He did score a touchdown last week but had just two touches in the game. He has 14 touches for 58 yards his last two games. He is yet to top 30-rushing yards in a game all year. Williams is another player that is hard to trust based on his production all season. He also has a tough matchup this week against the Broncos, a team that has allowed just 18 points per game. It is probably best to just avoid Williams right now.
Terry McLaurin, WR, Redskins. McLaurin has been the best rookie receiver in football this year. He has been great almost every game. He has two 100-yard games and scores four of the five games he has played. He is almost moving into must-start territory. But a game this week against the 49ers is a little worrisome for McClaurin. The 49ers defense has been dominating in recent weeks, especially last week against the Rams. San Francisco totally shutdown the Rams passing attack. The 49ers are first overall against the pass and allow just 13 points per game. It could be a long day for the Redskins offense in this one, making McLaurin a bit of a risky play despite his big numbers this year.
SLEEPERS
Josh Allen, QB, Bills. Allen hasn't been off the charts this year but consistent. He has multiple touchdowns three of five games and topped 240-passing yards three games. He has more than 20 fantasy points all but a game. And he is always capable of the big game, giving him added fantasy value. He is setup for one of those big games this week against the lowly Dolphins. Miami allows the second most fantasy points to quarterbacks and are 26th overall against the pass.
Royce Freeman, RB, Broncos. Freeman has not been outstanding all year but pretty consistent, splitting work with starter Phillip Lindsay. He has double-digit carries all but a game. He also has at least four receptions four of six games, which helps his fantasy numbers. He has double-digit fantasy points three of six games. Freeman has value as a flex play, especially this week against the Chiefs. Kansas City was run over by a Texans rushing attack that hadn't done much all year. The Chiefs are 30th overall against the run, allowing 162-rushing yards per game.
Jacoby Brissett, QB, Colts. Brissett has multiple touchdowns all but a game this year. And he has scores every game this season. He has 20-plus fantasy points three of five games. He has done very well as the starter for the Colts and is producing for fantasy teams. He is a spot play, worth using in the right matchup. And this week against the Texans is a good time to use Brissett. The Texans are just 24th overall against the pass and allow the fifth most fantasy points to quarterbacks. Brissett is a good bye week or injury replacement for Week 7.
Cole Beasley, WR, Bills. Beasley is yet to score this year but is getting his catches as the slot receiver in this offense. He has three games with double-digit fantasy points and at least three catches every game this season. He also has 75 or more yards two of five games. He can be a help to fantasy teams, especially in a favorable matchup. And a game this week against the Dolphins is a good one for Beasley. The Dolphins are 26th against the pass and give up an whooping 36 points per game.
Darren Fells, TE, Texans. Fells had season highs in catches (six) and yards (69) last week. He has 12 or more fantasy points three of his last four games. The Texans are looking at the tight end more often in recent weeks and Fells is benefitting from the added looks. He is moving up the tight end rankings and worth using for fantasy teams. Fells has a matchup for more good things this week, playing the Colts. Indianapolis has struggled to stop the tight end this year, allowing the third most fantasy points to tight ends.
High/Low Scoring Games
Each week we will take a look at some of the high and low scoring games for the coming week. In high scoring affairs, get your marginal players on those teams in your lineup to take advantage of the possible points barrage. And in the low scoring games, keep those marginal players on the bench and make sure to have your defenses involved in those contests.
High Scoring Games: Rams/Falcons, Texans/Colts, Cardinals/Giants, Eagles/Cowboys.
Low Scoring Games: Chargers/Titans.
Bye Weeks: Panthers, Browns, Steelers, Bucs.
Jeff Paur is a two-time finalist for FSWA Fantasy Football Writer of the Year and won the FSWA award for Best Fantasy Football Article on the Web in 2011. He also was the most accurate expert in 2012, winning the FSTA Fantasy Football Accuracy Award. If you have any questions for Jeff, email him at jeff@rtsports.com. Follow Jeff on Twitter @jeffpaur.