Pitching Primer: Week 14
Fri Jun 21 2:00pm ET
By JEFF PAUR
Sr Fantasy Writer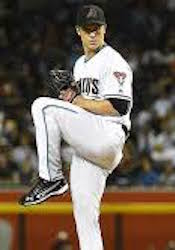 Greinke gets two starts this week
I get the tough task of filling in for Mike Barner this week. I'll do my best, giving you a breakdown of the notable two-start pitchers for the week. There are some prime starters getting two starts, which is a plus for fantasy teams. There also are some lesser known options that could be of help to fantasy teams. Here is the breakdown of the week ahead. . . . . .
Zack Greinke, Diamondbacks: vs. LAD, at SFO
Greinke is a must start these days. He made a run at a no hitter his last time out and is having a Cy Young-type season. His WHIP is just 0.93 and he already has eight wins. Plus, he has pitched well of late, having two wins and a 2.21 ERA his last three games. His first start is a tough one against the Dodgers and Clayton Kershaw, but his second start is a prime matchup against a light-hitting Giants team. Greinke is primed to produce some good numbers for fantasy teams once again.
Clayton Kershaw, Dodgers: at ARI, at COL
Kershaw is sure making all those fantasy owners that took a chance on him look good. He is pitching as well as ever, showing no ill effects from a shoulder injury that sidelined him to start the year. He didn't allow a run his last time out and has won each of his past two games. He is striking out nearly a hitter per game and his ERA is under three once again. He has some tough matchups this week on the road, getting the Diamondbacks and Rockies, so temper your expectations for him a bit. But even with the challenging starts, Kershaw should remain in fantasy lineups. His potential is too high to sit him. He can still produce despite the tough games.
Jon Lester, Cubs: vs. ATL, at CIN
Lester is slowing down some after a hot start to the season. He has won two of his lsat three games but allowed at least three runs each of those three starts and hasn't worked past the sixth inning in any of them. His ERA is 7.02 his last three times out. It is tough to sit him, though, despite his struggles of late. He gets the Braves at home and the Reds on the road for his two starts this week. Neither matchup is great, but Lester certainly has win potential with the way the Cubs are playing. Just temper your expectations for him when it comes to his ERA and WHIP.
Jon Gray, Rockies: at SFO, vs. LAD
Gray still walks too many guys, causing his WHIP to be pretty high, but the rest of his numbers are pretty dang good. He has seven wins and strikes out more than a batter per inning. Gray has won each of his last two starts and even has a 10-strikeout performance in one of those starts. He has a good matchup to start his two-start week, getting the Giants. The second game is much tougher, facing a very good Dodgers lineup at home. We think the first game is juice enough to make Gray a good play this week for fantasy teams. Even if he implodes a little in his second start, that first start could make up for a rough outing. Keep Gray in your lineup for this week.
Jake Arrieta, Phillies: vs. NYM, at MIA
Arrieta hit a bit of a rough patch after a solid start to the season but seems to have turned things around once again. He has allowed four runs his last two starts and won one of those outings. He has two great matchups to continue his solid play, playing the Mets and Marlins. Hopefully, Arrieta can continue his strong pitching in these two favorable matchups. Arrieta could be a big play for fantasy teams this week.
Steven Matz, Mets: at PHI, vs. ATL
Matz has been inconsistent this year, much like his first few seasons in the league. He has shown flashes but struggled his last few teams out. He has a 6.55 ERA his last two games and allied at least four runs three of four games. He goes on the road against a pretty good hitting Phillies team and then gets the Braves at home, another good hitting team. Matz might have two starts this week but you might want to avoid him because of his recent pay and tough matchups.
Julio Teheran, Braves: at CHC, at NYM
Teheran is another pitcher that has been frustrating this year. His overall numbers are pretty good but he has laid an egg some games, like his last time out. He lasted four innings and allowed six runs against the Mets, a team he is facing this week. HIs other matchup is on the road against the Cubs, another good offensive team. It isn't a slam dunk to start Teheran this week but he probably is worth using in your lineup based on his track record and solid performances throughout the season.
Jordan Zimmermann, Tigers: vs. TEX; vs. WAS
Zimmermann returned from the disabled list last week and allowed three runs in four innings of work against the Pirates. He wasn't terrible but not especially sharp. For the season, he has struggled much of the year, carrying a 6.03 ERA in seven games. He gets two starts this week but that doesn't mean he should be in your starting lineup. He faces a good-hitting Rangers team his first time out and an above-average Nationals team his second game. Zimmermann is a risky play for fantasy teams in these matchups.
Drew Pomeranz, Giants: vs. COL, vs. ARI
Pomeranz is giving owners a few rays of hope his last few times out, allowing two or fewer runs two of three games. But his one game he didn't do that, he was shelled for seven runs and didn't last five innings. Pomeranz has an ERA over seven for the season but is striking out more than a hitter an inning, which is a positive. But those strikeout numbers don't outweigh the other poor numbers for Pomeranz, making him a player fantasy teams should avoid despite the two games this week.
Jeff Paur is a two-time finalist for FSWA Fantasy Football Writer of the Year and won the FSWA award for Best Fantasy Football Article on the Web in 2011. He also was the most accurate expert in 2012, winning the FSTA Fantasy Football Accuracy Award. If you have any questions for Jeff, email him at jeff@rtsports.com. Follow Jeff on Twitter @jeffpaur.