Pitching Primer: Week 21
Sat Aug 17 8:30am ET
By MIKE BARNER
Contributing Writer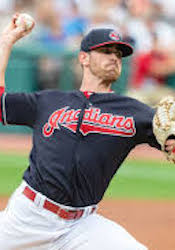 Bieber having breakout season
With playoff races heating up in both leagues, we could be in for a wild ride down the stretch. Among the two-start pitchers for Week 21 are several players on teams pushing for a postseason spot. Let's dive into the matchups and discuss whether some of them should be locked into your fantasy lineup or anchored to your bench.
Shane Bieber, Cleveland Indians: at NYM, vs. KC
While it looked like the Twins were going to run away with the division, the Indians are right back in the hunt in the AL Central. Bieber is having an excellent season and has really cranked things up of late, recording a 1.89 ERA and a 0.89 WHIP over his last five starts. He generated 44 strikeouts over 38 innings during that stretch, which included matchups against the Astros, Twins and Red Sox.
With as good as the Mets have been lately, Bieber's recent stretch has shown that he can shut down even the most potent of lineups. His second start of the week against the Royals certainly works in his favor considering they have scored the fourth-fewest runs in baseball. No need to overthink this one, keep rolling with Bieber in your starting lineup.
Wade Miley, Houston Astros: vs. DET, vs. LAA
The Astros have an incredible trio at the top of their rotation with Justin Verlander, Gerrit Cole and Zack Greinke. Miley might not carry the same type of upside that they do, but he is having a great season with a 3.31 ERA and a 1.18 WHIP. His FIP isn't as appealing at 4.42, but in this homer-happy environment, the fact that he has allowed only 1.2 HR/9 has been a big plus.
It doesn't get much better than his first start of the week against the Tigers since they have scored the fewest runs in baseball. The Angels are a much tougher foe, but they only have a 96 wRC+ on the road compared to a 111 wRC+ at home. Although you shouldn't expect Miley to contribute much in the strikeout department, he could still provide value in the majority of leagues.
Kyle Gibson, Minnesota Twins: vs. CWS, vs. DET
Gibson has seen his ERA increase from 3.62 last year to 4.28 this season, but his FIP is actually down slightly at 4.08. Overall, he doesn't exactly jump off the page as a viable fantasy asset when you factor in his 1.32 WHIP and 22.6 percent strikeout rate. He's really only someone to deploy if a matchup works in his favor.
The good news for Week 21 is that facing the White Sox and Tigers has the potential to be as good as it gets. Not only have the Tigers been a disaster, but the White Sox have scored the third-fewest runs. The Tigers and White Sox have also struck out the fourth-most and fifth-most times, respectively. There is plenty of upside here, so taking a chance on starting him could pay off in a big way.
Brendan McKay, Tampa Bay Rays: vs. SEA, at BAL
What is it about AL East teams continuing to thrive despite being decimated by injuries? The Yankees are running away with the division even though they are missing key parts of their lineup, starting rotation and bullpen. The Rays are playing their way towards a Wild Card berth despite losing some key members of their starting rotation. McKay has been one of the players they have been forced to rely upon and the youngster has an unappealing 5.08 ERA. However, his 3.97 FIP indicate he hasn't pitched that poorly and he does have a 27.4 percent strikeout rate.
With his propensity for racking up strikeouts, he has the potential to get off to a great start in his matchup with the Mariners, who lead all of baseball in strikeouts. The Orioles haven't been as bad in that department, but they have struck out the 10th-most times and rank inside the bottom-third of baseball in runs scored. McKay recorded seven strikeouts over five scoreless innings against them earlier this season, making him one of the more appealing streaming options this week.
John Means, Baltimore Orioles: vs. KC, vs. TB
Means has really be the lone bright spot on the Orioles' pitching staff. He pitched so well that he represented the Orioles at the All-Star game. However, he's had a rough go of it down the stretch, allowing 21 runs over 22 2/3 innings in his last five starts.
While the Royals might present a favorable opportunity to get back on track, his second start against the Rays is worrisome. The last time he faced them in Baltimore, they touched him up for six runs and three home runs over six innings. Factoring in that unfavorable matchup and how much he has struggled of late, the risk might not be worth the reward with regards to starting him. It also doesn't help his cause that he has just a 19.1 percent strikeout rate.
Mike Barner has been covering fantasy sports since 2007. His work has appeared in Sports Illustrated, Yahoo, SportsLine and RotoWire. Mike was also a finalist for the 2018 FSWA Basketball Writer of the Year award. Follow Mike on Twitter @rotomikebarner.