From The Godfather: Season Wrap-up
Wed Oct 2 11:23pm ET
By CHARLIE WIEGERT
Contributing Writer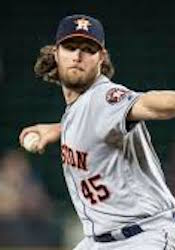 Sell high on Gerrit Cole?
Let the post season begin! Ten teams continue play this season, although two only have one more game. Baseballs fall classic has started, and the march to world champions has begun. Will this be the year the Dodgers ive up to their expectations? Will the Astros or New York Yankees stop them, or will another team surprise everyone and take the crown?
Of course being from St. Louis, I hope the Cardinals win it all. And as we learned from the past, anything can happen when we get into these games. Usually, the rule is good pitching stops good hitting, and not just starting pitching, but relief pitchers. So from top to bottom, I think Houston has the best pitching staff and is my favorite to win it all. Justin Verlander, Gerrit Cole and Zack Greinke might be the best one-two-three punch in baseball, not just now, but ever. A veteran like Verlander with established post season success, a young stud pitcher like Cole looking for a big pay day when he becomes a free agent after the season, and another seasoned veteran like Greinke are a great combination.
But what this season wrap-up column is about is not who will win the World Series. It's about what you should be thinking and doing to prepare for next year's fantasy baseball drafts. The road to a championship starts now, and here are a few suggestions to get you thinking along the right lines.
While the road to a MLB championship is exciting, most teams and managers go all out to win. Think of all the players that led their team to a championship, perhaps being over used, only to struggle the following season. Players need recovery time, especially pitchers, and those extra innings come back to haunt. Last year's winners quickly became this year's losers; Chris Sale, David Price, Nathan Eovaldi, Rick Porcello, Craig Kimbrel, Matt Barnes, Joe Kelly and Ryan Brasier all struggled this year. Many spending time on the IL. Remember all the great expectations we had for these players at our drafts this spring? Only Eduardo Rodriguez pitched the way we hoped he would. And, quickly, he was the World Series MVP? How fast we forget. . . .Steve Pearce. I'm not even sure he was on a MLB roster at the end of this season. So the point I'm trying to make here is do not let your judgement of players, especially on a World Series winning team, effect where you draft them next year. If anything, drop them in your rankings. Don't raise them!
The biggest culprit right now looks to be Gerrit Cole. Fantastic year, which was good enough to be the number one pitcher pick going into drafts. The ace of your staff. I'm telling you right now, don't take him. You're heading for disappointment. I predict he'll be one of the biggest disappointments next year. Next year's Chris Sale. If you're in a keeper league, his value will never be higher. Trade him now. You'll get a couple really good players in return.
The last month of the season was auditions for next year. What players impressed management that they'll have leading roles in 2020? Pay attention because their full season stats might not be that impressive, making them sleepers for next season. Some players I like who had good September's are Yoan Moncada, Austin Meadows, Tim Anderson, Trey Mancini and Tommy Edman. Players with 10-plus home runs were Pete Alonso, Brett Gardner, Jorge Soler, George Springer and Edwardo Suarez. Stolen base leaders were Alberto Mondesi, Jon Berti, Garrett Hampson, Tommy Pham, Danny Santana and Jonathan Villar. They should all be on your radar for next year.
Strikeout leaders for the month were Cole, Verlander, Jack Flaherty, Eduardo Rodriguez, Mike Clevinger, Yu Darvish, Patrick Corbin and Lance Lynn. There were 15 pitchers that threw over 200 innings this past season, making between 32 and 34 starts. Those that get a red caution flag from the workload for next year are Shane Bieber, Trevor Bauer and Marco Gonzalez.
Save leaders for the month were Josh Hader and Liam Hendriks with 11. Will they be the leading contenders for your bullpen next year? Let me remind you about Blake Treinen, who seemed unhittable at the end of 2018. Finding reliable relief pitchers is one of the hardest things in fantasy baseball. No one can be considered a sure thing. Those who established themselves in September and are a good bet to close for their teams next year are Taylor Rogers in Minnesota, Archie Bradley in Arizona, Carlos Martinez in St. Louis, Alex Colome in Chicago (White Sox), Ian Kennedy in Kansas City and Brandon Workman in Boston. Joe Jimenez in Detroit and Jairo Diaz are probably frontrunners, but on a short leash.
I hope your fantasy baseball season was successful. See you next year!
Charlie Wiegert was the sixth person to be inducted in the Fantasy Sports Hall Of Fame in 2001. He is a founder of CDM Fantasy Sports and Fantasy Sports Trade Association. He has been playing and winning fantasy baseball leagues since 1984. If you have any questions for Charlie, email them to cwiegert@cdmsports.com. Follow him on Twitter @GFFantasySports.