Closing Time
Thu Feb 18 9:12am ET
By MIKE BARNER
Contributing Writer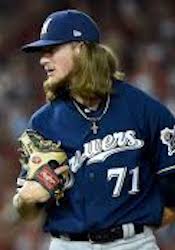 Hader is a dependable closer
One of the more frustrating positions in fantasy baseball can be that of the closer. If you're playing in a traditional 5 X 5 roto league, it's not as easy to punt saves like you could in a head-to-head league. Let's dive into the position to try and make your task of drafting closers a little easier.
"Safe" Options
The word "safe" feels dangerous when it comes to fantasy baseball, but in terms of the more reliable closing options, this might be the most difficult season ever to find them. There are really only two to feel overly comfortable about, Josh Hader and Aroldis Chapman.
The case for Chapman is that he plays for a great team that should afford him with a lot of save opportunities. Also, he's a strikeout machine. He recorded 22 of them across only 11 2/3 innings last season and he has a career 41.4 percent strikeout rate. The Yankees do have a setup man in Zack Britton who is more than capable of filling in should anything happen to Chapman, but make no mistake about, Chapman's job is as safe as it gets.
Hader basically had two bad outings that skewed his numbers for the abbreviated 2020 season. The first of these bad outings is when he allowed two runs and recorded five walks while registering only one out against the Pirates. He only had a 6.9 percent walk rate in 2019 and he issued five total walks the rest of 2020, so that was basically one rare wild outing. His other bad performance came when he allowed four runs and two home runs across one inning versus the Cubs. Still, he finished with 31 strikeouts and 13 saves across 19 innings. Expect him to have another valuable season.
Are They For Real?
I could have just called this section, "Is Liam Hendriks For Real," but that might be taking it too far. Hendriks was first instilled as the Athletics' closer during the 2019 season and was stellar, posting a 1.80 ERA, 0.96 WHIP and 25 saves across 75 appearances. His biggest area of improvement was strikeouts, posting a career-high 37.3 percent strikeout rate. For comparison, his previous career best was 28.6 percent.
Hendriks remained the closer for 2020 and was once again lights-out, posting a 1.78 ERA, 0.67 WHIP and a 40.2 percent strikeout rate. He parlayed that into a big contract with the White Sox, a team that has hopes of making a run for the playoffs. So, the question is, is what we've seen from Hendriks real, or is he closer to the pitcher that has a career 4.10 ERA and 1.28 WHIP?
Over the course of a full season, it's difficult to ask Hendriks to record an ERA under 2.00, again. However, his improvements in both strikeouts and walks allowed points to sustained success. Also, he's normally done a good job of limiting home runs, allowing six of them across 110 1/3 innings the last two seasons. He should be drafted right up there with Chapman and Hader.
One of the upcoming potentially big names in terms of closers is James Karinchak of the Cleveland Indians. He was selected in the ninth round of the 2017 Draft and progressed quickly through the minors, making his big-league debut in 2019. He only logged 5 1/3 innings, but he showed his massive strikeout upside that enabled him to move up through the minors so quickly with eight strikeouts. Across 27 innings in a mostly setup role in 2020, he recording a whopping 53 strikeouts while allowing only 14 hits.
With Brad Hand gone, the closer's job should be Karinchak's to lose. Considering his strikeout potential, he could quickly move up towards the top tier of closers in fantasy. Yes, the Indians did trade away Francisco Lindor, but they still have a strong starting rotation, so it wouldn't be a surprise to see them involved in a lot of close games, which could create plenty of save opportunities for Karinchak.
Unsettled Situations
It feels like we have more unsettled closer situations than ever before. One of them is the Tampa Bay Rays, who have been known to use multiple players in the role in seasons past. They have several viable options again, including Diego Castillo, Nick Anderson and Pete Fairbanks. Anderson would seem to have the highest ceiling of that trio and he registered six saves across 19 appearances last season. He's been a strikeout machine since making his debut in 2019, posting 136 of them across 81 1/3 innings. Don't expect him to be the only Ray who gets saves, but it wouldn't be a surprise to see him finish the season with around 20 saves, to go along with a ton of strikeouts, when all is said and done.
Another team with playoff aspirations who doesn't enter the season with a defined closer is the Padres, who have moved on from Kirby Yates. They have several players with closing experience, including Mark Melancon, Drew Pomeranz, Emilio Pagan and Keona Kela. Right off the bat, that makes drafting any of those players risky. The Padres could decide to mix and match in the ninth inning based on matchups, especially with Pomeranz being a left-handed option. If you want to take a flier on any of them, be sure to wait until the later rounds of your draft.
No Thanks
There are two teams that I won't no part of their closer situation, the Orioles and Tigers. They are both expected to struggle, so save opportunities for either team likely won't be plentiful. For the Orioles, they probably don't have a choice but to go with a committee approach based on their options. Hunter Harvey had some buzz around him heading into last season, but injuries limited him to 8 2/3 innings and he has very little experience above Triple-A. He didn't close during any of his stops in the minors, either.
The duo of Gregory Soto and Bryan Garcia combined to save six games for the Tigers last season, but neither player is that exciting for fantasy. Garcia may have recorded a 1.66 ERA, but his FIP was 3.61 and he had just 12 strikeouts over 21 2/3 innings. While Soto provided more strikeouts, his combined 5.36 ERA and 4.93 FIP over his first two seasons are a major concern. Add in the Tigers likely struggling to win games again and this might be a situation to just avoid, altogether.
Mike Barner has been covering fantasy sports since 2007. His work has appeared in Sports Illustrated, Yahoo, SportsLine and RotoWire. Mike was also a finalist for the 2018 FSWA Basketball Writer of the Year award. Follow Mike on Twitter @rotomikebarner.