Pitching Primer: Week 13
Sun Jun 26 1:44pm ET
By MIKE BARNER
Contributing Writer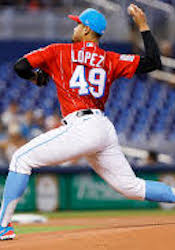 Lopez is a must start this week
There are a lot of appealing pitchers who are scheduled to start two times each during Week 13. While they might not all be the biggest of names, they could still provide excellent returns for their fantasy managers. Let's discuss five such pitchers, and what to expect based on their matchups.
Pablo Lopez, Miami Marlins: at STL, at WAS
The Marlins have really needed Lopez with all of the injuries to their starting rotation, and he hasn't disappointed. He's logged 82 2/3 innings across his 14 starts, posting a 2.61 ERA and a 3.29 FIP along the way. His strikeout rate is down compared to last season, but it's still more than serviceable at 25.1 percent, while his 1.06 WHIP is on pace to be the best mark of his career.
Regardless of matchups, Lopez is someone to be excited about when he's set to start two times in a week. The Cardinals won't be an easy opponent, but they do have a .716 OPS versus right-handed pitchers, compared to a .766 OPS versus lefties. The Nationals, meanwhile, have scored the 10th-fewest runs in baseball. Sit back and enjoy the ride with Lopez.
Sonny Gray, Minnesota Twins: at CLE, vs. BAL
Gray struggled versus the Guardians in his last start, allowing four runs (three earned) over four innings. He gave up a home run along the way, after going four straight starts without having allowed one. For the season, he's only allowed four home runs across 42 2/3 innings, which has gone a long way towards him recording a 2.53 ERA that is supported by a 2.90 FIP.
Despite his first start of Week 13 coming against the Guardians again, Gray still has plenty of upside given his ERA and 26.9 percent strikeout rate. He could miss plenty of bats in his start versus the Orioles, who have struck out the fourth-most times in baseball. No need to overthink this one. If you have Gray on your roster, make sure he's in your starting lineup.
Jordan Montgomery, New York Yankees: vs. OAK, at CLE
One of the main reasons why the Yankees have the best record in baseball is that their starting rotation has been excellent. That includes Montgomery, who has a 2.97 ERA and a 1.02 WHIP. His FIP isn't as impressive at 3.87, and his 18.5 percent strikeout rate isn't very fantasy friendly, but he's still been a viable option in most formats.
Montgomery's matchup against the Athletics is about as good as it gets. They have been awful offensively, scoring the second-fewest runs and posting the worst OPS in baseball. Despite the issues that the Guardians can create, Montgomery's matchup against the Athletics alone makes him worth starting in most leagues.
Charlie Morton, Atlanta Braves: at PHI, at CIN
Is Morton showing signs of turning things around? He was dominant his last two starts, allowing two runs and posting 20 strikeouts across 14 innings. Over his last four starts, he's struck out 40 batters across 25 innings. The downside is, he did give up five home runs during that span.
With his 4.84 ERA and 4.20 FIP, starting Morton in fantasy comes with risk. These two matchups don't make things any easier. The Phillies have hit the fifth-most home runs in baseball, while the Reds have the fourth-highest home OPS (.776). If you need strikeouts, Morton is still probably worth the risk. If you're in a shallow league and can't afford any damage to your ERA, though, it's not crazy to consider benching him.
George Kirby, Seattle Mariners: vs. BAL, vs. OAK
The Mariners might have something special with Kirby. Despite having never previously pitched above Double-A, he looks right at home in the majors. He's made nine starts since being recalled, recording a 3.12 ERA and a 3.76 FIP. Although his 23.3 percent strikeout rate isn't great, his 3.0 percent walk rate is impressive for a pitcher with so little experience.
Awaiting Kirby in Week 13 are two great matchups. Not only do the Orioles strike out a lot, but they have scored the ninth-fewest runs in baseball. We've already detailed the A's issues, and Kirby has already exploited a matchup against them this season. He took the mound against them Wednesday, striking out six batters across six scoreless innings. Kirby has the potential to have a significant impact in fantasy this week.
Mike Barner has been covering fantasy sports since 2007. His work has appeared in Sports Illustrated, Yahoo, SportsLine and RotoWire. Mike was also a finalist for the 2018 FSWA Basketball Writer of the Year award. Follow Mike on Twitter @rotomikebarner.