Champions Draft Owner Comments
Wed Jul 10 12:31pm ET
By JEFF PAUR
Sr Fantasy Writer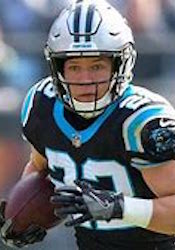 McCaffrey went first overall
We wanted to give our readers a look into the thought process of the owners of our "Champions Draft." So here is a look at each team and some of their strategies/thoughts on their draft.
Before we get to the comments, here is a quick rundown of the league. First off, the draft this season consists of the top rated fantasy players on our site - we invited players that were rated at the top of our Top Fantasy Players report. So this is the best of the best on our site.
We used the same rules as we do for the "All-Pro" fantasy leagues on our site. So you can view the entire set of rules on our main page for that game. But here is a brief look. Each team starts a quarterback, two running backs, two receivers, a tight end, a defensive/special teams, a kicker and a flex player (RB, WR or TE). Scoring is pretty standard. Touchdowns are worth six except for passing touchdowns, which are worth four. And it is a points per reception league, giving every player a point per reception. Defenses get points for sacks, interceptions and fumble recoveries. The rules are pretty standard with how many leagues operate these days.
Here is a link to the draft board: Champs Draft Board.
Below is a look at each team and their thoughts on their favorite pick, least favorite pick, toughest decision and surprise of the draft. See how the best of the best feel about their draft.
Bubbles Army - Brad Petri
Baker Mayfield, QB, CLE
Nick Chubb, RB, CLE
Tevin Coleman, RB, SFO
Chris Godwin, WR, TAM
DeAndre Hopkins, WR, HOU
Jarvis Landry, WR, CLE
Zach Ertz, TE, PHI
Ka'imi Fairbairn, K, HOU
Chicago Bears
Mitch Trubisky, QB, CHI
Mike Davis, RB, CHI
Darrell Henderson, RB, LAR
Justice Hill, RB, BAL
Kareem Hunt, RB, CLE
Devin Funchess, WR, IND
N'Keal Harry, WR, NWE
FAVORITE PICK: Not a fan of the five spot. The top four backs are always gone and next few picks are usually close in value and would rather have the better player coming back down. If had to say a favorite pick, I guess getting Zach Ertz in Round 3.
LEAST FAVORITE PICK: My least favorite pick was likely Kareem Hunt in Round 8 but thought cuffing Nick Chubb was good option. But with only 16-man roster and him out for eight weeks, this will take some roster management.
TOUGHEST DECISION: My biggest decision was actually in Round 1 to take a running back, Melvin Gordon or David Johnson, or DeAndre Hopkins at receiver. I was thinking that running back would likely dwindle, which is what happened.
SURPRISE OF THE DRAFT: Marquez Valdes-Scantling seems to have climbed lately, not only in this draft (Round 8) but several drafts lately.
BLOOD WOLF - Bryan Hough
Deshaun Watson, QB, HOU
Aaron Jones, RB, GNB
Phillip Lindsay, RB, DEN
Joe Mixon, RB, CIN
Odell Beckham Jr., WR, CLE
Allen Robinson, WR, CHI
Kyle Rudolph, TE, MIN
Greg Zuerlein, K, LAR
Cleveland Browns
Jameis Winston, QB, TAM
Jamaal Williams, RB, GNB
Tyreek Hill, WR, KAN
D.K. Metcalf, WR, SEA
DeVante Parker, WR, MIA
Marquez Valdes-Scantling, WR, GNB
Tyler Eifert, TE, CIN
FAVORITE PICK: My favorite pick was D.K. Metcalf. I know he is just a rookie, but he is standing out in minicamp. He reminds me of a young Calvin Johnson. If things go perfect for him, he could be the offensive NFL Rookie of the Year. Incredible value for a ninth round/108 overall fantasy pick.
LEAST FAVORITE PICK: My least favorite pick was Kyle Rudolph. I wanted a better tight end, but there was nothing left at the position to make an impact on my team. Rudolph is not flashy, but reliable.
TOUGHEST DECISION: My toughest decision was actually my first two picks. I was surprised some of the players I wanted were already drafted. Plus, I was having a hard time picking two out of the three players: Joe Mixon, James Connor and Odell Beckham.
SURPRISE OF THE DRAFT: Surprise of the draft for me was that all the good tight ends were gone by the end of the seventh round. I really thought I could get Jared Cook, Hunter Henry or David Njoku.
LoadedFlexOptions - Stephen Hawley
Kyler Murray, QB, ARI
Alvin Kamara, RB, NOR
Damien Williams, RB, KAN
T Y Hilton, WR, IND
Dante Pettis, WR, SFO
Robert Woods, WR, LAR
Trey Burton, TE, CHI
Harrison Butker, K, KAN
Los Angeles Rams
Alexander Mattison, RB, MIN
Lamar Miller, RB, HOU
David Montgomery, RB, CHI
Jaylen Samuels, RB, PIT
Keke Coutee, WR, HOU
Courtland Sutton, WR, DEN
T.J. Hockenson, TE, DET
FAVORITE PICK: For me, it would be Alexander Mattison at pick 13.03. I think this Vikings rookie could have some independent value much like Austin Ekeler did last season taken in a similar round. Also, with Dalvin Cook injury history over the first two years, the Vikings may want to lessen the load for him in hopes he can play throughout the whole season.
LEAST FAVORITE PICK: I'm hoping this player performs like the player I wrote in this section last season (George Kittle) and it's for the same reason. Dante Pettis is a player I am very high on but did not want to have to take him at 6.10 when I normally can get him in the late seventh or early eighth round. However, playing against the competition I was in, I couldn't be sure to myself that he could come back to me in the eighth round.
TOUGHEST DECISION: Toughest for me came early in the draft when deciding between TY Hilton or Zach Ertz in the third round. With this group of experienced drafters, they tend to feast on running backs and receivers that will often let some tight ends fall in the draft. If I could get OJ Howard or Evan Engram in the sixth round then Hilton would be the right play. Although I didn't get either of those players, I'm still happy with the decision of Hilton with receivers being taken frequently as expected.
SURPRISE OF THE DRAFT: After taking Trey Burton as my TE1, I knew I would likely be taking two additional players at that position with the uncertainty Burton brings. Guys I normally target in Rounds 13-16 (Jack Doyle, Chris Herndon, Dallas Goedert, Mark Andrews) were all gone by then and I was completely unprepared for what to do if that were to happen and left me in a very sketchy spot at the tight end position.
Gregory's Team - Gregory Marrapese
Drew Brees, QB, NOR
Dalvin Cook, RB, MIN
Sony Michel, RB, NWE
James White, RB, NWE
Davante Adams, WR, GNB
A.J. Green, WR, CIN
Evan Engram, TE, NYG
Stephen Gostkowski, K, NWE
New England Patriots
Tom Brady, QB, NWE
Duke Johnson, RB, CLE
Dion Lewis, RB, CLE
Larry Fitzgerald, WR, ARI
Sterling Shepard, WR, NYG
Jimmy Graham, TE, GNB
Greg Olsen, TE, CAR
FAVORITE PICK: My favorite pick was my first pick at seven, taking Davante Adams. I was really impressed how he produced last year and I wanted to make sure I had him on my team this year. I think he will have another good year.
LEAST FAVORITE PICK: My least favorite pick was Duke Johnson. I was at work when this draft was going on and by the time I got to my phone for my next pick time ran out. I was trying to pick Russel Wilson with one second left but instead the draft auto picked Duke Johnson.
TOUGHEST DECISION: The toughest decision was when I got to the middle of the sixth round. I was hoping to get one more running back for depth like Derrius Guice or a receiver like Alshon Jeffrey. Both players got picked right before my pick, so instead I went next best tight end, Evan Engram.
SURPRISE OF THE DRAFT: The only thing that surprised me was that James White was still available for me to get at the 5.8 spot. However, looking at past TFC drafts, that is the round he usually goes in. I was happy to get both New England running backs in Sony Michel and James White.
Suncoast - Ralph Schiavon
Kirk Cousins, QB, MIN
Jared Goff, QB, LAR
Devonta Freeman, RB, ATL
Royce Freeman, RB, DEN
Melvin Gordon, RB, LAC
Latavius Murray, RB, NOR
Ito Smith, RB, ATL
Geronimo Allison, WR, GNB
Tyler Boyd, WR, CIN
Kenny Golladay, WR, DET
Emmanuel Sanders, WR, DEN
Mike Williams, WR, LAC
Travis Kelce, TE, KAN
Jordan Reed, TE, WAS
Robbie Gould, K, SFO
Houston Texans
FAVORITE PICK: Due to the abilities of all draft participants, the event was very balanced and predictable. My favorite pick was Jared Goff in the 12th Round, who I feel will be a solid QB1. I generally try to wait on quarterbacks due to the wealth of value with this position. I should get good production with this particular pick this deep into the draft.
LEAST FAVORITE PICK: I feel my worst pick was Latavius Murray in the seventh round. I needed a RB3 at this point but there is a drop off fast with running backs. I settled on Murray, however, due to the upside with his role in a prolific offense.
TOUGHEST DECISION: The toughest decision I had to make was in the 10th round when I chose Ito Smith. At that point, I needed my final running back (RB5) and was torn between backs with more value potential but in the end decided to grab Smith in order to have a true handcuff to one of my starters (Freeman).
SURPRISE OF THE DRAFT: There were a couple of surprises for me in the Champs Draft. The first was how quick some of the quarterbacks were picked. The other was Tyreek Hill in the sixth round, considering all the issues surrounding his situation. It is a high risk, high reward pick for sure that could pay off or bust. I will note that Hill seems to be steadily moving up draft boards in recent weeks.
Knockerdog - Michael Richmer
Andrew Luck, QB, IND
Todd Gurley, RB, LAR
David Johnson, RB, ARI
Will Fuller, WR, HOU
Tyler Lockett, WR, SEA
Calvin Ridley, WR, ATL
George Kittle, TE, SFO
Giorgio Tavecchio, K, ATL
Jacksonville Jaguars
Cam Newton, QB, CAR
Damien Harris, RB, NWE
Jordan Howard, RB, PHI
Benny Snell Jr., RB, PIT
Zay Jones, WR, BUF
Anthony Miller, WR, CHI
Mark Andrews, TE, BAL
FAVORITE PICK: Last Year, Todd Gurley was the unanimous No. 1 selection in many drafts. This year, knee issues have lowered his ADP dramatically. Picking him at 2.7 could end up being a steal, or a lot of trouble for my team. I am willing to take that chance at this point of the draft.
LEAST FAVORITE PICK: My pick I wish I had to do over was Cam Newton at 11.6 in this draft. I could have waited until Round 15 for a second quarterback or even waited until I need one on waivers for Andrew Luck's bye week.
TOUGHEST DECISION: At pick 4.7, I was at a point where I needed to pick a receiver. I took Tyler Lockett over some others. There wasn't a lot to decide from that would have made a big difference. Sixteen of the top receivers had already been cleared from the board. In hindsight, I could have taken A.J. Green or Kenny Golladay, but they offered little upside in my mind if any over George Kittle, so i picked him at 3.6 instead of a receiver.
SURPRISE OF THE DRAFT: When you enter a draft with the expertise of the players in this draft, you need to get the players you want as quickly as possible. Forget about ADP to a certain degree and grab what you want. If you think you have some info on a sleeper pick, be sure they know it too. Right when I thought I might get a player I wanted, they were picked before I could get them.
Supernatural - Joe Walker
Lamar Jackson, QB, BAL
Chris Carson, RB, SEA
Derrius Guice, RB, WAS
Amari Cooper, WR, DAL
Mike Evans, WR, TAM
JuJu Smith-Schuster, WR, PIT
Vance McDonald, TE, PIT
Dan Bailey, K, MIN
Kansas City Chiefs
Matt Ryan, QB, ATL
Giovani Bernard, RB, CIN
Carlos Hyde, RB, KAN
Ronald Jones II, RB, TAM
Rashaad Penny, RB, SEA
Donte Moncrief, WR, PIT
Jack Doyle, TE, IND
FAVORITE PICK: Amari Cooper at 3.9 was the best bang for my buck in this draft. This picked played right into my hands.
LEAST FAVORITE PICK: Rashad Penny at 5.9 is waaay too early for a handcuff running back. Seattle is a run-first team and having the primary back there will pay dividends but having to waste this pick was unfortunate. I really wanted Tyler Boyd or Mark Ingram in the fifth round and I had my fingers crossed that one would fall to me but Suncoast and Paur made sure that they did not.
TOUGHEST DECISION: Do I go wide receiver or running back heavy in the beginning rounds? Every few years, the early wide receiver strategy pays off and I think that this is the year. If I were drafting in the in the RTFFC, Championship or High Stakes leagues, I would definitely have a few teams like this one. Drafting with all of the top players here I felt I had to do something a little different. The good ole early stud running back structure is hard to beat and that is why it was such a tough decision.
SURPRISE OF THE DRAFT: The tight end position seems like you are either all in (get one super early) or you are left out in cold. The difference between the top couple of guys and the rest of the pack is enormous this year. In past years, in the onesie positions you just stream it if needed, but this year the low hanging fruit is rotten on the ground. The disparity in the spread of points is the most I have ever seen.
CrakRok - Gregory Kanter
Philip Rivers, QB, LAC
Saquon Barkley, RB, NYG
Tarik Cohen, RB, CHI
Keenan Allen, WR, LAC
Corey Davis, WR, TEN
Adam Thielen, WR, MIN
Hunter Henry, TE, LAC
Jake Elliott, K, PHI
Minnesota Vikings
Peyton Barber, RB, TAM
Matt Breida, RB, SFO
Kenyan Drake, RB, MIA
Chris Thompson, RB, WAS
Curtis Samuel, WR, CAR
Dede Westbrook, WR, JAC
Austin Hooper, TE. ATL
FAVORITE PICK: My favorite pick was my first - Saquon Barkley at No. 2 overall.
LEAST FAVORITE PICK: Least favorite is Kenyan Drake in the fourth round. I can't figure out Miami and he could be a bust.
TOUGHEST DECISION: Toughest decision is back to Kenyan Drake in the fourth round. I wanted another receiver, but felt I had to shore up the running back position as they were going quickly.
SURPRISE OF THE DRAFT: Surprise was Swiper passing on a second running back until LeSean McCoy. That team is toast.
Dream Chaser - Tom Smith
Aaron Rodgers, QB, GNB
James Conner, RB, PIT
Kerryon Johnson, RB, DET
Alshon Jeffery, WR, PHI
Julio Jones, WR, ATL
Sammy Watkins, WR, KAN
David Njoku, TE, CLE
Jason Myers, K, SEA
Baltimore Ravens
Ben Roethlisberger, QB, PIT
Nyheim Hines, RB, IND
Josh Jacobs, RB, OAK
Jalen Richard, RB, OAK
Michael Gallup, WR, DAL
Tyrell Williams, WR, OAK
Dallas Goedert, TE, PHI
FAVORITE PICK: Julio Jones at 1.11, I could have easily went OBJ or Michael Thomas, who I like a lot, with my first pick. But in my opinion, I think this may be the year that Jones has a monster year.
LEAST FAVORITE PICK: Although I took Aaron Rodgers at 8.2, I probably should have waited and still would have been able to select a very good quarterback a few rounds later in like Rounds 10 or 11.
TOUGHEST DECISION: Taking Josh Jacobs with my 3.10 pick. I'm usually a bit wary about taking rookies early in a draft and contemplated about going with Phillp Lindsay at 3.10. But with Lindsay's injury, I decided on Jacobs.
SURPRISE OF THE DRAFT: I wanted to get some type of decent tight end. But the run of second tier tight ends to start off Round 6 and beginning of Round 7 had me reeling a bit, thinking I was doomed at the tight end position. With this type of top caliber drafters, I decided to take David Njoku at 7.11. If I had waited any longer, I'm not sure what would have been left to select from at the tight end position.
Vikes 333 - Rick Mogard
Jimmy Garoppolo, QB, SFO
Dak Prescott, QB, DAL
Leonard Fournette, RB, JAC
Marlon Mack, RB, IND
Christian McCaffrey, RB, CAR
Miles Sanders, RB, PHI
Devin Singletary, RB, BUF
Mecole Hardman, WR, KAN
Marvin Jones, WR, DET
Cooper Kupp, WR, LAR
D.J. Moore, WR, CAR
James Washington, WR, PIT
Eric Ebron, TE, IND
Christopher Herndon, TE, NYJ
Wil Lutz, K, NOR
Dallas Cowboys
FAVORITE PICK: Christian McCaffery, first overall. I believe he is the safest pick at that spot. Barkley is good too but the team could have serious potential offensive issues and teams could just stack against them. Elliott and Kamara are also solid but both have some potential issues. So CMC at 1 has the most upside with the least risk.
LEAST FAVORITE PICK: Fournette at 3.1. I had to think about this. However, since I got McCaffery and his safe upside, I chose to go for a league winner here. If he can play and stay on field, he will be the focal point in Jacksonville.
TOUGHEST DECISION: Mecole Hardman in the 11th had too much upside to pass. However with the Hill situation up in the air, it could have zero juice for this year.
SURPRISE OF THE DRAFT: I know that everyone says wait on quarterback but getting Jimmy Garoppolo with the absolute last pick (16.12) in this draft is crazy value.
Rocco's Team - Rocco Frost
Patrick Mahomes, QB, KAN
Kalen Ballage, RB, MIA
Le'Veon Bell, RB, NYJ
Austin Ekeler, RB, LAC
D'Onta Foreman, RB, HOU
LeSean McCoy, RB, BUF
Adrian Peterson, RB, WAS
Stefon Diggs, WR, MIN
Julian Edelman, WR, NWE
Josh Gordon, WR, NWE
DeSean Jackson, WR, PHI
Christian Kirk, WR, ARI
Michael Thomas, WR, NOR
O.J. Howard, TE, TAM
Justin Tucker, K, BAL
Denver Broncos
FAVORITE PICK: My fave pick has to be Mahomes with the 5.10 pick. He is a great value that late in the draft and even though I usually wait on quarterback, I couldn't pass up Mahomes there.
LEAST FAVORITE PICK: My least fave pick would be LeSean McCoy. I missed out on the better running backs when I passed up Guice for my tight end, but if Slim has anything left in the tank, he could be a value pick as he is not being drafted like a top running back he could still be.
TOUGHEST DECISION: Tough choice was going for OJ Howard a bit early, but he was my highest ranked player at my turn, so I trusted my stats and took him. Being in the 10 hole, I didn't want to miss out on the second tier tight ends if there was a tight end run, since I had waited too long for my second running back. I couldn't miss on another position.
SURPRISE OF THE DRAFT: My biggest surprise could be my Josh Gordon pick. If he gets cleared to play, he is a top receiver in a great position to be a league difference maker. Let's see if that is the case.
Super Paurs - Jeff Paur
Russell Wilson, QB, SEA
Ezekiel Elliott, RB, DAL
Derrick Henry, RB, TEN
Mark Ingram, RB, BAL
Antonio Brown, WR, OAK
Brandin Cooks, WR, LAR
Jared Cook, TE, NOR
Mason Crosby, K, GNB
Los Angeles Chargers
Carson Wentz, QB, PHI
Jerick McKinnon, RB, SFO
T.J. Yeldon, RB, BUF
Robby Anderson, WR, NYJ
Parris Campbell, WR, IND
Golden Tate, WR, NYG
Delanie Walker, TE, TEN
FAVORITE PICK: It wasn't an exciting pick but I was really happy to get Mark Ingram in the fifth round. He heads to a run-first offense to serve as the lead back. I like his potential for a solid season, getting 1,000-plus total yards and near double-digit scores. This pick puts three solid backs on my roster, giving me good depth at a key position.
LEAST FAVORITE PICK: I think Jared Cook has real potential this year in that offense but he also has a lot to compete with for targets compared to the Raiders last year. I'm just not sold on him being a solid weekly option. I was hoping to get Eric Ebron after the first four tight ends were off the board but he didn't last to me in Round 7. I should have taken Ebron in Round 6 when I had the chance.
TOUGHEST DECISION: I was really torn on the receiver to take with my second pick Options for me were Keenan Allen, Adam Thielen, TY Hilton and Antonio Brown. I think I took the player with the most risk in Brown, but I also think he has the most potential for the huge season out of the group. Brown has a chip on his shoulder and I'm sure he will do all he can to prove the Steelers wrong for letting him go. Hopefully, this tough decision was the right one.
SURPRISE OF THE DRAFT: The biggest thing that stuck out to me about this draft were tight ends went a little sooner than expected. Normally, after the big three are off the board, the run on tight ends starts in about Round 8 or 9. That wasn't the case in this draft as nine tight ends were picked in the first seven rounds with four getting picked in Round 6. Every draft is different, so you have to adjust to your drafters. This draft is a good example of that when it came to the tight end spot.
Jeff Paur is a two-time finalist for FSWA Fantasy Football Writer of the Year and won the FSWA award for Best Fantasy Football Article on the Web in 2011. He also was the most accurate expert in 2012, winning the FSTA Fantasy Football Accuracy Award. If you have any questions for Jeff, email him at jeff@rtsports.com. Follow Jeff on Twitter @jeffpaur.