Cardinals switch to rookie Josh Rosen at QB
Mon Sep 24 5:08pm ET
By JOSE M. ROMERO
Associated Press
Players: Sam Bradford, Josh Rosen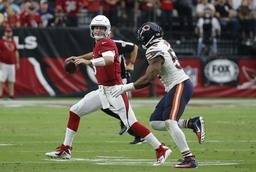 Arizona Cardinals quarterback Josh Rosen, left, looks to throw the ball as he is pressured by Chicago Bears linebacker Khalil Mack, right, during the second half of an NFL football game, Sunday, Sept. 23, 2018, in Glendale, Ariz. (AP Photo/Rick Scuteri)
TEMPE, Ariz. (AP) Rookie Josh Rosen will take over as the Arizona Cardinals' starting quarterback this Sunday against the Seattle Seahawks.
Rosen, the 10th overall pick in this year's draft, replaced veteran Sam Bradford in Sunday's 16-14 loss to the Chicago Bears with 4:31 left to play after three Arizona second-half possessions ended in turnovers.
Rosen couldn't rally the Cardinals to a win, as he threw an interception to end his first drive and was sacked to end the second. But the rookie from UCLA completed four of seven passes for 36 yards and apparently showed coach Steve Wilks enough for him to make a change for the winless Cardinals (0-3).
''Josh plays with a lot of confidence. He gives us the opportunity to be successful,'' Wilks said Monday.