Lineup Prep: Week 7
Thu Oct 18 8:36 am
By JEFF PAUR
Sr Fantasy Writer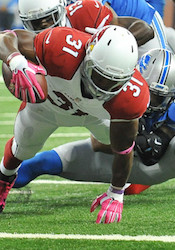 Johnson has TDs four straight
Well, the bye weeks should make for an interesting week of fantasy action. We have four teams on a bye this week for the first time this season, including some powerhouse offenses (Packers, Steelers). This could make for some tough lineup decisions for fantasy owners. Hopefully, you have some quality options to choose from to make up for your losses this week.
Now for my random thoughts for the week. . . . .
I could not be more impressed with Saquon Barkley. He is exceeding all my expectations for him for his rookie year. This guy is Barry Sanders but with more size. He is a special talent that will be a fantasy force for years to come. The opposition knows he is getting the ball and still can't stop him. That is pure Sanders in my view. Just imagine if the Giants had any offensive line and their quarterback was playing decent football. The sky is the limit for this kid. He has been so impressive.
My biggest disappointment to date is Jordan Howard. He has a promising first few games but gone really south his last few times out. He did have decent rushing totals last week but went without a catch for the second straight game. I really thought he would get more weekly chances to catch the ball. That isn't happening at the moment, though, which really puts a dent in his fantasy value, especially if you consider he has more than 70-rushing yards just once all season. Howard has the talent to get it going, but I have a feeling he is going to continue to disappoint me.
I still can't fathom the Browns giving Carlos Hyde 95 percent of the carries at running back. This guys has averaged fewer than three yards per carry three of six games and just 3.4 yards per carry for the season. Meanwhile, Nick Chubb just keeps making big plays every time he touches the ball, but has not had more than three carries in a game this year. Chubb deserves eight to 10 touches every week. Hyde isn't doing much with his work, so why not give the rookie more chances. Makes zero sense.
Sony Michel continues to gain steam in the Patriots offense. He has 100-yard games two of three and scores three straight. Michel has double-digit carries every game he has played. Needless to say, he is the workhorse back for this offense, which is unusual for the Patriots in recent years. The only concern for me is he has just three receptions all season. His lack of catches is going to hold him back from being a top fantasy back. Until the catches some, consider Michel a No. 2 fantasy back.
Here is to hoping Joe Mixon can stay healthy the rest of the year. I have been super impressed with him when he is on the field. He seems to have taken his game to a new level, showing he can be that three-down elite back. He has 84 or more total yards all four games played and more than 100 total yards two of those games. The sky seems the limit for Mixon. He is really gaining steam in this offense.
Keenan Allen is pulling a Julio Jones this year. He is getting his catches and some decent yards but he is not finding the end zone, which is really hurting his fantasy numbers. He scored in Week 1 but hasn't since. Allen is just 23rd overall in fantasy receiver scoring, failing to live up to his draft status right now. He can get going but the lack of scores is a concern. The Chargers have some other weapons at receiver that seem to be better red-zone targets.
So Alfred Morris played just one snap last week, which was a huge shock to everyone. Matt Breida was healthy and played well, but the big surprise was Raheem Mostert splitting the work with Breida. The 49ers obviously don't think Morris brings much to the table at this point. Look for Breida and Mostert to continue splitting the work at running back for the 49ers going forward. Morris is worth dropping in most formats.
Devonta Freeman is likely done for the season after needing surgery on his injury. This leaves Tevin Coleman as the starter with Ito Smith as the top backup. Coleman has been a bust to date as a starter in this offense. He has really surprised me, failing to excel with more chances. He might improve a little going forward, but don't expect him to be a top fantasy play based on his play to start the year. Smith intrigues me a little more. He could be getting more chances. Plus, he seems to be getting the goal-line work, having scores three straight games. Smith is a touchdown dependent player right now, but that could change in the coming weeks. We'll see.
As always, don't forget to check out our weekly rankings: Week 7 Rankings.
News and Notes: The Colts signed receiver Dontrelle Inman on Tuesday, adding some depth to their receiving unit. . . . . .Atlanta signed kicker Giorgio Tavecchio on Tuesday. He should handle the kicking duties while starter Matt Bryant is sidelined with an injury. . . . .The Rams signed receiver Nick Williams on Tuesday. Williams adds some depth at receiver for the Rams, who are battling some injuries at that position right now. . . . .San Francisco signed quarterback Tom Savage on Tuesday. Savage could become the top backup for the 49ers before long.
HOT PLAYS
Tyler Boyd, WR, Bengals. Boyd found the end zone twice last week, giving him multiple scores in a game for the first time this season. Boyd has emerged as a top target in this offense, having at least four receptions five straight games. He also has two 100-yard games and 90-plus yards three of six. Boyd should be involved in a high-scoring game this week against the Chiefs, which bodes well for him. Kansas City allows the 11th most fantasy points to receivers and rank 27th against the pass.
Mitchell Trubisky, QB, Bears. Trubisky has back-to-back 300-yard games and nine touchdowns in those two games. He has taken his game to a new level, posting huge weekly numbers. Trubisky is gaining confidence and making plays on a regular basis. He has a good chance for his third straight 300-yard game this week. Trubisky plays the Patriots, a team that allows the eighth most fantasy points to quarterbacks.
Robert Woods, WR, Rams. Woods is red hot for the Rams, having 100-yard games three of four. He also has at least 80 yards all but Week 1 of the season. He has been a consistent target in the Rams explosive offense all season long. Expect another big game this week against the 49ers. San Francisco is just 25th against the pass, allowing 279-passing yards per game.
David Johnson, RB, Cardinals. Johnson still isn't doing a whole lot on the ground but he keeps finding the end zone. He has scores four straight and five of six games this year. His touchdown totals are saving his fantasy season right now. He can find the end zone again this week and could even produce some good numbers on the ground for once. Johnson plays the Broncos, a team that is dead last against the rush. Denver allows 161.3-rushing yards per game.
Kerryon Johnson, RB, Lions. Johnson is starting to emerge as the top back in the Lions offense. He has double-digit carries two of three and at least 85 total yards two of those games. He can have his best season to date against the Dolphins this week. Miami has struggled to stop the rush this season, allowing the fourth most fantasy points to running backs. Johnson is a solid No. 2 back in this one.
COLD PLAYS
C.J. Beathard, QB, 49ers. Beathard is proving to be a fantasy player that you can use. He has multiple touchdowns all of his three starts and 295-plus yards two of those games. He isn't matchup proof, though. Beathard is more of a spot play in the right matchup. And this week against the Rams isn't a good time to use Beathard. Los Angeles allows the eighth fewest fantasy points to quarterbacks and rank 13th overall against the pass. Go with better options this week.
Deshaun Watson, QB, Texans. Watson had his worst game of the season last week, throwing for just 177 yards and one touchdown. He also turned the ball over three times in the game. Watson is in a bit of a funk, having two straight games with just one touchdown pass. Things don't get any easier for him this week on the road against the Jaguars. Jacksonville allows the third fewest fantasy points to quarterbacks and rank first overall against the pass.
Alex Collins, RB, Ravens. Collins had multiple touchdowns for the first time this season last week. He has five scores, including touchdowns three of four games. Collins has become a touchdown dependent player, though, because he is doing little on the ground. He ran 19 times for just 54 yards last week and has fewer than 60-rushing yards all but a game. HIs season high in rushing is 68 yards. The matchup against the Saints might look good on paper, but the Saints actually do a good job of shutting down the run. New Orleans is first overall against the rush, allowing 71.4-rushing yards per game. Collins will be a boom or bust play, depending on if he scores a touchdown.
Kenny Stills, WR, Dolphins. Stills has really faded since the start of the season. He had a 100-yard game Week 1 but fewer than 50 yards four of his next five games. Stills had just one reception last week. He does not have more than six targets in any game, so he isn't getting a ton of weekly looks. We would just avoid him for now, especially this week against the Lions. Detroit allows the second fewest fantasy points to receivers.
Austin Ekeler, RB, Chargers. Ekeler ran seven times for 60 yards last week, which is solid, but he didn't catch a pass. His fantasy numbers weren't very good. Ekeler has just three receptions his last three games. If he isn't getting the work in the passing game, Ekeler is a scary fantasy play. We would just live him on your bench for now. Ekeler also has an unfavorable matchup this week, playing the Titans. Tennessee allows the fourth fewest fantasy points to running backs.
SLEEPERS
Baker Mayfield, QB, Browns. Mayfield has been pretty consistent since moving into the starting lineup for the Browns. He has at least 230-yards all three games and scores in all of those games. His fantasy numbers haven't been off the charts but decent. He has faced some pretty tough defensive opponents, though. Mayfield gets his best matchup of the season this week against the Bucs, a team that allows the most fantasy points to quarterbacks. Mayfield is a low-end No. 1 quarterback for Week 7.
Phillip Lindsay, RB, Broncos. Lindsay rank four times for just 18 yards last week but had a season-high six receptions for 48 yards. He has been pretty consistent all season, having double-digit carries four of six games and multiple receptions four games. Lindsay can help as a flex play this week against a bad Cardinals rush defense. Arizona allows the second most fantasy points to running backs and are 31st against the run.
Devin Funchess, WR, Panthers. Funchess hasn't been off the charts this season but very consistent. He has at least four receptions four straight games and 50-plus yards five straight. He also has scores two of three. He still hasn't topped 80 yards but the catches and decent yardage totals are there for Funchess. He can produce another solid fantasy game in Week 7 against the Eagles. Philadelphia allows the seventh most fantasy points to receivers and rank 23rd against the pass.
Austin Hooper, TE, Falcons. Hooper has been targeted double-digit times two straight games. He has 18 receptions for 148 yards his last two games. Hooper has become a top target in this explosive offense. He can keep up his top ways this week against a Giants defense that has been leaky against the pass in recent weeks. New York has allowed 270-plus passing yards two of four games.
Taylor Gabriel, WR, Bears. It is time to start giving Gabriel some love. He is 24th in fantasy receiver scoring and 11th his last three games. Gabriel has two straight 100-yard games and at least four receptions every game. He has been a consistent target in an emerging Bears offense. There is a good chance he hits the 100-yard mark again this week against the Patriots, a team that is just 21st against the pass. Gabriel should be considered a solid No. 2 receiver in this matchup.
High/Low Scoring Games
Each week we will take a look at some of the high and low scoring games for the coming week. In high scoring affairs, get your marginal players on those teams in your lineup to take advantage of the possible points barrage. And in the low scoring games, keep those marginal players on the bench and make sure to have your defenses involved in those contests.
High Scoring Games: Panthers/Eagles, Browns/Bucs, Rams/49ers, Bengals/Chiefs, Giants/Falcons.
Low Scoring Games: Texans/Jaguars.
Bye: Packers, Raiders, Seahawks, Steelers.
Jeff Paur is a two-time finalist for FSWA Fantasy Football Writer of the Year and won the FSWA award for Best Fantasy Football Article on the Web in 2011. He also was the most accurate expert in 2012, winning the FSTA Fantasy Football Accuracy Award. If you have any questions for Jeff, email him at jeff@rtsports.com. Follow Jeff on Twitter @jeffpaur.