AP source: Olsen signs 2-year contract extension
Thu Apr 26 4:20pm ET
By STEVE REED
AP Sports Writer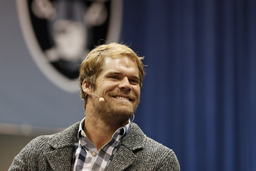 IMAGE DISTRIBUTED FOR THE NFL - Carolina Panthers tight end Greg Olsen laughs during the NFL Talks Combine Edition live on Sirius XM NFL Radio at the NFL football scouting combine, Friday, March 2, 2018, in Indianapolis. (Photo by Aaron M. Sprecher/AP Images for NFL)
CHARLOTTE, N.C. (AP) A person familiar with the situation says the Panthers have agreed to a two-year contract extension with three-time Pro Bowl tight end Greg Olsen worth $8.5 million per season.
The person spoke to The Associated Press Thursday on condition of anonymity because the Panthers have not announced the deal. Olsen is expected to sign the deal late Thursday.
Olsen stands to make up to $20 million in all if he reaches certain incentives, according to the source. He is now under contract through 2020.
The 33-year-old Olsen became the first tight end to post three consecutive 1,000-yard seasons from 2015-17. However, he missed most of last season with a broken bone in his foot, although he did return late in the year.
An 11-year veteran, Olsen has twice been selected second-team All-Pro.
--
More AP NFL: https://pro32.ap.org and https://twitter.com/AP-NFL