The Latest: Leading 35-7, Pats closing in on AFC title game
2018-01-13 11:19:06
By The Associated Press

Players: Tom Brady, Matt Bryant, Stephen Gostkowski, Matt Ryan, Danny Amendola, Rob Gronkowski, Torrey Smith, Nick Foles, LeGarrette Blount, Julio Jones, Brandon Bolden, Dion Lewis, Alshon Jeffery, James White, Chris Hogan, Jay Ajayi, Devonta Freeman, Marcus Mariota, Carson Wentz, Nelson Agholor, Corey Davis, Jonnu Smith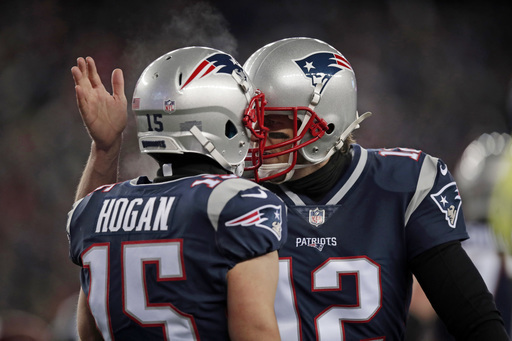 New England Patriots quarterback Tom Brady, right, celebrates his touchdown pass to Chris Hogan during the first half of an NFL divisional playoff football game against the Tennessee Titans, Saturday, Jan. 13, 2018, in Foxborough, Mass. (AP Photo/Charles Krupa)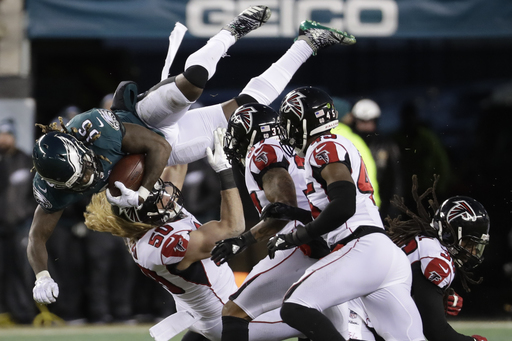 Philadelphia Eagles' Jay Ajayi (36) is tackled by Atlanta Falcons' Brooks Reed (50) during the first half of an NFL divisional playoff football game, Saturday, Jan. 13, 2018, in Philadelphia. (AP Photo/Chris Szagola)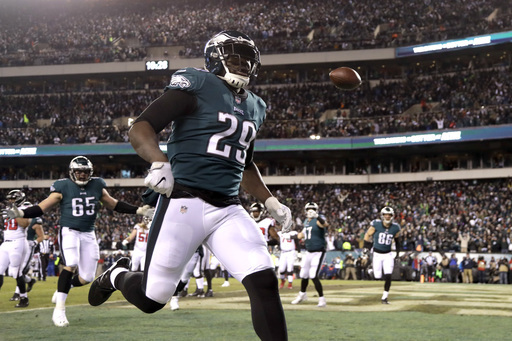 Philadelphia Eagles' LeGarrette Blount celebrates after a touchdown during the first half of an NFL divisional playoff football game against the Atlanta Falcons, Saturday, Jan. 13, 2018, in Philadelphia. (AP Photo/Michael Perez)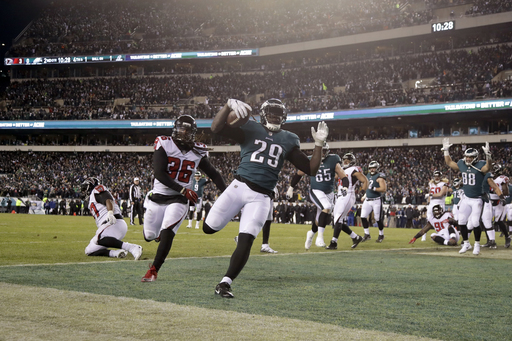 Philadelphia Eagles' LeGarrette Blount scores a touchdown during the first half of an NFL divisional playoff football game against the Atlanta Falcons, Saturday, Jan. 13, 2018, in Philadelphia. (AP Photo/Michael Perez)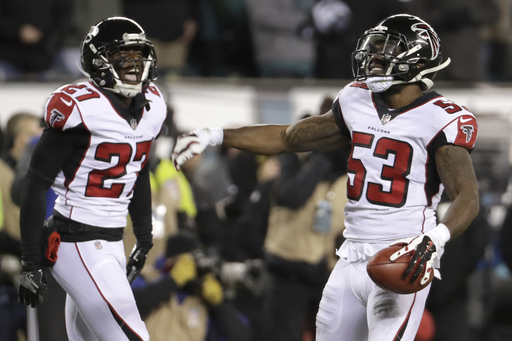 Atlanta Falcons' LaRoy Reynolds, right, and Damontae Kazee (27) react after recovering a fumbled punt during the first half of an NFL divisional playoff football game against the Philadelphia Eagles, Saturday, Jan. 13, 2018, in Philadelphia. (AP Photo/Chris Szagola)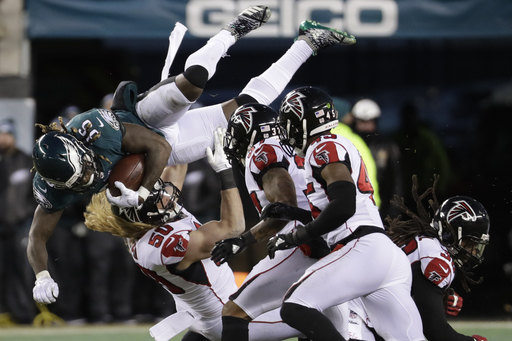 Philadelphia Eagles' Jay Ajayi (36) is tackled by Atlanta Falcons' Brooks Reed (50) during the first half of an NFL divisional playoff football game, Saturday, Jan. 13, 2018, in Philadelphia. (AP Photo/Chris Szagola)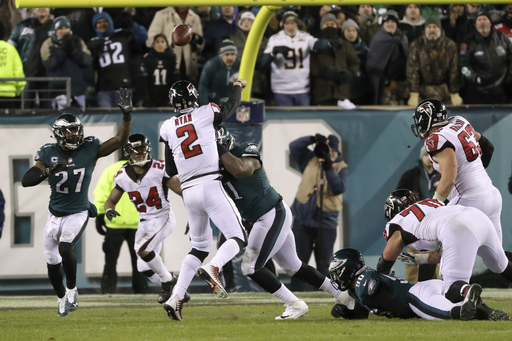 Atlanta Falcons' Matt Ryan (2) throws a touchdown pass to Devonta Freeman (24) during the first half of an NFL divisional playoff football game against the Philadelphia Eagles, Saturday, Jan. 13, 2018, in Philadelphia. (AP Photo/Michael Perez)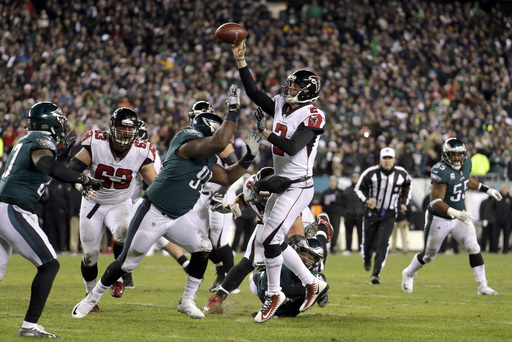 Atlanta Falcons' Matt Ryan (2) throws a touchdown pass during the first half of an NFL divisional playoff football game against the Philadelphia Eagles, Saturday, Jan. 13, 2018, in Philadelphia. (AP Photo/Chris Szagola)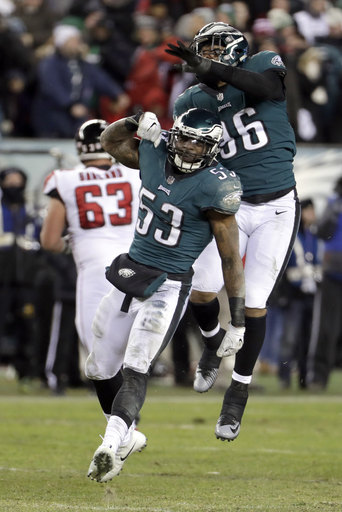 Philadelphia Eagles' Nigel Bradham (53) and Derek Barnett (96) celebrate during the second half of an NFL divisional playoff football game against the Atlanta Falcons, Saturday, Jan. 13, 2018, in Philadelphia. (AP Photo/Chris Szagola)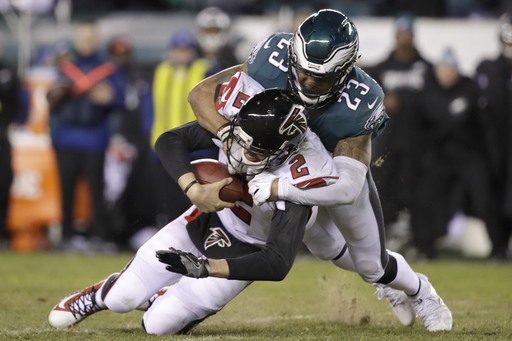 Philadelphia Eagles' Rodney McLeod (23) tackles Atlanta Falcons' Matt Ryan (2) during the second half of an NFL divisional playoff football game, Saturday, Jan. 13, 2018, in Philadelphia. (AP Photo/Matt Rourke)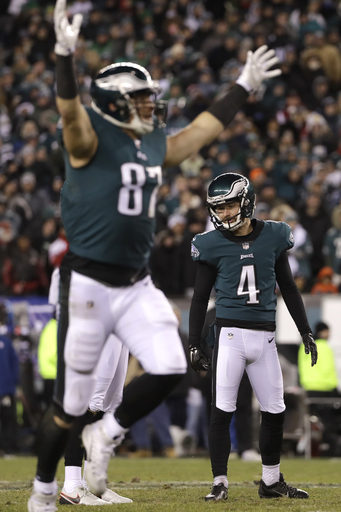 Philadelphia Eagles' Jake Elliott (4) and Brent Celek (87) react after Elliott kicked a field goal during the first half of an NFL divisional playoff football game against the Atlanta Falcons, Saturday, Jan. 13, 2018, in Philadelphia. (AP Photo/Michael Perez)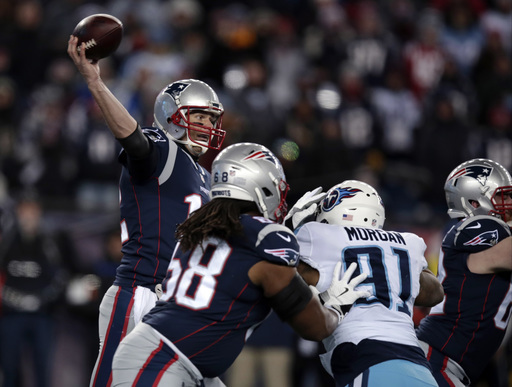 New England Patriots quarterback Tom Brady passes under pressure from Tennessee Titans linebacker Derrick Morgan (91) during the first half of an NFL divisional playoff football game, Saturday, Jan. 13, 2018, in Foxborough, Mass. (AP Photo/Charles Krupa)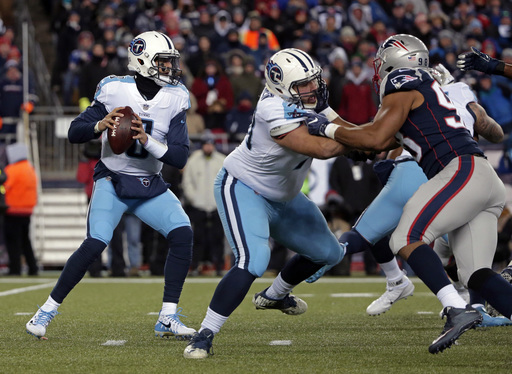 Tennessee Titans quarterback Marcus Mariota, left, looks for a receiver under pressure from New England Patriots defensive end Trey Flowers, right, during the first half of an NFL divisional playoff football game, Saturday, Jan. 13, 2018, in Foxborough, Mass. (AP Photo/Steven Senne)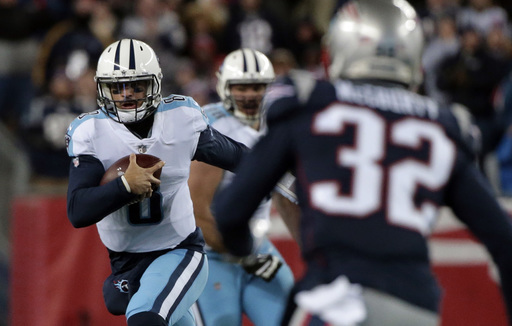 Tennessee Titans quarterback Marcus Mariota (8) scrambles against the New England Patriots during the first half of an NFL divisional playoff football game, Saturday, Jan. 13, 2018, in Foxborough, Mass. (AP Photo/Steven Senne)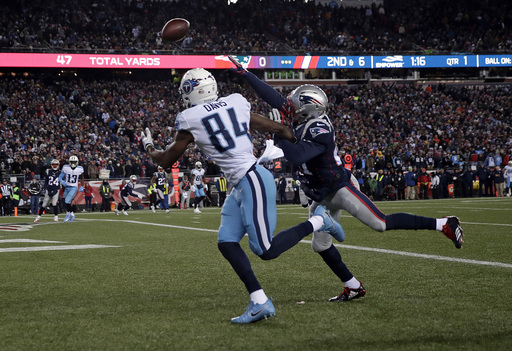 Tennessee Titans wide receiver Corey Davis (84) catches a touchdown pass in front of New England Patriots cornerback Malcolm Butler, right, during the first half of an NFL divisional playoff football game, Saturday, Jan. 13, 2018, in Foxborough, Mass. (AP Photo/Charles Krupa)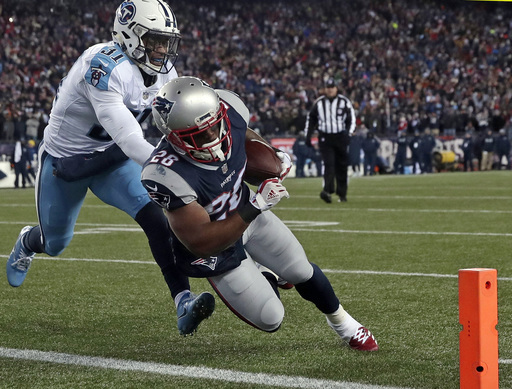 New England Patriots running back James White, right, runs past Tennessee Titans safety Kevin Byard (31) for a touchdown during the first half of an NFL divisional playoff football game, Saturday, Jan. 13, 2018, in Foxborough, Mass. (AP Photo/Charles Krupa)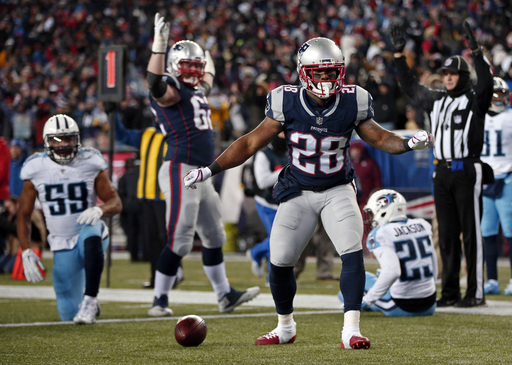 New England Patriots running back James White (28) celebrates his second touchdown during the first half of an NFL divisional playoff football game against the Tennessee Titans, Saturday, Jan. 13, 2018, in Foxborough, Mass. (AP Photo/Michael Dwyer)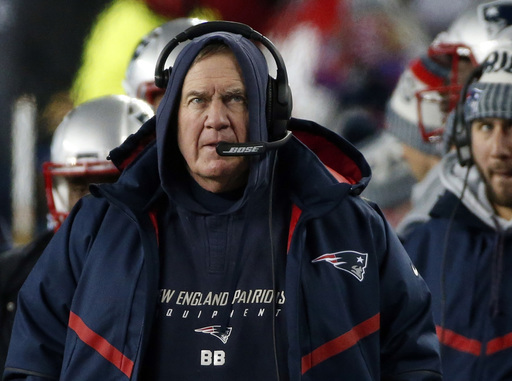 New England Patriots head coach Bill Belichick watches from the sideline during the first half of an NFL divisional playoff football game against the Tennessee Titans, Saturday, Jan. 13, 2018, in Foxborough, Mass. (AP Photo/Michael Dwyer)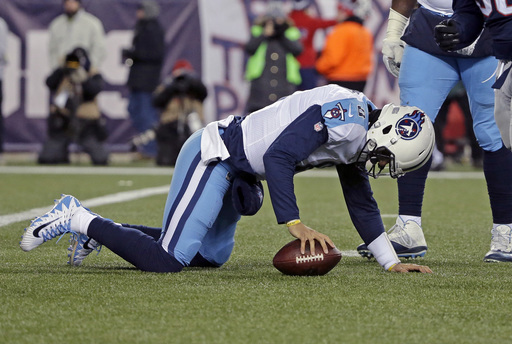 Tennessee Titans quarterback Marcus Mariota gets up from the turf after being sacked during the second half of an NFL divisional playoff football game against the New England Patriots, Saturday, Jan. 13, 2018, in Foxborough, Mass. (AP Photo/Steven Senne)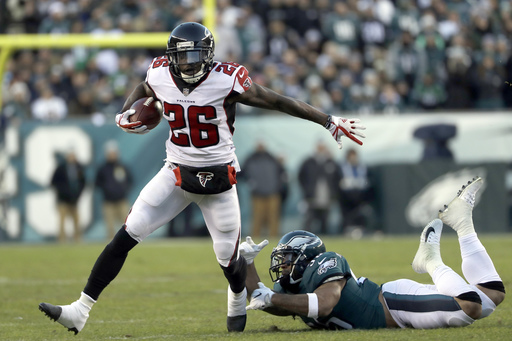 Atlanta Falcons' Tevin Coleman (26) slips past Philadelphia Eagles' Mychal Kendricks (95) during the first half of an NFL divisional playoff football game, Saturday, Jan. 13, 2018, in Philadelphia. (AP Photo/Michael Perez)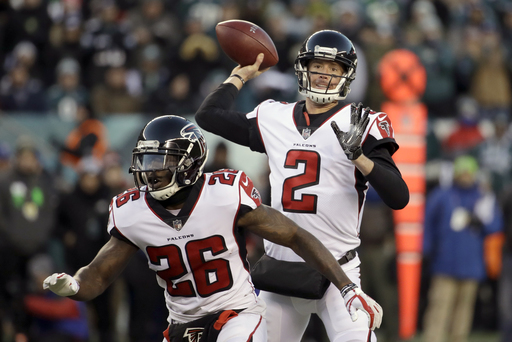 Atlanta Falcons' Matt Ryan passes during the first half of an NFL divisional playoff football game against the Philadelphia Eagles, Saturday, Jan. 13, 2018, in Philadelphia. (AP Photo/Matt Rourke)
The Latest on the NFL playoffs on divisional weekend (all times EST):
11:05 p.m.
Another touchdown for the Patriots.
And more milestones for Tom Brady and Rob Gronkowski.
Brady hit Gronk for a 4-yard TD early in the fourth quarter to give New England a 35-7 lead over the Tennessee Titans.
It was Brady's 10th playoff game with three or more passing touchdowns, passing Joe Montana for the most in NFL history.
And it was Gronkowski's 10th postseason TD. He's tied with five others for third all time. But it's the most for a tight end.
Gronk also moved into second all time for a tight end with 835 postseason receiving yards.
He passed Keith Jackson, and only Dallas Clark is ahead of him.
- Jimmy Golen reporting from Foxborough, Massachusetts.