Lineup Prep: Super Bowl
Tue Jan 28 12:31pm ET
By JEFF PAUR
Sr Fantasy Writer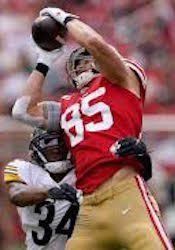 Kittle should see more targets
It is hard to believe but the last game of the season is here. The Super Bowl is this weekend, ending the football season. It is sad to see another season come to an end, but the 2020 fantasy season will be here before you know it.
Now for my random thoughts for the week. . . . .
First off, enjoy the game this weekend. Super Bowl Sunday is always a great day of the year, so enjoy it. I know I'm looking forward to it, spending time with family, friends while eating some good food. Hopefully, the game is a good one, making things even better.

Here is my prediction for the big game. I really think it is a tossup with the way both teams are playing right now. But for me, I think the Chiefs win the game 31-27. I just think the Chiefs offense is too much right now even against a very good 49ers defense. Kansas City is just clicking on all cylinders right now. I think the speed at receiver for the Chiefs might be the difference in this game, making some big plays. Plus, the Chiefs defense has made big strides since the start of the year, making big plays at crucial times. This should be a great matchup, but in the end, I think the Chiefs will prevail and win the Super Bowl.

I think Gary Kubiak taking over as the offensive coordinator for the Vikings is a solid move for that offense. Kubiak should employ a similar approach to this past year, getting the most out of Dalvin Cook and Kirk Cousins. I don't expect much of a drop off in production - if any - with Kubiak calling plays. He knows what he is doing and has produced some big offenses as the primary play caller.
This should be a very interesting offseason for quarterbacks. Several big-name quarterbacks are free agents this year. This might be the most movement at the quarterback spot we have ever seen in the NFL during an offseason. Tom Brady, Drew Brees, Philip Rivers, Jameis Winston, Dak Prescott, Ryan Tannehill and Teddy Bridgewater are the headliner quarterback free agents. Now some of these players are expected to re-sign or get tagged by their current team, but many could be moving on to other teams this offseason. It is going to be interesting to watch. These guys moving around will really impact the fantasy world.
Kareem Hunt had another off the field incident. He was pulled over for speeding but the officer also found marijuana in the car. He was not charged with anything but speeding, though. The NFL is likely going to look into this incident, which is not great news for Hunt. Remember, he was suspended the first half of this past season. This is a situation to monitor if you have hopes of Hunt being fantasy relevant this coming season.
So I'm not proud to admit this, but I'm a little intrigued by the XFL. My city (St. Louis) has a team and some buzz has being going around town a little. The last time the XFL was around there was some excitement with the league before it went belly up. The rules are kind of interesting and the faster paced game could make for some good entertainment. We'll see. It will be hard to have staying power with the NFL being so strong, but you never know.
As always, don't forget to check out my weekly rankings here: Super Bowl Rankings.
HOT PLAYS
George Kittle, TE, 49ers. With the 49ers having huge success running the ball during the playoffs, Kittle has gotten little usage. He has four receptions for 35 yards in two playoff games. We think he can get back to his old ways this week with the 49ers trying to keep up with the Chiefs high-powered offense. Remember, Kittle had at least five receptions five of his last six regular season games. He also has a favorable matchup against a Chiefs defines that allowed the sixth most fantasy points to tight ends during the regular season.
Tyreek Hill, WR, Chiefs. Hill had multiple touchdowns his last time out, catching five passes for 67 yards and two touchdowns. This was his third multiple touchdown game of the season. Hill has a chance to break off some big plays against a 49ers secondary that lacks a little top-end speed. It would not surprise to see Hill find the end zone again and get a few big plays in this game.
COLD PLAYS
Damien Williams, RB, Chiefs. Williams has touchdowns each of the Chiefs playoff games, but failed to top 50-rushing yards in either of those games. He will get some catches even if he doesn't pile up the rushing yards, but Williams has never topped 50-receiving yards in a game this year. Williams is going to be a touchdown dependent player, making him a risky fantasy play. The 49ers allowed just 10-rushing touchdowns all season and gave up the second fewest fantasy points to running backs.
Emmanuel Sanders, WR, 49ers. Sanders has two receptions for 33 yards in the 49ers two playoffs games. He didn't even catch a pass his last game and has been targeted just three times the entire playoffs. Sanders has fewer than 50 yards eight of 10 games. The Chiefs also are a tough opponent for Sanders, allowing the second fewest fantasy points to receivers during the regular season. Sanders isn't wroth the risk.
SLEEPERS
Mecole Hardman, WR, Chiefs. There always seems to be a player that surprises in the big game, so put Hardman on your radar. His speed could be a tough matchup for the 49ers secondary. Hardman found the end zone six times during the season, proving he is capable of the big play in this offense. The Chiefs could find ways to get this playmaker the ball, especially if the 49ers key on other Chiefs players in the game.
Jimmy Garoppolo, QB, 49ers. Garoppolo has done next to nothing in the playoffs because the 49ers have been so run heavy. He has not been needed to air it out. That could change in the Super Bowl. It would not surprise to see the 49ers having to play catchup against a high-powered Chiefs offense. He should get more chances to throw the ball. He had plenty of big games during the regular season, so Garoppolo is more than capable of producing for fantasy teams. He probably needs to have a big showing if he 49ers hope to win this game.
High/Low Scoring Games
Each week we will take a look at some of the high and low scoring games for the coming week. In high scoring affairs, get your marginal players on those teams in your lineup to take advantage of the possible points barrage. And in the low scoring games, keep those marginal players on the bench and make sure to have your defenses involved in those contests.
High Scoring Games: Chiefs/49ers.
Low Scoring Games: None.
Jeff Paur is a two-time finalist for FSWA Fantasy Football Writer of the Year and won the FSWA award for Best Fantasy Football Article on the Web in 2011. He also was the most accurate expert in 2012, winning the FSTA Fantasy Football Accuracy Award. If you have any questions for Jeff, email him at jeff@rtsports.com. Follow Jeff on Twitter @jeffpaur.