Drafting Todd Gurley
Thu Jun 13 2:58pm ET
By JEFF PAUR
Sr Fantasy Writer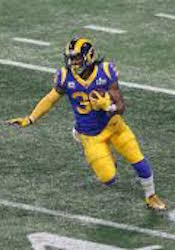 Gurley is tough call for owners
Every season there seems to be a player or two that is a tough call for fantasy teams, a polarizing figure. Well, this year that player is Todd Gurley. He was third overall in fantasy running back scoring last year but saw his playing time decrease down the stretch and in the playoffs because of a sore knee, a knee that has been surgically repaired in the past. There are questions surrounding his health and workload for the coming season, making where to draft Gurley a tough call for fantasy teams.
So I thought it would be interesting to get some insight from some top fantasy experts. My question to them: Where do you feel comfortable drafting Todd Gurley this year and why?
Here are the results:
"I don't hold out a lot of hope for Todd Gurley returning to his perch as a top running back this season. The Rams needed him the most down the stretch and he was completely ineffective. Their silence during the playoffs and the offseason only lead me to believe things are worse than they seem. If the Rams still have him in their offensive plans, I'd expect they'll limit his touches to make sure he can handle a reduced workload.
Running backs have the shortest shelf life of any skill position so it's possible he may never be back to what he was early in 2018. For that reason I'm avoiding Gurley in fantasy drafts this season…unless he falls into huge value territory, possibly in Round 4 or 5."
-Steve Gardner (USA Today)
"While I wouldn't take Gurley in the first round, I'd feel comfortable drafting him in the second. Yes, his workload is going to decline this season. However, he still plays for an electric offense and should be among the league leaders in red zone rushing attempts, so I don't think touchdowns will be all that hard for him to come by."
-Mike Barner (RTSports)
"I am 100 percent comfortable drafting Gurley in the second round IF I have a running back in the first round. He goes right before Joe Mixon for me. He has had 1,800-plus yards from scrimmage each of the last two years and averages 15 touchdowns. The knee is a HUGE worry, so you have to have a running back in Round 1 and then take him as a RB2. If you draft DeAndre Hopkins in the first, you have to take a more sure thing. I think he has 10-12 touchdowns this year and 1,600 scrimmage yards with 50-plus receptions. That is 300-plus points in a PPR. BOOM."
-Rick Wolf (Fantasy Alarm)
"Depending on draft slot, late third or early forth round, which means he will probably not be on any of my teams. I think the top three draft picks are critical to a successful season, and at this point, I can't trust Gurley to be productive or even playing. I think the Rams will be cautious with him this year, and when he does play, he won't be the 'bell cow' he's been in the past."
-Charlie Wiegert (RTSports)
"Given the information we have at the moment, I would not hesitate to take Gurley early in the second round and perhaps as early as No. 10 overall. Even if we trim 25 percent of his production (touches, yards, touchdowns, etc.) across the board in each of his two years under HC Sean McVay, he still would have finished as the RB8 in 2018 and RB5 in 2017. Yes, there is substantial risk in investing significant draft capital into a running back with a knee 'condition' like Gurley has, but how does his risk make him all that different from just about every fantasy back going in the same area (Mixon, Chubb, Cook) or right after him (Damien Williams, Devonta Freeman, Fournette)?"
-Doug Orth (FF Today)
"For me personally, the draft would have to fall 'perfectly' in order for me to take Gurley at 2.08 with the list of guys I've made out, I feel like you're risking too much for guys who are proven (Mike Evans, Zach Ertz) but I would take Gurley over the likes of Dalvin Cook or Nick Chubb due to the question marks of their own (Cook injury history, Chubb effectiveness in the passing game + Kareem Hunt factor once his suspension is up)."
-Stephen Hawley ('17 Fantasy Championship winner and #5 ranked fantasy player on RTSports)
"There's definite concern over the knee, but if I'm drafting at the tail-end of the first round, I would consider grabbing Gurley, especially if I'm on the wheel and can guarantee another solid running back with my second pick. The only problem I have is how Darrell Henderson is a must-handcuff and you probably have to reach before you would normally draft him to ensure you get him. It's one of those situations where those who don't believe in Gurley will make their move in the middle rounds just to screw you over; just like those who didn't own Le'Veon Bell made it a point to target DeAngelo Williams."

-Howard Bender (Fantasy Alarm)
"Every pick carries some risk but avoiding risk early in drafts is always a strategy I like to employ. I know many will say go big or go home, but I think playing it a little safe with your early picks is the smart move when it comes to injury, playing time, etc. So for me, I would not take Gurley until the mid to late second round of drafts this year. I can't invest early in a running back with a potentially bad knee and a decrease in playing time from past seasons. And if I'm picking early, I want to make sure I have already used my first-round pick on a running back before grabbing Gurley. That would make me much more comfortable with selecting Gurley for my team."
-Jeff Paur (RTSports)
Hopefully, this article helps your decision making when it comes to Gurley for the coming year. There doesn't seem to be a right answer when it comes to drafting him, but maybe hearing from some of these experts will help make a decision for you when it comes to Gurley. He is shaping up as a make or break fantasy player for the coming year, a critical player in fantasy drafts. Good luck in navigating all your drafts.
Jeff Paur is a two-time finalist for FSWA Fantasy Football Writer of the Year and won the FSWA award for Best Fantasy Football Article on the Web in 2011. He also was the most accurate expert in 2012, winning the FSTA Fantasy Football Accuracy Award. If you have any questions for Jeff, email him at jeff@rtsports.com. Follow Jeff on Twitter @jeffpaur.