Waivering: Week 2
Tue Sep 10 8:17am ET
By JEFF PAUR
Sr Fantasy Writer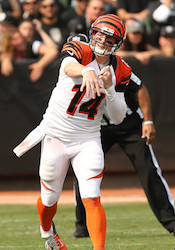 Dalton looked great in opener
There were a lot of players that produced big things Week 1 that weren't drafted by many teams. The big thing is to try not to overreact to the first week of the season. You can't ignore the production of some of these guys but for most, you likely will need to temper your expectations. Many of these players will be inconsistent throughout the season. Don't get me wrong. Some guys will be good pickups and produce good numbers consistently. But for the most part, many of these players are streaming plays and bench players. Just don't get too high or low on players after a week of play.
QUARTERBACKS
Jacoby Brissett, Colts. Brissett went on the road agains a very good defense and finished 21-of-27 for 190 yards and two touchdowns without an interception. It was a very good showing for Brissett in the first game since Andrew Luck retired. Brissett proved he is worth some spot starts for fantasy teams. He can be a more than capable No. 2 fantasy quarterback.
Andy Dalton, Bengals. Dalton had one of his best games in recent seasons in the opener, throwing for 418 yards and two touchdowns without an interception against a good Seahawks defense on the road. And he did this without his best receiver, A.J. Green, on the field. Dalton really seemed comfortable in the Bengals new offense and looked like a guy that can be a streamer for fantasy teams.
Case Keenum, Redskins. Keenum got the start for the Redskins and looked great, going 30-of-44 for 380 yards and three touchdowns without a turnover. The Redskins aren't going to be able to run the ball, so don't be surprised if Keenum gets 40-plus pass attempts often. He is going to have some big games along the way. He struggled last year but don't forget about his huge season in Minnesota just a few years back.
RUNNING BACKS
Ronald Jones, Bucs. Jones emerged as the top back in Week 1, finishing with 13 carries for 75 yards. He was really impressive in the opener, looking much better than any game last season. He could run away with this starter's job, especially if he keeps playing this week. Jones remains available in 31 percent of leagues.
Justin Jackson, Chargers. Jackson was the backup to Austin Ekeler but got his chances in the offense. He ran six times for 57 yards and caught a pass for four yards, giving him 61 total yards. Jackson is going to get around double-digit touches per week in this offense, giving him some fantasy potential. He is still out there in 27 percent of leagues.
Malcolm Brown, Rams. Brown will be scooped up in a lot of leagues after getting about half the work at running back for Los Angeles. He had 11 carries for 53 yards and two touchdowns. He scored the only two rushing touchdowns of the game for the Rams, making Todd Gurley owners very frustrated. It is looking more and more like Brown will get his playing time in this offense as the top backup for the Rams.
Raheem Mostert, 49ers. Tevin Coleman was injured in the opener for the 49ers and could be out a few weeks, giving Mostert a bigger role in the 49ers offense. He looked pretty good with his expanded chances this past week, rushing nine times for 40 yards. He'll be worth grabbing if you are looking for some running back depth in the coming weeks. Mostert could be worth a spot play.
Gio Bernard, Bengals. Starter Joe Mixon injured his ankle during the Week 1 game and could miss some time because of this injury. This leaves Bernard the starter for the Bengals. He has obvious potential in this role, starting in an offense that looked very good in Week 1 on the road against a good defense. You have to like the total yardage potential for Bernard in a starting role.
WIDE RECEIVERS
John Ross, Bengals. Ross was a big surprise in the opener, catching seven passes for 158 yards and two touchdowns in 12 targets. He was the top target for the Bengals and finally lived up to his first-round draft status from a few years back. Ross is a speed burner with big-play ability. Maybe a new coaching staff was just the thing to get his career going in the right direction. He is worth a look for fantasy teams, especially with A.J. Green is out of the lineup.
A.J. Brown, Titans. Brown got just four targets in his first NFL game but made several big plays with those targets. He had three receptions for 100 yards, leading the way at receiver for the Titans. And Brown missed most of training camp, so this game is a good indication on how high the Titans are on their rookie receiver. He is going to play big role offensively.
Marquise Brown, Ravens. Brown had a great first NFL game, catching four passes for 147 yards. He displayed his game-changing speed throughout the game. Brown has similar ability to Tyreek Hill, making him an intriguing fantasy player going forward. He is going to have some big games this year. The only concern is the Ravens being a run-first offense. Brown is likely to be hit or miss most week. Brown remains available in 65 percent of leagues.
Terry McLaurin, Redskins. McLaurin is another rookie that enjoyed a great first game. He caught five passes for 125 yards and a touchdown on seven targets. The Redskins don't have a clear No. 1 receiver, so don't discount McLaurin to take that role for the team. And Washington is going to be a team that throws the ball often, having little success running the ball. McLaurin is definitely worth a look for fantasy teams needing receiver help.
Danny Amendola, Lions. Amendola was heavily targeted in Week 1 for the Lions, catching seven passes for 104 yards and a touchdown on 13 targets. He did a great job out of the slot and Matthew Stafford looked his way often. He has a chance to rack up some catches in this offense. Don't overvalue him because his track record doesn't suggest this game will be the norm, but he can still help fantasy teams because of his reception potential in this offense.
John Brown, Bills. Brown was the top option in the Bills passing game Week 1 and should continue to lead the way in targets going forward. He had seven receptions for 123 yards and a touchdown on 10 targets. He has a real chance to have his best season to date, making him a player that can help fantasy teams as a streaming play. Brown is available in 28 percent of leagues.
D.J. Chark, Jaguars. Word out of Jaguars camp was Chark was turning heads and making plays. Well, that carried over to the regular season. He had four receptions for 146 yards and a touchdown. He displayed his big-play ability and looked like a different player from his rookie year. He is another receiver that likely will be erratic but has some weekly potential in the right matchup.
TIGHT ENDS
T.J. Hockenson, Lions. The rookie made his presence felt in Week 1, catching six passes for 131 yards and a touchdown on nine targets. Hockenson had a great debut and showed why the team took him in the first round of the draft this year. He can be a low-end No. 1 fantasy tight end and is still available in 26 percent of leagues. This might be the last week you can get him in your league.
Vernon Davis, Redskins. The oft-injured Jordan Reed was out again, making Davis the starter for the Redskins. Davis looked good in that role, catching four passes for 59 yards and a touchdown on seven targets. Davis has fantasy value as long as he is starting in this pass-first offense.
Mark Andrews, Ravens. There was a lot of hype surrounding Andrews this offseason and he lived up to that hype in Week 1, catching eight passes for 108 yards and a touchdown. The Ravens did rotate tight ends, which is a concern for Andrews, but he can make the most of his chances as evident in this game. Andrews remains available in 22 percent of leagues.
Jeff Paur is a two-time finalist for FSWA Fantasy Football Writer of the Year and won the FSWA award for Best Fantasy Football Article on the Web in 2011. He also was the most accurate expert in 2012, winning the FSTA Fantasy Football Accuracy Award. If you have any questions for Jeff, email him at jeff@rtsports.com. Follow Jeff on Twitter @jeffpaur.