Waivering: Week 2
Tue Sep 14 9:38am ET
By JEFF PAUR
Sr Fantasy Writer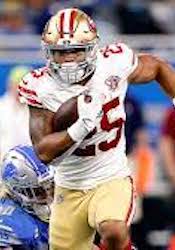 Mitchell is top option on waivers
It is always a tough chore to navigate the waiver wire this first week of the season, especially if you are using FAAB to acquire players. Some of the top players from Week 1 won't pan out, but there are several that likely will. So be aggressive this first week on the players you think can keep it going. These are guys that will be on your roster a long time, giving them a little more value than the acquisition you make in Week 7. Good luck in navigating things this first week.

QUARTERBACKS
Jared Goff, Lions. The Lions are going to be playing behind from a lot, meaning Goff should get plenty of weekly chances to air it out. He threw the ball 57 times last week. He topped 300 yards and scored three touchdowns with one interception, scoring 33.3 fantasy points. Goff is available in 80 percent of leagues and is worth grabbing as a spot play.
Sam Darnold, Panthers. Darnold had a solid debut with the Panthers, throwing for 279 yards with two total scores. He looked comfortable in the offense and plays with some of the best weapons in football. Darnold is a top QB2 worthy of some starts along the way. He is available in 63 percent of leagues.
Jameis Winston, Saints. Winston didn't throw for many yards last week (148) but found the end zone five times. He proved he is more than capable of the huge game in this offense. And Winston did this on the road against a team most thought was a top contender for the Super Bowl. This might be the last week you can grab Winston in the 41 percent of leagues he is available.
Tyrod Taylor, Texans. Taylor had a prime matchup last week but showed what he is capable of in a starting role. He is a dual threat with big-play ability. He threw for nearly 300 yards (291) and ran for 40 more while scoring two touchdowns. He is another good spot play in the right matchup.
Mac Jones, Patriots. Jones was probably the best rookie quarterback in Week 1, playing a good game against a good Dolphins pass defense. He showed a lot, finishing 29-of-39 for 281 yards and a touchdown without a turnover. Jones is going to just get better with more seasoning and easier matchups.
RUNNING BACKS

Eli Mitchell, 49ers. Raheem Mostert went down with another injury and could miss some time, leaving Mitchell is the likely starter for the 49ers. He was the surprise first back off the bench last week and excelled with his chances. Mitchell ran 19 times for 104 yards and a touchdown. He is rostered in just three percent of leagues but will be grabbed up in many. He should be added in all formats, possibly starting for a few weeks in the 49ers run-heavy offense.
Mark Ingram, Texans. Ingram was the lead back for the Texans last week, getting 26 carries for 85 yards and a score. He is the best of the three Texans backs to use right now. Things might be different when the Texans get down, which could be the case many weeks, but if they are in game, Ingram should get the work. He remains available in 72 percent of leagues.
Carlos Hyde, Jaguars. Not sure why, but Hyde was actually the back with the most touches for the Jaguars last week. Hyde ran nine times for 44 yards and caught two passes for 14 yards. Robinson remains the starter but this might be more of a timeshared than expected.
WIDE RECEIVERS

Cole Beasley, Bills. Beasley is not available in many leagues but still out there in 24 percent. It is a surprise if you consider his weekly usage in a pass-first offense. It was more of the same in the opener for Beasley, getting eight receptions for 60 yards on 13 targets. He really should be owned in all formats.
Zach Pascal, Colts. With TY Hilton out, Pascal starter for the Colts last week and did well in that role. Pascal had four receptions for 43 yards and two touchdowns. As long as he is starting while Hilton is out, Pascal has some value for fantasy teams. He is capable of the big game.
K.J. Osborn, Vikings. Osborn had a big preseason, earning the No. 3 receiver spot with the team. He built on that preseason in his first regular season game, catching seven passes for 76 yards on nine targets. Osborn has a chance to continue to get weekly targets in this offense.

Christian Kirk, Cardinals. Kirk might be boom or bust on a weekly basis, but his ceiling is high in this pass-first offense. He showed his big potential in Week 1, catching all five of his targets for 70 yards and two touchdowns.
Sterling Shepard, Giants. Shepard was the top receiver for the Giants in the opener. He hit the 100-yard mark, getting seven receptions for 113 yards and a touchdown on nine targets. He was kind of forgotten about come draft day, but he might lead the receivers in targets. He gets a lot of volume and is worth adding as a bench player for fantasy teams. Shepard is available in 32 percent of leagues.
TIGHT ENDS
Rob Gronkowski, Bucs. Gronkowski proved he still has plenty left in the tank, posting a huge game in the opener. He had eight receptions for 90 yards and two touchdowns. Gronkowski won't do this every week with so many mouths to feed in Tampa, but could have a few more games like this going forward. He is actually available in 21 percent of leagues.
James O'Shaughnessy, Jaguars. O'Shaughnessy started for the Jaguars and got eight targets in the game. He had six receptions for 48 yards. O'Shaughnessy might not be flashy but could get consistent work in this offense as long as he is starting.
Juwan Johnson, Saints. Johnson got a lot of buzz in camp and preseason action, which turned out to be warranted this first week of the season. He was a top red-zone target, finishing with three receptions for 21 yards and two touchdowns. He might be a touchdown dependent player, but the potential is certainly there in this offensive scheme.
Jeff Paur is a two-time finalist for FSWA Fantasy Football Writer of the Year and won the FSWA award for Best Fantasy Football Article on the Web in 2011. He also was the most accurate expert in 2012, winning the FSTA Fantasy Football Accuracy Award. If you have any questions for Jeff, email him at jeff@rtsports.com. Follow Jeff on Twitter @jeffpaur.