The Latest: Panthers take 10-0 lead over Bucs in London
Sun Oct 13 10:30am ET
By The Associated Press

Players: Jameis Winston, Kyle Allen, Deshaun Watson, Christian McCaffrey, Joey Slye, Patrick Mahomes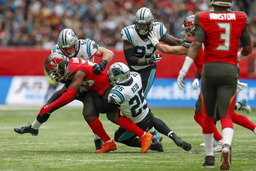 Tampa Bay Buccaneers running back Peyton Barber (25) is tackled by Carolina Panthers strong safety Eric Reid (25) and linebacker Devante Bond (59) during the first quarter of an NFL football game, Sunday, Oct. 13, 2019, at Tottenham Hotspur Stadium in London. (AP Photo/Alastair Grant)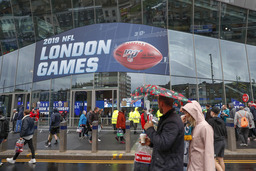 NFL football fans arrive at Tottenham Hotspur Stadium to watch an NFL football game between the Tampa Bay Buccaneers and the Carolina Panthers, Sunday, Oct. 13, 2019, in London. (AP Photo/Alastair Grant)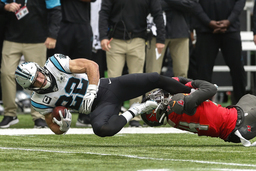 Carolina Panthers running back Christian McCaffrey (22) is tackled by Tampa Bay Buccaneers strong safety Darian Stewart (24) during the first quarter of an NFL football game, Sunday, Oct. 13, 2019, at Tottenham Hotspur Stadium in London. (AP Photo/Alastair Grant)
The Latest on the NFL's Week 6 (all times EDT):
10:20 a.m.
The Carolina Panthers have taken a 10-0 lead over the Tampa Bay Buccaneers thanks to a short drive and a long one.
Carolina's James Bradberry intercepted Jameis Winston on the first play from scrimmage. The Panthers lost 2 yards before settling for a 49-yard field goal from Joey Slye.
Carolina then drove 99 yards for a touchdown after Bradley Pinion's punt was down at the 1. Kyle Allen went 5-for-5 for 68 yards on the drive and Christian McCaffrey capped it with a 1-yard run on fourth down.
That was just the second 99-yard drive for Carolina in the past 12 seasons. The Panthers had one last year against Baltimore.
The Buccaneers hadn't allowed a 99-yard drive since Nov. 7, 2010, against Atlanta.
- Josh Dubow reporting from London