Training Camp Preview: AFC West
Tue Jul 10 10:39 pm
By JEFF PAUR
Sr Fantasy Writer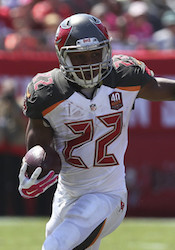 Doug Martin hopes to start
This is the fourth preview in a series of training camp previews. We will continue to release the previews throughout the week. The previews give you a quick look at each team, going over position battles and injuries to watch in camp. The season is right around the corner.
Raiders
The Raiders have a lot of new this training camp, most notably head coach Jon Gruden. Much of camp will focus on Gruden, who has a lot of pressure on him to get this squad going back in the right direction. Gruden was given a huge contract, so expectations are high for him. He already started putting his stamp on the team during the offseason, so we will get an idea if his personnel moves are the right ones, starting in training camp.
Position battle: The Raiders should have a battle on their hands with veteran running backs Marshawn Lynch and Doug Martin competing for the starting running back spot. Lynch might be the logical choice, but don't count out Martin. He seems a better fit for the offense and might have more left in the tank at this stage of their careers. It should be a legit battle for the job and one worth monitoring for fantasy teams.
Injury watch: The Raiders signed Jordy Nelson this offseason with the hopes of him starting and producing like he has past years. Nelson missed just a game last year but his production was way down. Nelson did not look like the player from past years. His health will be something to monitor in training camp, especially if you consider he is 33 years old. Oakland needs a healthy and production Nelson if this team hopes to have a big season.
Broncos
The Broncos had a disappointing season last year, mainly because of a poor offense. The team signed Case Keenum to a big contract this offseason, hoping to have finally found their franchise quarterback. So much of camp will focus on Keenum to see if he is the right man for the job. Keenum will be counted on to lead the offense and get things turned around on that side of the ball.
Position battle: The Broncos had C.J. Anderson as their starting running back last year, but he is gone. This leaves an opening for the No. 1 running back job. Devontae Booker should get first crack at the job, but he will be pushed by rookie Royce Freeman. Booker has not done a whole lot with past chances, so he will need to show better in camp and preseason action if he hopes to hold off Freeman, who might be the more complete back of the two.
Injury watch: Tight end Jake Butt missed all of his rookie season as he recovered from a torn ACL. He has a chance to play a big role this year as long as he is healthy. He should be considered the favorite to start because he is a dual threat at the position, doing well as a receiver and blocker. Butt has the talent to help fantasy teams as well as long as he is starting.
Chargers
The Chargers already had the injury bug hit this offseason and this has been an issue for the team in recent years. San Diego is getting older, so keeping their veterans healthy will be a priority for the team this training camp. If any of their star players go down once again, it could be a long year for San Diego. But if the Chargers can stay healthy, they have the makings of a playoff team.
Position battle: The Chargers have a huge hole to fill, losing Hunter Henry this offseason to a torn ACL. He is out for the season. San Diego doesn't have much behind Henry on the depth chart right now. Virgil Green seems the likely starter but the team could bring in other veteran options, such as Antonio Gates, if Green doesn't show well in camp. This position isn't decided by any means and is one to watch because the tight end in San Diego normally gets a lot of targets.
Injury watch: Mike Williams was a bust his rookie year, having a lost season because of injury. He had back and knee issues that limited him to 11 receptions in 10 games. The Chargers still have high hopes for him, though. and he should play a big role as long as he is healthy. His targets could even increase because of the loss of Hunter Henry at tight end. Williams will need to be healthy from day one, though, if he hopes to take advantage of his more chances.
Chiefs
The Chiefs made a big change this offseason, handing over the starting quarterback duties to second-year player Pat Mahomes. He will be the player to watch this training camp. Mahomes has a lot of pressure on him to produce right away, taking over as the starting quarterback for a good team. The Chiefs hope Mahomes can take their offense to another level. We will get a sense of if that can happen by watching Mahomes in camp and preseason action.
Position battle: The Chiefs have their starting receivers set but the No. 3 job is up for grabs. They have a host of options competing for that job. Demarcus Robinson, De'Anthony Thomas and Chris Conley probably will get first shot at the job. These guys all bring a little something different to the table, but have the skill set to produce at the position. We should have a better idea on the winner of the job as camp and the preseason gets going. It should sort itself out.
Injury watch: Running back Spencer Ware tore his PCL and LCL before last season and missed the entire year. He is still recovering from the injury and no sure thing to be ready for the start of camp or even the regular season. These are very serious injuries to return, so keep an eye on his status during training camp for the latest. He will be the top backup for the Chiefs when he his healthy and playing.