Best Ball Strategy 
Wed Aug 7 11:43am ET
By JEFF PAUR
Sr Fantasy Writer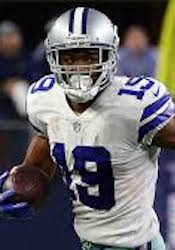 Cooper capable of huge game
If you haven't heard, best ball fantasy leagues are all the rage these days. These are the fastest growing leagues on our site. Drafts are going off every night (click here). We are here to help you win your best ball league. This column will focus on the strategy of a best ball format, giving you some tips to help you win big.
If you aren't familiar, here is a quick rundown of the best ball format. The best ball format means you don't have to set a weekly lineup. Your best possible roster will be automatically selected after the games are completed for the week. There are no free agent moves during the season. All you do is draft. After the draft is complete, you can sit back and watch the rest of the season. It is all the fun of drafting but without the daily management.
The best ball leagues normally start nine players: a quarterback, two running backs, two receivers, a tight end, flex, defense and kicker. Drafts are anywhere between 20 and 25 rounds long, making rosters deeper because of the inability to make free agent moves during the season.
So now that you know the rules, here is a look at some tips for having a successful best ball draft. First off, you are going to take more quarterbacks and tight ends than in a normal draft. Taking three quarterbacks and three tight ends is a smart move in best ball leagues. You just need one player to hit each week, so having more to choose from will help you optimize your chances for that big week. Grabbing three players at each position is the way to go in best ball formats.
In a best ball league, going with boom or best players is a good idea. Getting players with a high weekly ceiling is a smart move. You need those big weekly games to advance in best ball formats. Guys like Amari Cooper and DeSean Jackson are ranked a little higher for me in this format. These are guys that can drive you a little crazy in standard leagues because of their erratic play, but you can live with that in best ball leagues. There are options on your bench that can makeup for the bad games from Cooper and Jackson. You start just two receivers on a weekly basis and likely have three or four options on your bench. There is a good chance one of your bench options hits any given week, which can makeup for the erratic play of a guy like Cooper if he busts.
So taking three quarterbacks is a good idea, but grabbing one in the early rounds isn't. If you think about it, you just need one quarterback to hit each week with a big number. If you take three in the middle to later rounds of your draft, can one of those guys post an elite fantasy number each week? Your answer is likely a big yes. You are better served in a best ball format loading up on running backs and receivers early in your draft. These positions are a little more uncertain, so getting quality running backs and receivers early in your draft is a good plan come draft day. Don't waste early picks on the quarterback spot. The quarterback position also is crazy deep this year.
The tight end spot is a little different this year. Normally, approaching the tight end position is similar to the quarterback position. Get three in the middle to later rounds of your draft and hope one hits each week. We still suggest getting three tight ends but going early on one of the three elite options this year might give you an advantage. There are three players that stick out head and shoulders above the rest: Travis Kelce, Zach Ertz and George Kittle. Taking one of those three players in the second or third round of a best ball draft might give you an advantage over the rest of your league-mates. The lesser tight end options aren't as likely to score big when they have their good games. This is something to keep in mind come draft day. Going early on one of the three elite tight ends could set you apart this year. They are worth an early-round pick.
There is some debate with this next suggestion, but we think getting two kickers and two defenses is the way to go in best ball. The big reason is that if you take just one at each position, you are going to be giving up six or seven points in one game because of bye weeks. Can you afford to lose those points when every game matters so much in fantasy? We just aren't sure it is worth risking, especially since rosters are so deep anyway. Every game matters so much in fantasy that giving away just one game could be the difference between making or missing the playoffs. So go ahead and grab two kickers and defenses in the last few rounds of your draft to make sure you are maximizing your points each week of the season.

In closing, use your early picks wisely, getting a lot of talent at running back and receiver. These positions are a little more uncertain, so getting plenty of options at those spots is a good move in this format. And don't be afraid to go deep at any position, especially if you have some questions marks for your projected top point getter at the position. You also have to take some chances late in the draft, trying to find a player that might emerge later in the season or something along those lines. This is the format to take more risks. You have the roster space, so don't be afraid to take some chances along the way. There are going to be players selected in this format that you would never consider taking in a standard league.
Good luck and happy drafting!
Jeff Paur is a two-time finalist for FSWA Fantasy Football Writer of the Year and won the FSWA award for Best Fantasy Football Article on the Web in 2011. He also was the most accurate expert in 2012, winning the FSTA Fantasy Football Accuracy Award. If you have any questions for Jeff, email him at jeff@rtsports.com. Follow Jeff on Twitter @jeffpaur.