Training Camp Preview: NFC East
Thu Jul 25 11:08am ET
By JEFF PAUR
Sr Fantasy Writer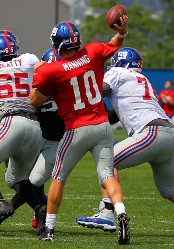 Manning hopes to keep job
This is the fifth preview in a series of training camp previews. We will continue to release the previews throughout the week. The previews give you a quick look at each team, going over position battles and injuries to watch in camp. The season is right around the corner.
Eagles
The Eagles didn't have quite the season as expected last year but finished strong to make it to the playoffs. The team will look to start quicker this year and make another Super Bowl run. The big thing to watch this camp will be starting quarterback Carson Wentz. He needs to stay healthy and regain his past form if this team hopes to make another deep playoff run. The season might hinge on Wentz playing at an MVP-level once again.
Position battle: The running back spot has been a bit of a rotating door in recent seasons for the Eagles and it could be more of the same this year. It sure looked like Jordan Howard was going to be the man to start after being traded to the Eagles, but Philadelphia used a second-round pick on Miles Sanders, clouding the situation. These guys should compete for the right to start in Philadelphia and the job seems up for grabs. Both are good candidates.
Injury watch: Carson Wentz has failed to play a full season each of the last two years. He was limited to 11 games last year and had to watch Nick Foles start for the team in the playoffs. Wentz has a ton of talent but health has been the issue with him in recent years. He is healthy heading into camp, but you will want to watch his health to make sure nothing comes up in camp. A healthy Wentz can be a difference maker for fantasy teams.
Giants
The Giants were a bit of a mess last year and are looking in rebuild mode this year. The most important situation to watch in training camp is the battle between Eli Manning and rookie Daniel Jones to start. This should make for a fascinating camp, seeing longtime starter Manning try to hold onto to his job.
Position battle: For the first time in many years, the Giants have some real competition for Eli Manning. He is expected to start this year but the team used their first pick in the draft to grab Daniel Jones. He is the future at the position and could push Manning for the right to start out of the gate. Manning has been erratic in recent years, so he is not going to get the benefit of the doubt if Jones looks ready to play.
Injury watch: Tight end Evan Engram missed five games last year because of injury and has failed to play a full season each of the last two years. Injury has slowed him to start his career. He has a chance to play a big role in this offense this year but can't do that if he is on the sidelines. Engram has already been slowed by a hamstring injury in offseason workouts, which is a concern. He should be ready to go for camp but keeping an eye on his health is a good idea for any fantasy owner thinking about taking him this year.
Cowboys
The Cowboys won the division last year and will look to repeat this year. The pieces are in place for this team to have a strong year, but health and the emergence of some young players on both sides of the ball will help determine the fate of the Cowboys. Dallas needs their key players to stay healthy and be on the field (i.e. Ezekiel Elliott ends his holdout). The Cowboys always have an interesting camp, so this should be a good one to keep an eye on for fantasy owners and NFL fans.
Position battle: This shouldn't be much of a battle but Randall Cobb and Tavon Austin will challenge each other for the No. 3 receiver job. Cobb was signed to take that role but his recent play is a bit of a concern. His production has dipped in recent years, which could open the door for Austin. It is likely that Austin is used sporadically like he was last season, but he has experience as a slot receiver so it isn't out of the realm of possibility that he challenges Cobb for the No. 3 receiver job. It is something to watch.
Injury watch: He isn't hurt but Ezekiel Elliott could holdout in search of a new contract. This is a situation to watch, especially after seeing the Le'Veon Bell saga last year. You never know how this is going to play out. The Cowboys seem like they will need to pay up, though, because the team is much better with Elliott in the mix. It is a drastically different team with Elliott starting and carrying the offense. He has a lot of leverage, so this shouldn't be a lengthy holdout but you never know.
Redskins
The Redskins have a lot of battles going on in camp, including quarterback, running back and receiver. There is a lot up in the air for this team right now, which should make for an intriguing camp. Washington has a lot to decide at several key positions. This might not be ideal if you are a Redskins fan, though. But for fantasy purposes, you will need to watch all these battles closely and adjust your rankings accordingly when decisions are made.
Position battle: The big battle this training camp will be for the starting running back spot. Adrian Peterson was a big surprise in a starting role last year, showing he still had something left in the tank. He got a chance to start because of injury and took advantage. Derrius Guice was the reason Peterson started. Guice tore his ACL before the season and missed the entire year. He is back healthy, though, and ready to regain his starting role. He will challenge Peterson for the chance to start and probably has the leg up as long as he is healthy.
Injury watch: As mentioned, Derrius Guice is returning from a torn ACL. This is a major injury to return but things are going well for him with that injury. He seems to be near full strength. However, he did injury his hamstring in offseason workouts and has missed some time because of that. He could be slowed some to start camp. His failure to stay on the field is a concern going forward. He will need to get healthy in a hurry if hopes to start for the Redskins this year.
Jeff Paur is a two-time finalist for FSWA Fantasy Football Writer of the Year and won the FSWA award for Best Fantasy Football Article on the Web in 2011. He also was the most accurate expert in 2012, winning the FSTA Fantasy Football Accuracy Award. If you have any questions for Jeff, email him at jeff@rtsports.com. Follow Jeff on Twitter @jeffpaur.