Waivering: Week 2
Tue Sep 11 8:05 am
By JEFF PAUR
Sr Fantasy Writer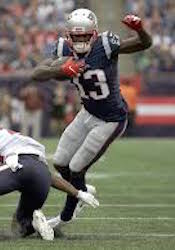 Dorsett setup for bigger role
You never want to overreact to just a week of football, but you also don't want to ignore what happened. Just keep everything in perspective and make educated moves based on what you witnessed. Here are some options for you to consider grabbing this week. There are lots of options out there this early in the season.
QUARTERBACKS
Ryan Fitzpatrick, Bucs. Fitzpatrick was the biggest surprise of Week 1. He had a game that might not be matched all season. He was 21-of-28 for 417 yards and four touchdowns without an interception. He also ran in a score, giving him five total touchdowns. He starts two more weeks with Jameis Winston suspended. You can't expect Fitzpatrick to repeat this game but he might be worth using in the right matchup. The potential is there in a pass-first offense.
Case Keenum, Bronocs. Keenum had a strong debut with the Broncos, proving he can help fantasy teams as a spot starer. He had good rapport with the receivers and moved the offense up and down the field. He did make some mistakes but his overall numbers were good in the end, going 25-of-39 for 329 yards and three touchdowns with three interceptions.
RUNNING BACKS
James Conner, Steelers. Conner is likely owned in most leagues but if your league didn't run a waiver before the Week 1 games, he might still be out there to grab for fantasy teams. Conner had a huge game in his first start, rushing 31 times for 135 yards and two touchdowns. He is about a must play as long as LeVeon Bell remains away. Conner can produce big total numbers in this offense.
Phillip Lindsay, Broncos. Lindsay was a big surprise the first week of the season, emerging as the top backup for the Broncos and third-down back. He had 15 carries for 71 yards, matching the rushing numbers of starter Royce Freeman. Lindsay also caught two passes for 31 yards and a touchdown. He showed well with his chances and likely will get weekly work going forward. He is a shifty back with big-play ability. He might be worth a flex play for fantasy teams in the right matchup.
Frank Gore, Dolphins. Gore didn't quite split carries with Kenyan Drake in Week 1 but he produced better numbers than him, which was encouraging. Gore ran nine times for 61 yards. He should get a similar workload going forward, so he isn't a sure thing by any means. But if he is getting around double-digit touches per week, he has fantasy value.
Austin Ekeler, Chargers. Ekeler had 10 touches last week - five carries and five receptions. He finished with 126 total yards and a touchdown. Ekeler should get a similar workload in a reserve role much of the season. He will get a few carries and some chances in the passing game. He has some weekly potential in his current role, making him a spot play in the right matchup.
T.J. Yeldon, Jaguars. Leonard Fournette is hurting and could miss some time, leaving Yeldon as the starter for the Jaguars. Yeldon has big value in a starting role for a run-first team. He had a touchdown and 69 total yards last week. He is a much improved runner between the tackles and could produce very well in a starting role. He is a top add for fantasy teams this week, especially for all those Fournette owners.
WIDE RECEIVERS
Cole Beasley, Cowboys. Beasley was the leading receiver for the Cowboys last week, catching seven passes for 73 yards. The Cowboys are a mess at receiver and Beasley might be the most dependable option of this group. We wouldn't expect big weekly numbers but he should get his catches in this offense. He might lead the Cowboys in targets this year.
Geronimo Allison, Packers. Allison had a strong showing in Week 1, catching five passes fro 69 yards and a touchdown. He did well in an expanded role for the Packers and should continue to be in the top three rotation for the team. Allison is still available in 62 percent of leagues. Go grab him if you need the receiver help.
Phillip Dorsett, Patriots. Dorsett could finally live up to his potential with the Patriots. He was a big part of the offense in Week 1, finishing with seven receptions for 66 yards and a touchdown. Dorsett might be a little up and down in an offense with a lot of weapons but he should get his weekly chances in a pass-first offense. Dorsett has a chance to be a factor for fantasy teams.
John Brown, Ravens. Brown carried over his strong preseason to a good performance in Week 1. He caught three passes for 44 yards and a touchdown. The Ravens look to have a much improved passing game, which could mean a strong rebound season for Brown. Remember, he is a former 1,000-yard receiver with a lot of talent.
Chris Godwin Bucs. Godwin scored a touchdown last week. He played 48 snaps to DeSean Jackson's 20 snaps. This is an encouraging sign for Godwin in this offense. Plus, Jackson suffered a concussion last week and could miss some time, giving Godwin even more playing time. Godwin is really setup for a breakout season in this offense.
Tyler Lockett, Seahawks. With Doug Baldwin injured, this leaves Lockett as the No. 1 receiver for the Seahawks. He had three receptions for 59 yards and a touchdown last week, showing his potential in an expanded role. Lockett is a big-play threat with the ball in his hands and is going to be capable of the huge game any given week.
TIGHT ENDS
Will Dissly, Seahawks. Dissly was a big surprise for many in the opener. He was supposed to be more of a blocking tight end for the Seahawks, but showed some promise in the passing game. Dissly had three receptions for 105 yards and a touchdown. We wouldn't expect this type of game many weeks but this game does warrant Dissly to be put on your radar going forward.
Jonnu Smith, Titans. Smith is the next man up at tight end for the Titans. Delanie Walker is likely done for the season, leaving Smith as the starter. Smith is a big-time athlete that could produce some top games, especially if you consider how often the Titans utilize the tight end in their offense. Smith has some real fantasy potential going forward. He could be a low-end No. 1 for fantasy teams.
Jared Cook, Raiders. Cook had a huge Week 1, catching nine passes for 180 yards. He had a big preseason as well, so this performance shouldn't come as a huge surprise. Cook has a chance for a career season in this offense. He is going to be heavily targeted, making him a candidate to be a low-end No. 1 for fantasy teams.
Jeff Paur is a two-time finalist for FSWA Fantasy Football Writer of the Year and won the FSWA award for Best Fantasy Football Article on the Web in 2011. He also was the most accurate expert in 2012, winning the FSTA Fantasy Football Accuracy Award. If you have any questions for Jeff, email him at jeff@rtsports.com. Follow Jeff on Twitter @jeffpaur.