From The Godfather: Exploring the FSTA Draft, Part II 
Mon Feb 11 9:53am ET
By CHARLIE WIEGERT
Contributing Writer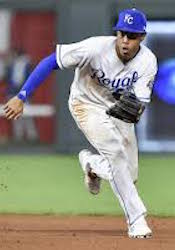 Mondesi has high upside
The FSTA Draft continues. (To view the draft, go to https://www.rtsports.com/fsta)
With the second pick in the draft, we choose New York outfielder Giancarlo Stanton. With the top four pitchers gone, we decided to team Trea Turner with some power, and now have a solid offensive base with 60 HRs, 50 SBs, good RS, RBI and AVG.
When the third pick came, six more pitchers were gone, which made 10 in the first 34 picks. We felt the best pitcher on the board was Blake Snell, the AL reigning Cy Young winner. While I'll admit that its been a long time since someone has won that award back-to-back years, I'm still confident he'll throw 200 innings and have 200-plus strikeouts, with a good ERA and WHIP. Good pitcher to build our rotation around!
The next pick in Round 4 was a bold move. Already having a shortstop, we went back to the well for Alberto Mondesi. We had many other choices, but his upside, especially in that hard to get SB area, was our main motivation for the pick. Now we feel very secure in the SB area and won't have to sacrifice in the other counting stat categories later in the draft to get SBs.
What, a reliever in Round 5? Yep, we took the first one in Oakland closer Blake Treinen. Remember in the last article that I mentioned 75 saves as a goal, which meant two good ones could get you close to that number. Barring injury, Treinen is a sure bet to get 35 to 40 saves. Everybody (coaches, managers and players) says his stuff is nasty, and the hardest guy to hit against in the league.
Next up, our rotation was looking lovely with the two Blake's by themselves. We couldn't find another pitcher name Blake we liked, so we went for a Zack, Zack Wheeler. With 21 starters already gone, pitching was starting to look thin. Wheeler got the nod because he'll be pitching out of the three or four spot for the Mets, meaning he'll pitching against other teams three or four pitchers a lot. When you look at the MLB rotations, he'll one of the best at three or four, not to mention he now has a solid bullpen behind him to help get wins.
Time for some more offense. Third baseman Matt Chapman, 1B Jose Abreu (in a contract year) and OF Nick Castellanos should all produce 25 HRs and 85-plus RBI. We were looking for players to help get us counting stats, and they'll provide plenty. Then Tanaka in Round 10 and Pivetta in Round 11 to fill in our pitching.
I should note after Round 10, the live draft ended, and we started an email draft to finish. This meant rather than having a minute to make a pick, we had as long as we wanted. It also gave Vlad and I a great chance to analyze where we were and what needed to be done to reach our goals. We realized we were still hurting in pitching, so we looked to fix that first.
After our Pivetta pick, three more catchers were taken. I guess the other "experts" during the break noticed there were only a few catchers worth taking still left. So with six catchers off the board, one stood out as the last of the "safe" catchers, Wilson Ramos. He dropped in value because of his injury-plagued season last year, but could rebound nicely and provide great value to us here. And we were probably right in our thinking that he was the last worthwhile catcher left, as another catcher was not selected for 87 picks.
Time to get that second RP. David Robertson, fresh off a new deal with Philly, seemed worthy of a chancw, but to hedge that pick a little, two picks later we chose Shane Greene, the last of the relievers we thought had a chance to get 30 saves. Bullpen taken care, at least we think so at this point. But if there is one area you can never feel safe about, it's closers.
Our outfield was still weak with only two out of five, so we took Domingo Santana, now with a full time job again in Seattle, hoping he can produce like he did two years ago in Milwaukee. Looking for some more power, we went the same way the Twins did and selected C.J. Cron. He could be a bit of a sleeper, and a good bet to hit 25-plus home runs playing every day.
Second base was starting to bother me, the lack of not having one yet. Vlad and I debated quite a bit over LeMahieu, Lowrie or Wendle. The first two have been All Stars but moving to new teams. I was worried about LeMahieu's splits, great at home in Colorado but less than average on the road. While the Yankee ball park is good for left handed hitters, his spot in the lineup still seems uncertain. Will he get enough at bats as a roving infielder? Then there is Wendle, unknown in Tampa, but the everyday second baseman. Projected for 10 HRs, 15 SBs and 60-plus runs scored and RBIs, and a .270 avg. Nice safe numbers, and our pick.
We're through 17 rounds, 238 picks. The next article will finish up the draft, assuming we finish the last 25 picks soon.
Charlie Wiegert was the sixth person to be inducted in the Fantasy Sports Hall Of Fame in 2001. He is a founder of CDM Fantasy Sports and Fantasy Sports Trade Association. He has been playing and winning fantasy baseball leagues since 1984. If you have any questions for Charlie, email them to cwiegert@cdmsports.com. Follow him on Twitter @GFFantasySports.