From the Godfather: Exploring the FSTA Draft, Part III
Mon Feb 18 10:10am ET
By CHARLIE WIEGERT
Contributing Writer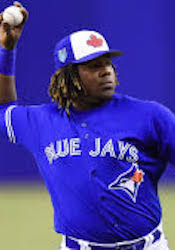 Guerrero Jr. is risky pick
With our pick in the 18th round we selected Mets pitcher Steve Matz, another pitcher who will be slotted three or four in his rotation, and will draw weaker pitching opponents, thereby having a better chance for wins. Plus, with the Mets improved bullpen, we like his possibilities. Back to the outfield where we still need two, we went with someone who should have a good year with increased playing time, Randall Grichuk. I always like to point out he was drafted ahead of Mike Trout, but all that really shows is scouts miss sometimes.
Tyler Skaggs was next, hoping he finally reaches his potential this year with the Angels. Rounding out our outfield, we took Nick Markakis. Nobody ever seems to be high on Markakis, but he's a very reliable pick. He won't excel in any category, but he will have a solid .275 plus average, hit 10-plus home runs, with 70 RBI and runs scored, and maybe even swipe a base or two. The next pick was someone I jockeyed for, Seattle pitcher Marco Gonzalez. He had his best year ever last season, and was the top pitcher in Seattle's rotation. I expect him to start one of the two games in Japan, and then start again the following weekend. Based on rules for this league, we could get two starts for him when every other pitcher will only have one.
Still looking for some power, we went with Justin Bour, who should see the majority of the playing time in Los Angeles at 1B or DH as Pujols and Ohtani recover from injuries. Ohtani went in the 12th round, but our pick here, Bour, could have better numbers than Ohtani gets, especially through the All-Star break. The next pick was one of our sneaky picks, Niko Goodrum. Slated to be the everyday second baseman in Detroit, he also qualifies at first base, giving us some great roster flexibility at 1B, 2B, MI and CI. In 444 ABs last year, he had 16 HRs, 12 SBs, 55 RS and 53 RBIs. Not bad for a 24th-round pick!
We still needed our second catcher, and Vlad found this guy. Going back to Detroit, John Hicks is another sneaky pick. He had 21 games at catcher, but spent more time filling in at first and DH with Miguel Cabrera out. While not overly spectacular, in 268 ABs, he had nine HRs, 35 RS and 32 RBI with a .260 average, and his season ended in August with a groin injury. We're not looking for much from him in that second catcher spot, and if he can do what he did last year, it would be great. The key here is (Godfather advice), don't take a second catcher who can hurt your team. These number are better from a guy with 400 ABs that hits .220.
We're in the reserve round now, actually Bour and Goodrum were reserve picks. Depending on league rules, what you do with the reserve round is important. In this league, we have unlimited DL spots, and can drop any player and pick someone up through FAAB weekly. So were looking for players with upside. Rookies, who may or may not make it up this year are not really good picks, they take up a roster spot. All you can do is drop them, and in the first two months, the chances of being called up and making your roster with worthwhile contributions are nil, so don't get sucked in.
Which brings me to a point I'd like to make about Vladimir Guerrero Jr. Yes, I expect him to be a very good player. But his ADP has been in the early 40s. Will he be one of the top third baseman, a top-50 player this year? My guess is no. He won't get called up till late April, so Toronto can save on his super two status. He'll play a lot a games in the AL East against some really good pitching. They will find a way to expose him and get him out. He'll chase a lot of bad pitches, and strike out a lot. He'll make adjustments, and he'll do ok. My projection is .260 average, 20 HRs , 60 RS and RBI, and ZERO SBs. Is that top 50 numbers? Is that better than Suarez, Donaldson, Myers, Chapman or Shaw (all going three to four rounds later)? In the ninth or 10th round, he'd be a good pick and probably produce good numbers for those rounds. Earlier, it's a risk. But from what I've seen in early drafts, you'll need to take him in the fourth or fifth round to get him.
We chose two pitchers, Brandon Woodruff and Yonny Chirinos, both of whom at this point in early February, could wind up in their teams rotation and rack up a lot of strikeouts. Our plan will be to go with seven starters and two relievers a lot, so having a couple extra upside starters is good. We needed a good back up at third base, and back to Detroit with Jaimer Candelario, who is projected to bat lead off. And our last sneaky pick, OF Yoenis Cespedes. Again league rules, with unlimited DL, allows us to put him on the DL the first week and claim some young stud who has torn up spring training. If Cespedes comes back in late July, he could be good for 10-plus home runs, making him worth the gamble.
So that's our team, what do think? According to the Fantasy Pros projections on the RTSports website from the draft wizard, they have us with an A- for the draft, third overall, second in pitching and fifth in hitting. So we have a little work to do to win it all, but it appears we have a good team to start. I'll update how this team does during the year, along with moves we make. Perhaps these moves might give you some good ideas of moves to make with your team, so you can win it all also.
Charlie Wiegert was the sixth person to be inducted in the Fantasy Sports Hall Of Fame in 2001. He is a founder of CDM Fantasy Sports and Fantasy Sports Trade Association. He has been playing and winning fantasy baseball leagues since 1984. If you have any questions for Charlie, email them to cwiegert@cdmsports.com. Follow him on Twitter @GFFantasySports.