Pitching Primer: Week 15
Fri Jun 28 3:55pm ET
By MIKE BARNER
Contributing Writer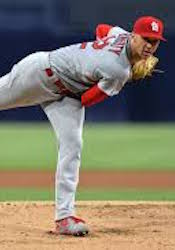 Flaherty worth using this week
After a week off following the birth of my son, I'm ready to get things rolling again with some two-start pitchers for Week 15. Let's dive right in and highlight five pitchers that will take the mound two times each and discuss whether they are worth starting in the majority of fantasy leagues:
David Price, Boston Red Sox: at TOR, at DET
The Rangers took it to Price a couple of weeks ago, scoring six runs over 1 1/3 innings. He's rebounded nicely since, allowing four runs (three earned) and recording 11 strikeouts across 11 innings against the Twins and White Sox. His bad outing against the Rangers was more of an outlier than anything else based on his 3.36 ERA and even better 2.88 FIP, so don't let that one bad performance cloud your judgement. Price has been a rock for the Red Sox.
This week brings matchups against two of his former teams that also happen to have two of the worst lineups in baseball. Not only are both the Blue Jays and Tigers inside the bottom-five of the league in runs scored, they have also struck out the seventh-most and eighth-most times, respectively. Deploy Price with confidence.
Jack Flaherty, St. Louis Cardinals: at SEA, at SF
After emerging as one of the Cardinals' best starting pitchers last year, Flaherty has taken a step backward this season. He has a mediocre 4.75 ERA that is backed by his 4.74 FIP and has seen his strikeout rate decrease by more than three percentage points to 26.3 percent. While the lack of strikeouts is discouraging, the main reason for Flaherty's demise has been his inability to keep hitters inside the ballpark. He's already allowed 18 home runs across 85 1/3 innings after giving up 20 long balls in 151 innings last season.
Flaherty's first start of the week against the Mariners isn't exactly a walk in the park. On the bright side, they do lead the league in strikeouts by a wide margin. His second start against the Giants is a great matchup, considering they have the second-lowest OPS (.659). Even though you might need to sweat through his outing against the Mariners, Flaherty is still worth starting based on that second game against the Giants.
Dallas Keuchel, Atlanta Braves: vs. PHI, vs. MIA
Desperate for help in their starting rotation, the Braves added key depth when they brought in Keuchel. He quickly brought himself up to speed despite missing the first three months of the season and even through 99 pitches in his first start with the team. However, his outings against the Nationals and Cubs weren't exactly a smashing success with him allowing seven runs (six earned) and recording only five strikeouts over 10 2/3 innings.
The problem with Keuchel from a fantasy perspective is that he doesn't miss many bats. With his 19.1 percent strikeout rate, rostering him is really with the hope that he can help your ERA and WHIP while picking up some wins on a very good team. This is a tricky two-start week since his first opponent in the Phillies has a 100 wRC+ against left-handed pitchers compared to a 91 wRC+ against righties. The Marlins have also shown flashes of being a productive lineup, although they have still only hit 60 home runs as a team. Unless you are desperate to try and grab a couple of wins, avoiding Keuchel might be a wise move.
Nick Pivetta, Philadelphia Phillies: at ATL, at NYM
The fantasy enigma that is Nick Pivetta is at it again. The Phillies demoted him to the minors after a slow start, keeping him down there for more than a month. He started to get people's hopes up when he was recalled, allowing four runs and recording 21 strikeouts across 20 innings in three starts. However, he's returned to his old form in the last three games, allowing 14 runs over 17 2/3 innings. He's been getting hit really hard, allowing seven home runs during that stretch.
He certainly can't be happy about seeing the Braves, who have scored eight runs in 11 1/3 innings against him this season. The Mets have been just as troublesome, scoring seven runs over 10 2/3 innings. With the way he's struggling right now, starting Pivetta is a risk that isn't worth taking.
Ross Stripling, Los Angeles Dodgers: vs. ARI, vs. SD
As the old saying goes, you can never have enough good starting pitching. Although the Dodgers stellar depth has forced Stripling to mostly pitch out of the bullpen, he's back in the rotation now that Rich Hill (forearm) is on the IL. It's going to take him some time to build up his pitch count, so it's not a surprise that he only lasted three innings in his last start against the Diamondbacks. The good news is that he threw 60 pitches in the outing, so if he can be more efficient, he has a shot at pitching five innings next time out.
His first start in Week 15 will come against the Diamondbacks again, which isn't a bad thing since they only have an 89 wRC+ against righties. They have crushed lefties to the tune of a 119 wRC+. The Padres also have just a 90 wRC+ against righties compared to a 105 wRC+ versus southpaws. If you're looking for a streaming option, Stripling is at least worth considering.
Mike Barner has been covering fantasy sports since 2007. His work has appeared in Sports Illustrated, Yahoo, SportsLine and RotoWire. Mike was also a finalist for the 2018 FSWA Basketball Writer of the Year award. Follow Mike on Twitter @rotomikebarner.