Pitching Primer: Week 22
Fri Aug 23 1:35pm ET
By MIKE BARNER
Contributing Writer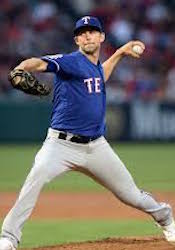 Mike Minor has been a surprise
Week 22 in the majors brings the final week of games in the month of August. With some teams falling out of the playoff chase and rosters getting set to expand September 1st, things could start to get murky in terms of two-start pitchers. Let's take advantage of some favorable matchups while we still can, although not everyone set to take the mound two times in the coming week should be locked into fantasy starting lineups.
Luis Castillo, Cincinnati Reds: at MIA, at STL
While some people may have been down on Castillo after his disappointing '18 campaign, he's done his best to prove the naysayers wrong by posting a 3.04 ERA and a 3.73 FIP this season. One of his main problems last season was the long ball since he allowed 1.5 HR/9. He's fixed that now, allowing just 1.1 HR/9. Another big area of improvement has been his 28.5 percent strikeout rate, which is up from 23.3 percent last season.
As far as favorable starts go, it doesn't get much better than facing the Marlins at pitcher-friendly Marlins Park. Even though the Cardinals have more talent in their lineup, they've scored the eighth-fewest runs in baseball to go along with the seventh-lowest OPS (.722). As far as upside goes, few pitchers are as appealing this week as Castillo.
Mike Minor, Texas Rangers: at LAA, vs. SEA
Minor has been one of the more pleasant surprises in baseball this season, recording a 3.17 ERA despite having to play his home games in the hitter's haven that is Globe Life Park. His FIP is a little less appealing at 3.97, but he's become more of a factor in the strikeout department with his 24.8 percent strikeout rate, which is nearly three percentage points higher than his career mark.
The bad news is that Minor has a 4.62 ERA and a 1.40 WHIP across his last eight starts. However, he still recorded 57 strikeouts across 50 2/3 innings during that stretch, so he hasn't been a total loss. His first matchup against the Angels isn't ideal, although they do have a 98 wRC+ against left-handed pitchers compared to a 107 wRC+ against righties. His second start carries plenty of strikeout upside since the Mariners have struck out the third-most times in the league. There is some risk here, but Minor should still be started in the majority of leagues.
Michael Pineda, Minnesota Twins: at CWS, at DET
After having not pitched in the majors since 2017 due to Tommy John surgery, Pineda has already logged 129 innings this season for the Twins. His numbers don't jump off the page, but he's been serviceable with his 4.26 ERA and 4.23 FIP. His excellent 4.5 percent walk rate has been a big help, leaving him with a 1.18 WHIP.
With the Twins looking to make the playoffs, they'll have a chance to pad their record against two of the teams in the cellar of the AL Central. The Tigers and White Sox have scored the fewest and third-fewest runs in the majors, respectively, leaving Pineda as a viable two-start option. He's had success against both teams, particularly the White Sox, who he has limited to seven runs over 20 innings in three starts.
Julio Teheran, Atlanta Braves: at COL, vs. CWS
If there is one thing that you can count on with Teheran, it's that his ERA is going to outperform his FIP. He's in the same boat again this season with a 3.53 ERA and a 4.41 FIP. He hasn't been overpowering with a 1.33 WHIP and a 21.8 percent strikeout rate, but he's managed to remain successful in this homer-happy era in large part because he's only allowed 16 home runs over 145 1/3 innings.
While Teheran's ERA looks nice, a lot of that is because he's held the Marlins to one run over 32 innings. He has a 4.45 ERA against the rest of baseball. Yes, his matchup against the White Sox could leave him with another productive stat line. However, his outing at Coors Field has the potential to be a disaster. Since he could dig fantasy managers a hole that they can't climb out of in that first matchup, this might be the time to place him on your bench.
Adam Plutko, Cleveland Indians: at DET, at TB
Just when it looked like reinforcements were on the horizon for the Indians, Corey Kluber had his return delayed due to an oblique strain that he suffered while on a rehab assignment. With Mike Clevinger and Shane Bieber leading the way, Plutko is one of the arms who will be tasked with trying to shore up the back end of the rotation down the stretch.
Overall, Plutko's numbers aren't very fantasy-friendly. His 5.77 FIP indicates his 4.54 ERA could be on the rise and he's only recorded a 14.8 percent strikeout rate. He's already allowed 19 home runs over 77 1/3 innings, which somewhat offsets the impact of his strong 1.16 WHIP. With all that being said, he's in the discussion for viable streamers with his first outing coming against the lowly Tigers. The Rays could be a troubling spot, but with streaming options few and far between this week, Plutko is at least worth considering if you need an arm to round out your staff.
Mike Barner has been covering fantasy sports since 2007. His work has appeared in Sports Illustrated, Yahoo, SportsLine and RotoWire. Mike was also a finalist for the 2018 FSWA Basketball Writer of the Year award. Follow Mike on Twitter @rotomikebarner.