Pitching Primer: Week 23
Fri Aug 30 3:56pm ET
By MIKE BARNER
Contributing Writer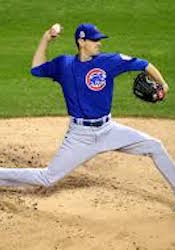 Hendricks looks to right ship
We head into the month of September with several teams still in the thick of heated playoff chases. We are also coming down to crunch time in fantasy baseball. Having the right two-start pitchers in your lineup could make or break your season at this point. Let's dive into some of the matchups for Week 23 and discuss whether or not the five players below should be locked into fantasy starting lineups.
Kyle Hendricks, Chicago Cubs: vs. SEA, at MIL
Things couldn't have gone much worse for Hendricks in his last outing against the Mets, allowing six runs over 4.2 innings. That actually marked the second time in his last four starts that he has allowed at least six runs. However, he has given up two runs or fewer nine of his last 11 starts, which has helped him produce a 3.47 ERA and a 3.94 FIP for the season.
The problem with Hendricks is that he doesn't strike out many batters, so he can be hit hard if his stuff is even slightly off. The question now is, can you trust him for his two-start week? His first start against the Mariners is a favorable matchup, especially when you consider that Hendricks has produced a 0.81 WHIP at home. Facing the Brewers at Miller Park will be no easy feat, but Hendricks is still worth deploying in the majority of leagues based on that first outing against the Mariners.
Masahiro Tanaka, New York Yankees: vs. TEX, at BOS
While never a major contributor in the strikeout department, Tanaka has hit new lows this season with his 19.6 percent strikeout rate. Hitters have also produced a 39.7 percent hard hit rate against him, which is the highest mark that he has allowed in his career. The end result has been a 4.47 ERA and a 4.31 FIP, leaving him a better option to deploy only in favorable matchups.
The Rangers are dealing with some key injuries to their lineup, but they still have some dangerous hitters, including Danny Santana, Shin-Soo Choo and Willie Calhoun. That might make things difficult for Tanaka in his first outing. His second start against the Red Sox has the potential to be a disaster since they have scored a whopping 18 runs against him in four innings this season. This is a week to anchor him to your bench.
Aaron Civale, Cleveland Indians: vs. CWS, at MIN
We've now hit the streaming portion of this week's article. There are a few players worth considering, including Civale. He's made a heck of an impression through his first six starts in the majors, recording a 1.96 ERA and a 2.50 FIP. Although he doesn't provide much in the strikeout department, a main reason for his success is that he's only allowed one home run over 36 2/3 innings.
His first matchup of Week 23 is certainly the most favorable. The White Sox have scored the third fewest runs and struck out the fifth most times in baseball. Facing the Twins will be a more daunting task, but Civale did hold them to one run across six innings earlier this season. There is some risk here, but Civale is at least worth a look if you need a boost for your starting staff.
Tanner Roark, Oakland Athletics: vs. LAA, vs. DET
Outside of his stellar '16 season in which he had a 2.83 ERA and a 3.79 FIP, Roark has been more of a fringe pitcher in fantasy. He only has a 19.4 percent strikeout rate for his career, so he's not providing much value in that category, either. However, he's benefited from a trade to the A's, recording a 3.30 ERA and a 1.13 WHIP through his first five starts with the team. He even struck out 27 batters over 30 innings during that stretch.
The Angels could be tough, but facing them at Oakland-Alameda County Coliseum is a huge plus, considering they have a 96 wRC+ on the road compared to a 108 wRC+ at home. His second start of the week doesn't get much more favorable with the Tigers scoring the fewest runs in baseball, making Roark one of the top streaming options to pursue.
Mike Montgomery, Kansas City Royals: vs. DET, at MIA
If you just look at Montgomery's overall numbers for the season, he doesn't look like someone you'd want to target. His 4.66 ERA could be even worse, considering his 5.31 FIP, and he's allowed 1.7 HR/9. To make matters worse, he has a meager 18.4 percent strikeout rate to go along with a 1.57 WHIP.
The key with Montgomery is the improvements that he has made since being traded to the Royals and inserted into the starting rotation. While he did get hit hard by the Orioles a couple of starts ago, he's allowed two earned runs or fewer in five of his last seven outings. That included a matchup against the Tigers, who he will be facing once again in Week 23. He absolutely dominated them, recording 12 strikeouts over seven scoreless innings.
As of right now, he appears to be in line to have a second start against the Marlins, who obviously have a weak lineup. Danny Duffy (hamstring) will return from the IL on Sunday and the Royals do have an off day Monday, but Jorge Lopez will likely be bumped from the rotation after his start Saturday. That would line Montgomery up to start next Sunday. However, this is a team that is well out of it and could change things up with September call ups, so be sure to follow up on their rotation plans as the weekend moves along. However, even if he doesn't get the second start, Montgomery is still worth adding for the outing with the Tigers.
Mike Barner has been covering fantasy sports since 2007. His work has appeared in Sports Illustrated, Yahoo, SportsLine and RotoWire. Mike was also a finalist for the 2018 FSWA Basketball Writer of the Year award. Follow Mike on Twitter @rotomikebarner.