Pitching Primer: Week 26
Fri Sep 20 2:01pm ET
By MIKE BARNER
Contributing Writer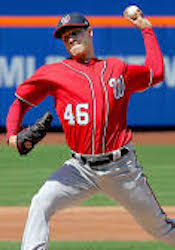 Corbin can finish season strong
The last week of the regular season is going to be a tricky one in terms of projecting starting rotations. Bad teams could decide to shut down some of their starters early while contending clubs might start to jockey their rotations for the playoffs. Keeping in mind that things could change at a moment's notice, here are five pitchers who are projected to each start two times in Week 26 and the impact they could have across the fantasy landscape.
Patrick Corbin, Washington Nationals: vs. PHI, vs. CLE
Corbin has been everything the Nationals could have hoped for after signing him to a big contract, posting a 3.10 ERA and a 3.35 FIP during his first season with the team. He's on pace to log at least 200 innings for the second straight year and he's been a valuable source for strikeouts with his 28.4 percent strikeout rate. With the Nationals making a push for the playoffs, he's been even better with a 2.16 ERA and a 1.14 WHIP over his last eight starts.
The Nationals have a fairly commanding lead for the top Wild Card spot in the National League, so it would likely take an epic collapse for them to not make the playoffs. They might have clinched things by the early-to-middle part of the week, which could lead to them shaking up their rotation. With that being said, Corbin isn't going to start the Wild Card game over Max Scherzer or Stephen Strasburg, so his two outings this week seem fairly certain. Make sure he's locked into your lineups.
Sonny Gray, Cincinnati Reds: vs. MIL, at PIT
Speaking of players who have taken to their new surroundings, Gray has been a completely different pitcher with the Reds than he was with the Yankees last season. He's actually been one of the best pitchers in baseball, posting a 2.80 ERA, 3.39 FIP and a 1.09 WHIP. His strikeout rate also checks in at 28.9 percent, which is nearly seven percentage points higher than his career average.
He'll have the chance to reward fantasy managers with two more gems considering these matchups. The Brewers lineup is a shell of itself without Christian Yelich (knee). The Pirates have already had their share of difficulties with Gray this season, scoring nine runs (eight earned) over 20 2/3 innings. No need to overthink this one, start Gray.
Eduardo Rodriguez, Boston Red Sox: at TEX, vs. BAL
With Chris Sale (elbow) and David Price (wrist) out, Rodriguez is the best pitcher that the Red Sox have left. He's already won a career-high 18 games on the way to posting a 3.53 ERA and a 3.91 FIP. He's actually been dominant down the stretch, allowing six runs (five earned) across 45 innings in his last seven starts.
Since the Red Sox are dealing with so many injuries, it seems likely that Rodriguez will make his final two starts. He has two great matchups, the first of which is against a Rangers team that has struck out the second-most times in baseball. The second comes against an Orioles squad that has scored the eighth-fewest runs and posted the sixth-lowest OPS. Look for Rodriguez to provide excellent production.
Caleb Smith, Miami Marlins: at NYM, at PHI
The Marlins' lineup is still very much a work in progress, but they are least have a few starting pitchers to be excited about. One of them is Smith, who has missed plenty of bats this season with his 27.4 percent strikeout rate. He's on pace to throw at least 150 innings in a season for the first time in his career, potentially setting him up to be one of their workhorses next year.
The problem with Smith is that he has cooled off considerably after a strong start. In fact, he has a 5.80 ERA and a 1.40 WHIP across his last 10 starts. This won't be an easy week for him facing two teams fighting for a playoff spot. It also doesn't help things that both games will be played on the road, where he has a 5.83 FIP this season. Even with the lack of quality two-start options for Week 26, Smith is probably a player to send to your bench.
Aaron Civale, Cleveland Indians: at CWS, at WAS
Civale has proven to be a key member of the Indians' rotation, recording a 1.82 ERA and a 2.92 FIP across his nine starts. While he can't be counted on for many strikeouts, he's remained successful by allowing two home runs across 54 1/3 innings. He's also shown excellent control with a 6.2 percent walk rate.
With their season on the line, the Indians are set to turn to Civale to make two starts this week. Even though he gave up three runs across five innings in his only other start against the White Sox, just one of those runs was earned. The Nationals will likely have locked up a playoff berth by the time Civale faces them, so they could rest some of their starters for that matchup. If he's still available in your league, picking him up could be a wise move based on the limited streaming options that will be at our disposal.
Mike Barner has been covering fantasy sports since 2007. His work has appeared in Sports Illustrated, Yahoo, SportsLine and RotoWire. Mike was also a finalist for the 2018 FSWA Basketball Writer of the Year award. Follow Mike on Twitter @rotomikebarner.