From the Godfather: FSGA Draft Recap: Part I
Thu Jan 16 10:06am ET
By CHARLIE WIEGERT
Contributing Writer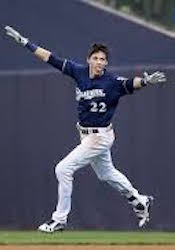 Yelich goes third in FSGA draft
The first major fantasy baseball draft of the is underway, and The Godfather, with the assistance of RTSports Tim Jensen, are in the thick of the action.
Here's a link so you can see the draft board: https://rtsports.com/siriusxm.
Before the draft started, each team was given the opportunity to select their draft spot from random drawn numbers. Ray Flowers (SiriusXM Fantasy Drive) had the first choice and selected the four spot. With one and two already gone, we had the next choice and selected the three spot. That made our first pick any easy choice, getting whoever was left from Christian Yelich, Mike Trout and Ronald Acuna. As you can see, Yelich was the guy left to build our team around.
Our early strategy was to focus on four and five category players, particularly paying attention to the stolen base category. Last year, once again stolen bases were down from the preceding year. Only 13 players stole over 20 bases and just nine of them hit 20-plus home runs; Ronald Acuna, Christian Yelich, Jonathan Villar, Trea Turner, Tommy Pham, Starling Marte, Trevor Story, Jose Ramirez and Francisco Lindor. The other three players to steal over 20 were Mallex Smith, Alberto Mondesi, Kolten Wong and Dee Gordon.
As a comparison, 68 players hit 20 or more home runs, 42 of which had 30-plus and nine had 40-plus home runs. You should quickly realize it is a lot easier to find players that will provide home runs for your team than stolen bases, so you need to focus on acquiring those nine players that can provide both, and in most cases, you'll be lucky to get one in your draft.
So Christian Yelich fits the bill for our team. Plus, he'll provide close to or more than 100 runs batted in and runs scored, and give us a .320-plus batting average. He is truly a five-category player.
By the time we were able to make our second pick, 22 picks later, the top-eight starting pitchers were gone. Our strategy of getting one of them was foiled, and we weren't really ready to "accept" taking another starting pitcher just to have one. Looking over the best players still left, JD Martinez stood out as one of the most productive players. Projected to hit 35-plus home runs with 100 RBI and 100 runs scored with a .300-plus average, he was one of the few left projected to do that. Five picks later, we stayed with our theme of stolen bases and selected 2B/OF Whit Merrifield. He is another .300-plus hitter that will provide close to 20 home runs and 20 stolen bases with 100 runs scored and 75 RBI. So through three picks, we are close to 50 stolen bases, 100 home runs, 300 runs scored, 280 RBI with a .315-plus average. Not a bad start.
At this point, it probably is a good idea to give you the targets we were shooting for in each category. These targets are based on the final league statistics from last year's finish, aiming for what number would have put us third in each category. For hitting, .267 batting average, 300 home runs, 130 stolen bases, 1,000 RBI and 1,050 runs scored. On the pitching side, it is 95 wins, 75 saves, 1,400 strikeouts, 3.55 ERA and 1.20 WHIP.
Twenty-two picks later we get our fourth pick. Seven more starting pitchers are gone, and the pressure to get one is real. We were focused on Cardinals 1B Paul Goldschmidt, and found it hard to believe he was still on the board. Anticipating a rumored trade of Nolan Arenado to St. Louis, who would bat fourth behind Goldschmidt in the Cardinals lineup, gave us reason to expect Goldschmidt's numbers to increase dramatically. But alas, Ray Flowers picked Goldschmidt right before us, so another plan foiled.
Our attention turned to Charlie Morton, but we noted the two teams after us both had a starting pitcher, so we thought he would still be there five picks later. We noted that Houston rookie sensation Yordan Alvarez was there for the taking and to add his production to our team we deemed it worth the risk. Well, we're happy with Alvarez, but with their next pick, Rotoballers took Morton. Feeling the pressure and looking over the list of available starting pitchers, we decided to "gamble" on Clayton Kershaw. If healthy, and that's a big if, he could be a top fantasy pitcher. At the least, if he does what he did last year, he becomes a good anchor for our staff, getting us a decent ERA, solid WHIP and 180-plus strikeouts.
With our next pick approaching, 10 third basemen were gone and news came out (five picks before our turn) that Josh Donaldson just signed with the Twins. Going to homer heaven (Twins led MLB in home runs last year), he should have no trouble matching his 35 from last year and fit nicely on our roster. Our batting average was still strong, so we could afford the hit to get his production in the other categories.
On the turn coming back, we took our second starting pitcher, Madison Bumgarner. A few years ago our top two starters would have been the envy of any team, but in 2020, they've two aging players. Both are capable of putting up another great year, and Bumgarner should fair well in the desert because the Diamondbacks ballpark has favored pitching the last two years. And he still gets to pitch a lot of games against the NL West, who he has enjoyed a great deal of success against.
With our next pick, we chose our third starting pitcher, Eduardo Rodriguez. We are hoping for a repeat of last year's performance. He seemed to be one of the last safe bets for a 200 strikeout pitcher left. In Round 9, we addressed our void at first base. With the top nine already gone, we realized first base was a really weak position this year. We chose Trey Mancini, who produced solid numbers last year, and should be a 35 home run, 100 RBI, 100 runs scored guy with a .290 batting average.
Our next pick focused on the closer spot with nine off the board, so we took Twins closer Taylor Rogers. He blossomed into a solid pitcher last year and should be a safe bet for 30-plus saves this year. He had 90 strikeouts last year in 67 innings, giving him extra value. Our plan was to get one solid closer, and he was the last guy on the board we felt could be solid. We had one last pick before the draft went from live to an email format to finish and looked back at our original strategy - focus on stolen bases. While we had a great start, we ignored the category for a while, mainly because most good stolen base guys were gone. We were happy to get Elvis Andrus and his projected 30 stolen bases while still contributing to the other categories.
So through our first 11 rounds, our team projects to 215 home runs, 85 stolen bases, 650 RBI, 675 runs scored with a .292 batting average. We have two catcher spots, a middle infielder, a corner infielder and three outfield spots to go. Pitching projects to 51 wins, 30 saves, 660 strike outs, 3.50 ERA and 1.20 WHIP with five spots left to fill.
I'll update the draft after another six rounds, expecting it to take three-to-five days.
Charlie Wiegert was the sixth person to be inducted in the Fantasy Sports Hall Of Fame in 2001. He is a founder of CDM Fantasy Sports and Fantasy Sports Trade Association. He has been playing and winning fantasy baseball leagues since 1984. If you have any questions for Charlie, email them to cwiegert@cdmsports.com. Follow him on Twitter @GFFantasySports.