Old Faces in New Places
Fri Feb 12 8:43am ET
By MIKE BARNER
Contributing Writer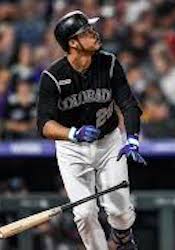 Arenado heads to the Cardinals
The time to start preparing for your fantasy baseball drafts is now! Here at RealTime Fantasy Sports, we'll have a series of draft prep articles coming your way leading up to the start of the regular season. In our first article, we'll discuss some old faces that find themselves in new places, and the impact it could have on their fantasy value.
Francisco Lindor, New York Mets
Lindor has been a hot name in the rumor mill the last couple of seasons since the Cleveland Indians didn't have the funds available to sign him long term. At least, that's what they want you to believe. Regardless, they finally decided to move him this offseason, sending him to the Mets. Under new owner Steve Cohen, the Mets set out to add a big name to their lineup, and they did just that with Lindor.
In terms of fantasy, the move to the Mets should help Lindor. The Indians had a fairly shallow lineup, but the Mets lineup will have plenty of potent bats behind him, especially since he is expected to bat leadoff. Don't be overly concerned about him batting a career-low .258 last season. His 41.1 percent hard-hit rate was right on par with his last few seasons, and the same can be said for 89.9 mph average exit velocity. His barrel rate did decline, but the shortened season also provided us with a somewhat limited sample sized. Add in the possibility that he will be rejuvenated playing for a team with legitimate World Series aspirations and Lindor should once again have an incredibly high floor.
Nolan Arenado, St. Louis Cardinals
Despite signing Arenado to an eight-year extension in February of 2019, the Rockies have already moved on from the star third baseman, trading him to the Cardinals. He was reportedly unhappy with the direction of the Rockies' franchise and the potential of him exercising his opt-out clause in the third season of his deal is likely what pushed the Rockies to make the trade. Now with the Cardinals, he provides a powerful bat in the middle of their lineup. He'll also be a plus for the pitching staff because he is one of the best defenders in the league at third base.
The big question surrounding Arenado is, what will happen to his production now that he's not playing half of his games at Coors Field? For his career, he has a .609 slugging percentage and a .985 OPS there. On the road, he has a .471 slugging percentage and a .793 OPS
We've seen plenty of players provide decreased production after leaving the Rockies, but there are also some who haven't. For example, take into consideration D.J. LeMahieu. His numbers have actually improved since he became a member of the Yankees.
Maybe the bigger concern with Arenado is his shoulder, which hampered his production last season. His hard-hit rate dropped all the way to 33.7 percent, which was the lowest mark of his career. His ISO also plummeted to .181, which is a stark contrast to his career .248 mark. Add that to his change in teams and expecting him to provide muted production compared to seasons past might be reasonable.
Trevor Bauer, Los Angeles Dodgers
After a lackluster 2019 season, Bauer thrived during the brief 2020 campaign. Across his 11 starts, he finished with a 1.73 ERA and a 2.88 FIP. His strikeout rate soared to 36 percent while his walk rate also declined to a career-low 6.1 percent. He was able to parlay that into a massive deal with the Dodgers, forming maybe the most feared starting pitcher trio in baseball with Clayton Kershaw and Walker Buehler.
Bauer is very much into analytics and his focus on his spin rates has been well documented. Is he using a foreign substance to help in that regard? If he is, Major League Baseball hasn't been able to catch him, so far. He's set up to thrive with one of the best lineups in the league providing him run support and a deep bullpen behind him, so expect him to be among the first starting pitchers drafted.
Yu Darvish and Blake Snell, San Diego Padres
There's another team in the NL West that has loaded up on starting pitchers, and that team is the Padres. They had one of the most potent lineups in baseball last season and tried to improve their rotation by trading for Mike Clevinger for a playoff run. However, he will be lost for all of 2021 after underdoing Tommy John surgery. In order to keep their push for a World Series going, they decided to trade for both Darvish and Snell.
Snell is certainly the riskier fantasy option of the two. His 2018 season in which he recorded a 1.89 ERA and a 2.95 FIP seems to be an outlier. He's never had an ERA below 3.24 in any of the four other seasons of his career and he's twice had a FIP of at least 4.19, including his 4.35 FIP in 2020. His strikeout upside is off the charts, so if the Padres decide to pitch him deeper into games than the Rays did, and he can manage to stay healthy, he could still be an excellent fantasy option. The question is, how many innings can he throw given that he has only topped 129 1/3 innings one time in his career?
Darvish should be the first player of these two to be selected in most fantasy leagues, likely as early as the second round. He showed excellent control last season with his 4.7 percent walk rate and he still missed a ton of bats, posting a 31.3 percent strikeout rate. Even with opponents posting a .295 BABIP against him, he was able to record a 2.01 ERA that was backed by a 2.23 FIP. Those numbers will probably be difficult to replicate over the course of a full season, but he could very well finish with an ERA between 3.25 and 3.75 when things are all said and done, as well as a ton of strikeouts.
Marcus Semien, Toronto Blue Jays
Semien had a career year in 2019, but his production in 2020 took some of the glow off of his fantasy appeal. One of the main reasons why he was successful in 2019 was his improved eye at the plate, posting a 11.6 percent walk rate and a 13.7 percent strikeout rate. His walk rate remained elevated at 10.6 percent last year, but his strikeout rate jumped to 21.2 percent in 2020, which is much more in line with his career mark of 20.2 percent. His power numbers also dropped dramatically, finishing with a .152 ISO after posting a .237 ISO in 2019.
It's fair to say that his .285 batting average and 33 home runs in 2019 were a fluke. However, he's a career .254 hitter, so his .223 batting average from 2020 also has plenty of room for improvement. He was partly done in by a .260 BABIP, which was the lowest mark of his career. Now a part of a potent Blue Jays lineup that also added George Springer this offseason, Semien could be primed for a bounce back campaign, although nothing like we saw from him in 2019.
Mike Barner has been covering fantasy sports since 2007. His work has appeared in Sports Illustrated, Yahoo, SportsLine and RotoWire. Mike was also a finalist for the 2018 FSWA Basketball Writer of the Year award. Follow Mike on Twitter @rotomikebarner.