From The Godfather: Tout Wars
Mon Mar 22 10:35am ET
By CHARLIE WIEGERT
Contributing Writer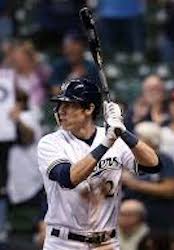 Wiegert hopes for Yelich rebound
One of the longest running and most respected fantasy baseball experts leagues is Tout Wars. Now encompassing seven different leagues, the 15-team mixed league draft offers the best insights for people getting ready to do "snake" style drafts in the coming week. It's a 5 x 5 league, but it uses OPB instead of batting average. Some players ability to get on base a lot, via walks, HBP, etc., adds considerable to value, and in a different way than batting average. So when you see Joey Gallo taken in the fifth round by Ray Murphy of Baseball HQ, it's no mistake!
Here's a link to the Tout Wars 15-team mixed league draft: Tout Wars Draft Board.
The draft order is determined based on last years finish, allowing us to choose our draft spot. When my pick to choose came, about half the spots were gone. I chose the sixth spot, hoping one of the top five would fall to me, and I would get a top starting pitcher with my second pick. I expected starting pitching, especially the top starters, to go early in this draft the same as the FSGA draft, and with one more team, there would be less for everyone.
As what happens in most drafts, things don't always go as expected. The first five taken were Ronald Acuna, Juan Soto, Fernando Tatis, Mike Trout and Mookie Betts. Decision time. Do I take Jacob DeGrom, Trea Turner or Christian Yelich? Knowing the next 18 top players would be gone before I picked again, I decided a top offensive player was needed more. The choice of Yelich over Turner came down to my projecting Yelich having a lot better OPB, more home runs and RBI. And he should still get 20 stolen bases. Let hope last year was a glitch and he returns to the player he was before.
As I expected, eight starters were gone in the next 18 picks. My choice seems easy, an established veteran that should get 200 innings and over 200 strikeouts, Max Scherzer. He's in the last year of his contract, so he has something to play for. And 11 picks later, the run on quality shortstops had taken the top six. One of the top players on my list was list at that point wasXander Bogaerts, who should produce in all five categories, but is a little weak on stolen bases. I was tempted to take Alberto Mondesi, which would have fixed my stolen bases, but I didn't want to sacrifice the other categories.
My fourth pick was Cardinals first baseman Paul Goldschmidt. His ADP said he might still be available my next pick, but I didn't want to take a chance. I expect big things from Goldy with Nolan Arenado hitting behind him this year. Next was a pick I was criticized on SiriusXM radio for, taking Yordan Alvarez and locking up my DH/Utility spot. It's interesting because in my last draft, the FSGA, he was taken in the fourth round and Jim Bowden exclaimed what a great pick Alvarez was, that he expected him to produce huge numbers and be an MVP candidate. I chose to believe the former GM, and hope he turns out to the steal of the draft.
Remembering how I was shut out on catchers in my last draft, I wasn't going to let it happen again. So when the top two catchers were picked, I went for four-category catcher Will Smith. And as I watched pitchers disappearing like raindrops in the ground, I thought I better get my second. Best one on the board was Zack Plesac, giving me solid innings and strikeouts, good ratio and ERA.
I reached that point in the draft to take the best available player that fills opens positions. Matt Chapman filled the bill, another four-category producer. Relief pitchers, ones that get saves were disappearing fast. Kenley Jansen seems to fall into the second tier of closers this year, as many think his time maybe coming. But with eight others gone already, he's got just as good of chance to get 35 saves as anyone left.
My outfield and starting pitchers needed to be addressed, Mike Yastrzemski, Dylan Carlson and Patrick Corbin. Another seasoned veteran for the pitching staff offering solid innings and strikeouts. Two young outfielders, both with great upside, can really make or break this team. If they do better than average, the team competes. If they reach their potential, the team contends. If they flop, I doubt the team overcomes it.
Round 13 and Jean Segura fills my second base spot. He is a safe bet for 15-15-70-70. Tristian Mackenzie, a young upside pitcher with a secure spot in the Indians rotation was next, followed by my second catcher, James McCann. I'm really happy to have two solid contributing catchers. And I really don't want to chase saves on the waiver wire, overbidding FAAB in hopes of getting someone to help that one category. I filled my MI with the Rockies new third baseman, Ryan McMahon, who can also be a fill-in at first base, offering some roster flexibility.
So hopefully the Pirates give the job to Richard Rodriguez and he does well enough to keep it. I'm hoping for 20 saves. And if Daniel Bard can get 20 saves for the Rockies, I should have enough to finish in the top five in the category.
It's time to find roster fillers. To fill out my outfield, David Peralta and Adam Duvall, and my CI spot goes to Eduardo Escobar. The three should produce 80 home runs, 200 plus RBI and runs scored, maybe five stolen bases. Not bad for fillers. I filled my two pitching holes with two young NL competitors, Tony Gonsolin and McKenzie Gore. While both teams will be careful with them and probably limit them to less than 120 innings, those should be great innings.
So to fill my reserves, I went for players to cover my weaknesses. Noah Syndergaard could have a big second half, and I can DL him and roster another player, so not much to lose there on the gamble. Jose Quintana, Johnny Cueto and Miles Mikolas could all be useful for some innings. Joey Wendle covers second, third, short, MI and CI if needed, and Ender Inciarte could get me some stolen bases if he wins the Atlanta centerfield job. If not, a waiver pickup will replace him.
So, how did I do? As I mentioned, the SiriusXM announcers/analysts talked about almost every other team but made comments on my team. Rick Wolf said the projected numbers had me third. By my (actually Baseball HQ projections) gives me an OPB of .350 with 349 HRs, 1,102 RBI, 1,108 runs scored and 71 stolen bases. All numbers exceeding my targets except the stolen bases, which are 50 short. On the pitching side, 70 wins, 80 saves, 1,162 Ks, 3.75 ERA and 1.13 WHIP. The WHIP and saves are good, but the other categories need some help. So I know what to be looking for on the waiver wire. Hopefully, I can find few players to help.
Charlie Wiegert was the sixth person to be inducted in the Fantasy Sports Hall Of Fame in 2001. He is a founder of CDM Fantasy Sports and Fantasy Sports Trade Association. He has been playing and winning fantasy baseball leagues since 1984. If you have any questions for Charlie, email them to cwiegert@cdmsports.com. Follow him on Twitter @GFFantasySports.