From The Godfather: Tout Wars Recap
Fri Mar 11 11:10am ET
By CHARLIE WIEGERT
Contributing Writer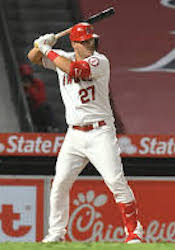 Wiegert takes Trout 9th overall
As we await if and when the MLB season will start, on Tuesday night March 8, 14 fantasy baseball experts and I had one of the industry's most revered drafts, the Tour Wars 15-team mixed league. With the uncertainty of where over 100 remaining free agents will call home this season, the lack of knowledge of starting rotations, closers and lineups, this draft will have more guesswork than usual!
Draft position was based on the finish from last year, so I had the seventh choice. The first six went right in order one to six. I chose to move back a few spots to get a better second pick, and middle picks have more protection for "runs." I chose the nine spot. My goal was to get a top five category hitter with my first pick and a top six pitcher with my second pick. I was targeting Ronald Acuna Jr. and Brandon Woodruff.
Here's a link to see the draft results: Draft Board.
As you can see, Acuna went four and seven of the top hitters as well as top pitcher, Gerrit Cole, were gone before my pick. Of the remaining hitters, the guy who stood out as the top choice was perennial MVP Mike Trout. Not just for his home runs, RBIs, and runs. I expect his stolen bases will fall to 10-15, but his OBP, the category Tout uses instead of batting average, should be a spectacular .420 plus. This is a major help when the team goal is .345. So he'll be great in four of the five categories, and still contribute some stolen bases. And after two subpar seasons with limited playing time, my gut feeling is he wants to reestablish himself as one of the games top players. That motivation makes him dangerous!
My hope for Woodruff lasted until the pick before me, when Perry Van Hook snatched him. I'm sure you all know that feeling. Now what to do. And 30 seconds to decide! I wasn't excited about the next group of pitchers, and Luis Robert, a guy I expected to be gone already, another five-category guy was to good to pass. I'd look for a pitcher next round. And 16 picks later, only four pitchers were gone. My top choice at that point was Lucas Giolito, but one of my favorites, a five category guy who can be a top-three stolen base guy, Starling Marte, was still there. I couldn't pass on him, and took my third outfielder. I'm not sure I've ever started a draft with three outfielders, but the strategy is not all bad when you consider it's a very scare position. At least 75 were going in this draft, so the pickings would get really slim!
You always like starting a draft with your top three picks covering you in all five hitting categories. My projections say my first three picks will be good for 84 HRs, 231 RBIs, 67 SBs, 270 Rs and a .368 OBP. My goals for the draft were 300 HRs, 975 RBIs, 120 SBs, 1,000 Rs and a .345 OBP. So those first picks will go along ways to helping hit those goals. On the pitching side, my goals are 75 wins, 65 saves, 3.25 ERA, 1.14 WHIP, and 1,280 strikeouts.
In a strange quirk, one which the Siriu XM announcers made special note, no starting pitchers were taken in the third round. In fact, 22 picks went by, which was broken by me taking Giolito. How rare a guy you almost took in the third round lasts until your next pick, 13 picks later. Then six of the next 16 picks were starting pitchers, which led me to taking my second starter, Cards ace Jack Flaherty. Two starters on two teams that are favored to win their divisions should mean wins to go with solid ERA, WHIP and strikeouts.
The next five picks were aimed at value, position filling, and counting stats. Nolan Arenado fills the bill, followed by Cody Bellinger (who will hopefully get dual eligibility at 1B at some point, but for now my fourth outfielder). Jared Walsh covers the other corner, and between the three, another 100 HRs and 250+ RBIs. I filled a big hole in the middle infield with Dansby Swanson and followed with starting pitcher Tyler Mahle, looking to get 200Ks.
I was satisfied with my first 10 picks and was thrilled to hear SiriusXM announcer Jim Bowden remark that he really liked my start, the best of the 15 drafters. Coming from the former GM and the foremost fantasy baseball analyst, I'm happy with the start.
The next article will look at the rest of the draft, and the excitement that we will have a baseball season. Plus, hopes that the two free agents I picked, Nelson Cruz and Zack Greinke, now get signed by great teams to maximize their use.
Charlie Wiegert was the sixth person to be inducted in the Fantasy Sports Hall Of Fame in 2001. He is a founder of CDM Fantasy Sports and Fantasy Sports Trade Association. He has been playing and winning fantasy baseball leagues since 1984. If you have any questions for Charlie, email them to cwiegert@cdmsports.com. Follow him on Twitter @GFFantasySports.