Training Camp Preview: AFC South
Wed Jul 24 10:12am ET
By JEFF PAUR
Sr Fantasy Writer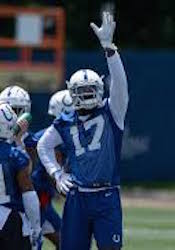 Funchess looks to start
This is the third preview in a series of training camp previews. We will continue to release the previews throughout the week. The previews give you a quick look at each team, going over position battles and injuries to watch in camp. The season is right around the corner.
Titans
The Titans were close last year but just missed out on the playoffs. The team made a few more changes this offseason and look to get over the hump. The big thing to watch this camp is the development of Marcus Mariota. This could be a make or break year for him. He needs to take his game to another level if the Titans hope to make the playoffs on a yearly basis. He battled injury much of last year, though, but seems to be over that. Mariota is likely the key to the Titans season.
Position battle: The Titans are pretty crowded at receiver this year. The big battle should be for the starter opposite Corey Davis. Tajae Sharpe and rookie A.J. Brown should battle for that job. Sharpe has been a bit of a disappointment to start his career but has been around and knows the offense. Brown is an exciting, young talent but might take some time to get up to speed to the pro game. This should be a close battle this training camp.
Injury watch: Tight end Delanie Walker broke his ankle the first game of last season and missed the rest of the year. He is healthy and ready for the start of training camp, but his health is something to keep an eye on. Walker turns 35 just before the start of the year and is coming off a season he played just a game. He can be a big part of the offense if he rebounds well from his injury.
Colts
The Colts had a good season last year and will look to have a great one this season. The team is on the upswing and have a lot going for them. There isn't a whole lot to decide in camp but keeping Andrew Luck healthy is key. He came back strong last year and could be even stronger this season. The Colts need Luck on the field and leading the way offensively. He makes this offense click.
Position battle: The Colts made some changes at receiver this offseason, signing Devin Funchess and drafting Parris Campbell. This guys will compete for the right to start opposite TY Hilton. Funchess has done well in spurts throughout his career but has not played in an offense like this before. He could flourish in a more pass-happy system. Campbell is a speed burner at receiver that could be the top deep threat for the Colts this year even if he doesn't start. He will be stiff competition for Funchess.
Injury watch: Tight end Eric Ebron had offseason groin surgery. He missed most of offseason workouts but was near full strength during minicamp. He should be ready to go for training camp and not be limited. His injury situation is still something to keep an eye on, though. Ebron had a huge first season with the Colts and should be setup for more big things this year.
Jaguars
The Jaguars took a step backwards last year. The team really disappointed, especially offensively. The team will need to get things going on that side of the ball if they hope to return to the playoffs. Jacksonville made a big splash this offseason, signing Nick Foles to take over as their starting quarterback. Foles might be the key to the season for the Jaguars. He can play at a high level but has lacked some consistency throughout his career. It will be interesting to see how he does in this offense, moving from the Eagles to the Jaguars.
Position battle: It seems like this is the case every year but the Jaguars have some things to sort out at receiver once again. Chris Conley, Marqise Lee, Keelan Cole, Dede Westbrook and Terrelle Pryor will fight it out for playing time. Lee might be the only sure thing but is returning from a torn ACL and might not be ready for the start of the season. Westbrook is a good fit for the slot and seems destined to serve that role. Conley is a free agent acquisition that could play a big role with a strong camp and preseason. Cole has done well in spurts and has plenty of talent but lacks consistency. Pryor is a wild card. He has done little in past years but is a former 1,000-yard receiver.
Injury watch: Receiver Marqise Lee tore his ACL last season and missed the entire season. He is still recovering from the major injury and might not be ready until late in camp and preseason action. He will have a big role in the offense once healthy, but nothing is certain about his status right now. You'll want to check out his status in camp and preseason action before deciding if he is worth a draft pick this year.
Texans
The Texans won a very good division last year and will look for a repeat this season. The pieces are certainly in place for good things from this team. The big key for this team the last few seasons has been staying healthy. When that happens, good things tend to happen for the Texans. But when some key pieces get hurt, things don't go so well for Houston. So for now, just staying healthy this camp and preseason is something the Texans hope happens.
Position battle: The Texans should have a pretty good battle for the tight end spot with Jordan Thomas, Jordan Akins, and rookie Kahale Warring looking to start. Thomas is the odds on favorite to start but isn't going to be handed anything. Akins and Warring will get their chances as well to show their stuff. Warring is the most intriguing of the two. He is a good pass catcher and has the potential to improve in a hurry.
Injury watch: Receiver Will Fuller tore his ACL last year and missed most of the year. He is recovering well, though, and expects to be ready for Week 1. We'll know more when camp and preseason action gets underway. Fuller will need to get some work in and show he is healthy to get the go ahead for Week 1. Fuller just produces when he is on the field but has endured injury issues throughout his career. Hopefully, this year is different for him.
Jeff Paur is a two-time finalist for FSWA Fantasy Football Writer of the Year and won the FSWA award for Best Fantasy Football Article on the Web in 2011. He also was the most accurate expert in 2012, winning the FSTA Fantasy Football Accuracy Award. If you have any questions for Jeff, email him at jeff@rtsports.com. Follow Jeff on Twitter @jeffpaur.