Lineup Prep: Week 1
Wed Sep 4 9:34am ET
By JEFF PAUR
Sr Fantasy Writer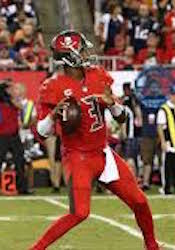 Winston setup for big Week 1
Notice
: Undefined variable: league in
/rtfs/football/php/syndicated-news.php
on line
136
Notice
: Trying to get property of non-object in
/rtfs/football/php/syndicated-news.php
on line
136
I think I say something similar every season but it really rings true for me. There is no better time for a fantasy owner than Week 1 of the season. We all have hope for winning that championship. All our hard work is now going to be put to the test, showing that our draft decisions were shrewd and on the mark. It is a great time, filled with hope and happiness for the start of another football and fantasy football season. Here is to hoping you have a great Week 1!

Before I get to my random thoughts for the week, I wanted to give you a quick rundown of our content plan for this year at RealTime Fantasy Sports. We will have more original content than ever this year. I will be providing four columns a week: Studs and Duds, Waivering, Lineup Prep and Injury Status. I also will post a weekly mailbag, weekly rankings and a podcast. We will have two additional writers, Mike Barner and Charlie Wiegert, providing content. Barner is going to do a weekly DFS column, and Wiegert will provide his fantasy thoughts for the week, talking about waiver-wire pickups, games to target and other fantasy info. We are thrilled to have so much original content for you this season and hope you have a great fantasy season.
Now for my random thoughts. . . . .
First off, if I'm a Damien Williams owner, I'm worried about the team signing LeSean McCoy. I don't think McCoy has much left in the tank but I also don't think the Chiefs sign him if they don't have some concerns about Williams as their starter. I think Williams is going to have to start fast to erase any doubts Andy Reid might have using him as their starter. If Williams has any hiccups the first few weeks, I would be worried about McCoy really cutting into his playing time going forward. This is not a good situation for fantasy teams.
The other late move before the start of the season was the Texans acquiring Carlos Hyde. Hyde is another player I'm not super high on based on his last few seasons, but he is the clear best lead back for the Texans right now. He should get the chance to start once he learns the offense. Duke Johnson still has more fantasy value in my view because he is going to serve as the third-down back. I like his reception potential in this offense. Hyde might be worth the occasional flex play but I don't see him producing big - even in a starting role.
Here are a few things I'm excited about for Week 1. First off, I'm anxious to see Kyler Murray in action. I know he had some struggles during the preseason but that was the preseason. This is for real now, having a chance to run the entire offense and getting his full compliment of weapons. I think Murray can be a fantasy star.
I'm interested to see how the Colts offense operates with Jacoby Brissett the full-time starter now. I know he has started in the past but this is different. He is the official man now and gets to run the show. So how big of a dropoff will the offense see with Brissett starting? We won't get the complete picture after just a week but a tough road game against a good defense will be a good test for Brissett.
I am also excited about the prospects of the Bucs offense. Will Jameis Winston finally take that big step forward and be a superstar? This offense has a chance to be special if Winston plays more consistent football and gets all his talent involved. I have invested a lot in Bucs during fantasy drafts, so I'm hoping things start off well for the Bucs in Week 1.
I know the team is a train wreck but I'm kind of interested to see the Dolphins offense. Ryan Fitzpatrick has posted some big numbers, so don't discount this unit to still help fantasy teams even if they don't win games. There needs to be some receivers that will step up to catch passes - like an Albert Wilson. And Kenyan Drake might not be starting, but he is another Dolphin I'm keeping an eye on. He is a dual threat that was 14th overall in fantasy running back scoring last year. He could end up being a steal for all the fantasy teams that took him in the mid to late round of drafts.
Lastly, I'm interested to see how Cam Newton looks. We have seen little from him throwing the ball all camp and preseason, so it will be good to see him throw the ball in a game. How strong will his arm be after another surgery this offseason? Newton has a favorable fantasy schedule and a lot of weapons to work with, so if he is healthy and on his game, Newton can be an elite fantasy quarterback once again.
As always, don't forget to check out our weekly rankings: Week 1 Rankings.
News and Notes: The Cowboys signed running back Ezekiel Elliott to a six-year contract extension Wednesday. He will report to practice and is expected to play this week. . . . .The Rams signed quarterback Jared Goff to a four-year contract extension Tuesday. . . . . .The 49ers' unofficial depth chart lists running back Matt Breida as the team's No. 1 back over Tevin Coleman.This guys are likely to split work but this is something to take note. Breida is playing his way into a big role this season.
HOT PLAYS
Jameis Winston, QB, Bucs. Winston had an erratic season last year, losing out on playing time to veteran Ryan Fitzpatrick. Winston is the man this year, though, and has the confidence of new head coach Bruce Arians. He also is playing in a pass-first offense that has produced big numbers for past fantasy quarterbacks. Winston plays the 49ers to open the year, a team that struggles defensively. San Francisco allowed the seventh most fantasy points to quarterbacks last year and didn't do much to shore up the secondary during the offseason.
Will Fuller, WR, Texans. Fuller had 100-yard games three of the seven games he played last year. He also scored four touchdowns in those seven games. Needless to say, he made plays when on the field. The issue for Fuller has been staying healthy. He is ready to go this year, though, and should be a big factor in this pass-first offense. Fuller has a matchup to start his season off well, playing the Saints. New Orleans allowed the most fantasy points to receivers last year and were just 25th against the pass in the preseason.
Kerryon Johnson, RB, Lions. Johnson is healthy and ready to go for the '19 season. He showed flashes of great things last year but didn't make it through the year healthy, impacting his numbers. Another positive for him this year is Theo Riddick gone. This could open the door for even more chances for him offensively, getting utilized in the passing game more. Johnson has a good matchup to start his season off well, playing the Cardinals. Arizona was a mess defensively in the preseason, allowing the most rushing yards of any team. And this is a team that allowed the second most fantasy points to running backs last year.
Tevin Coleman, RB, 49ers. Coleman might not start but he is going to play a lot in this offense. He is very familiar with this system and has excelled in past years. This is a positive for Coleman to get back his mojo after struggling some last season. Coleman plays a bad Bucs defense to start his season. Tampa allowed the third most fantasy points to running backs last year. Coleman scored touchdowns in both games he played Tampa last season.
Adam Thielen, WR, Vikings. Thielen was arguably the best fantasy receiver in football the first half of last season. He was pretty mediocre the second half of the year, though, causing his fantasy stock to drop. We aren't quite as down on him as others. Even though his numbers were down late last year, he was still getting his catches. He had five or more receptions five of his last seven games. He can still be a huge fantasy factor, especially in this offense. Thielen plays the Falcons in Week 1, a team that allowed the fifth most fantasy points to defenses. This game is setup to be a shootout with a lot of fantasy points to be had on both sides.
COLD PLAYS
Derek Carr, QB, Raiders. Carr is looking much better this year, having Antonio Brown to work with as his No. 1 receiver and some other additions on the offensive side of the ball. He is going to have some big games this year. But for this week, we might avoid Carr. He has a tough matchup to start his season, playing the Broncos. Carr had one touchdown in two games against the Broncos last season. Denver allowed the ninth fewest fantasy points to quarterbacks last year and were fifth against the pass during the preseason.
Kalen Ballage, RB, Dolphins. Ballage has emerged as the starter for the Dolphins this year but that doesn't mean he will be a great weekly fantasy play. He had some struggles during the preseason and just lost his starting left tackle to a trade. This doesn't bode well for Ballage going forward. Plus, Kenyan Drake is lurking over him to steal carries. Bale starts his season against the Ravens, a team that was first against the rush during the preseason and allowed the second fewest fantasy points to running backs last year.
Sammy Watkins, WR, Chiefs. Watkins is always capable of the big game in this explosive offense, but he is more of a matchup play at this point. He was not targeted double-digit times in any game last season. Travis Kelce and Tyreek Hill are the top options in this offense on a weekly basis. Watkins will produce some big games but you can't trust him as a weekly play, especially this week against the Jaguars. Jacksonville allowed the third fewest fantasy points to receivers last year and was ninth overall against the pass during the preseason.
Aaron Jones, RB, Packers. Jones gets a chance to start from day one this year in a new offense with a new coach calling plays. This bodes well for Jones to finally have that breakout season. Jones could disappear some weeks in an offense that could be pass heavy, though. And he isn't matchup proof just yet. Green Bay plays a very good Bears defense this week. Chicago allowed the fewest fantasy points to running backs last season.
Sterling Shepard, WR, Giants. Shepard is the No. 1 receiver for the Giants now with Odell Beckham gone. This should mean a lot of weekly targets for him. The issue is he has a shaky quarterback throwing him passes and could be double teamed many weeks with few other options in the passing game for the Giants. Shepard is still setup for his best season to date but he could have some hiccups along the way. He has a tough game to open his season, getting the Cowboys. In two games against Dallas last year, Shepard had seven receptions for 91 yards. If you have better options, go with them.
SLEEPERS
Josh Allen, QB, Bills. Allen had 21 or more points four of his last five games to end last year. He finished on a high note and hopes to carry that over to this year. He has a great matchup to start his year, facing the Jets. He scored 24.4 points against the Jets last year in Week 14. New York was dead last against the pass during the preseason and allowed the sixth most fantasy points to quarterbacks last season. Allen is a sneaky play in Week 1.
Duke Johnson, RB, Texans. Johnson might not be starting for the Texans with Carlos Hyde now on board, but he still figures to be on the field plenty. He is the pass-catching back for a team that is going to throw a lot. Johnson is going to be a productive fantasy player, producing consistent fantasy numbers because of his reception totals. Johnson could get a workout in the passing game this week, playing the Saints. This is setup to be a high-scoring game. Both teams have high-powered offenses and some question marks on the defensive side of the ball. Johnson is a good flex play in this one.
Malik Turner, WR, Seahawks. Turner has a chance to open this season as the starter opposite Tyler Lockett because of an injuries to rookie D.K. Metcalf and David Moore. Turner is no sure thing by any means but getting a chance to start in a good offense against a below average defense (Bengals) makes Turner someone to put on your radar. He is a good route runner with pretty good speed for the position. He is capable of the big play with the ball in his hands.
Hunter Henry, TE, Chargers. Henry might be a forgotten man because he missed all of last season because of a torn ACL, suffered before the season. But don't forget about him. He is the top tight end on a team that uses the tight end often. Antonio Gates produced some huge numbers in this offense. Henry is capable of matchup the production of Gates from past seasons. He is a legit No. 1 tight end. Henry has a chance to start off the season fast, playing the Colts. Indy really struggled to stop the tight end last year, allowing the second most fantasy points to tight ends.
Justice Hill, RB, Ravens. Hill might not be starting but he is going to play a weekly role in this offense. The Ravens are going to run, run and run the ball some more. This means there will be plenty of weekly carries to go around, including Hill. Baltimore has a great matchup for their rushing offense this week, playing the Dolphins. Miami just traded off half their team and are going to be in rebuild mode all season. The Dolphins allowed the seventh most fantasy points to running backs last year.
High/Low Scoring Games
Each week we will take a look at some of the high and low scoring games for the coming week. In high scoring affairs, get your marginal players on those teams in your lineup to take advantage of the possible points barrage. And in the low scoring games, keep those marginal players on the bench and make sure to have your defenses involved in those contests.
High Scoring Games: Falcons/Vikings, Rams/Panthers, 49ers/Bucs, Steelers/Patriots, Texans/Saints.
Low Scoring Games: Ravens/Dolphins.
Jeff Paur is a two-time finalist for FSWA Fantasy Football Writer of the Year and won the FSWA award for Best Fantasy Football Article on the Web in 2011. He also was the most accurate expert in 2012, winning the FSTA Fantasy Football Accuracy Award. If you have any questions for Jeff, email him at jeff@rtsports.com. Follow Jeff on Twitter @jeffpaur.