Studs and Duds: Week 1
Mon Sep 9 8:19am ET
By JEFF PAUR
Sr Fantasy Writer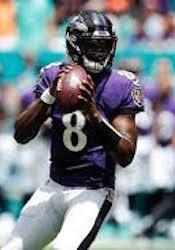 Jackson has huge Week 1
The games weren't quite as exciting the NFL probably hoped for Week 1, but there were some big fantasy performances along the way. Passing games were a big factor once again with 12 quarterbacks hitting the 300-yard mark. And nine quarterbacks had three-touchdown games.
Rushing games weren't nearly as prolific. There were just five running backs that hit the 100-yard mark. It was a disappointing showing from the position, especially from some of the expected breakout or bounce-back candidates.

It shouldn't come as a big surprise that the receiver position enjoyed some success for fantasy owners. It wasn't a huge showing from the position, though. as it seems quarterbacks spread the ball around a little more than usual. There were 14 100-yard receivers.
Tight ends got in on some of the fun in the passing game. We had three 100-yard tight ends, which is pretty good for the position.
Hopefully, you got off to a fast start in all your fantasy leagues and enjoyed success in Week 1. Here are the recaps from the first week of the season. . . . .
Packers 10, Bears 3
Fantasy Stud: Allen Robinson. Robinson had a very encouraging start to his season. He caught seven passes for 102 yards. He made plays all over the field and was the clear favorite target of Mitchell Trubisky. Robinson would be looking even better if he had a better passer throwing him the ball. Trubisky continued his erratic ways in the opener, which is a concern for Robinson.
Fantasy Dud: David Montgomery. The offseason hype for Montgomery was met with a thud in Week 1. He did have the most carries out of the Bears backs but had just one more than Mike Davis. Montgomery ran six times for 18 yards. His most impressive play was a 27-yard reception but that was his only catch. Montgomery might emerge as the clear lead back at some point this year, but that isn't right now. He could be erratic early in the year, splitting work with two other backs.
Game Notes: Marquez Valdes-Scantling led the Packers in receiving, catching four passes for 52 yards. He had better numbers than No. 1 receiver Davante Adams, who had four receptions for 36. Geronimo Allison didn't even have a catch in the game and was targeted just once.
Aaron Jones got his chances in Week 1 but didn't do much. He ran 13 times for 39 yards and caught a pass for no gain. The good news is backup Jamaal Williams didn't get much work, rushing five times for no yards. Jones is the top back in an offense that looks to run the ball more this year.
Ravens 59, Dolphins 10
Fantasy Stud: Lamar Jackson. Jackson put on a show in this one. He displayed his passing ability, going 17-of-20 for 324 yards and five touchdowns. He ran just three time for six yards as the Ravens look to be limiting his rushing attempts after last year. Jackson showed his huge fantasy potential. Just remember, this game was against the lowly Dolphins.
Fantasy Dud: Kenyan Drake. You could pick any Dolphin for this honor but Drake gets it since he has the most fantasy potential on the team. Drake ran just four time for 12 yards and caught two passes for 15 yards. Kalen Ballage actually got more carries for the Dolphins but ran five times for a negative yard. Drake is clearly the best option but could still struggle because of a poor offensive line.
Game Notes: Marquise Brown made quite the splash in his NFL debut. He caught four passes for 147 yards and two touchdowns. He scored on an 83-yard touchdown pass. Brown has a chance to be the top receiver in this offense.
Mark Ingram looked great as the starter for the Ravens. He ran 14 times for 107 yard and two touchdowns. He averaged a robust 7.6 yards per carry. He didn't even lead the team in carries, though, with Gus Edwards getting 17 rushes for 56 yards.
Vikings 28, Falcons 12
Fantasy Stud: Dalvin Cook. Cook showed why so many fantasy owners were high on him for this year. He ran 21 times for 111 yards and two touchdowns. He also caught two passes for nine yards. Cook just needs to stay healthy. He has huge potential in this offense, an offense that is expected to be a lot more run heavy. The Vikings attempted just 10 passes in the game.
Fantasy Dud: Devonta Freeman. Freeman was a big dud for fantasy owners in Week 1. He ran eight times for 19 yards and lost a fumble. It was a really disappointing start for Freeman, coming off an injury-plagued season. Backup Ito Smith had more success running the ball, rushing six times for 31 yards.
Game Notes: Stefon Diggs was able to play with his hamstring injury but caught just two passes for 37 yards. The good news is he was able to play and didn't get hurt any further.
Kirk Cousins was just 8-of-10 for 98 yards and a touchdown without a turnover. Cousins had at least 30 pass attempts 13 of 16 games last year. This could be a new approach for the Vikings offense this year, though.
Titans 43, Browns 13
Fantasy Stud: Derrick Henry. Henry picked up where he left off last year. He ran 19 times for 84 yards and a touchdown. Henry also had a reception that went for a 75-yard touchdown. So he finished the game with 159 total yards and two touchdowns. It was an encouraging first game for Henry and the entire Titans offense. Hopefully, this is a sign of things to come for him.
Fantasy Dud: Baker Mayfield. The hype was huge for Mayfield coming into the season and he really was a dud in the opener. Mayfield did throw for 285 yards and a touchdown but was intercepted three times. So he scored just once and turned the ball over three times. Things can get better for him going forward, but this game likely sent many Mayfield owners into a panic.
Game Notes: Rookie A.J. Brown was the top receiver for the Titans, catching three passes for 100 yards. He could be a big part of this offense all season.
Odell Beckham made his Browns debut and caught seven passes for 71 yards. It was not a huge game but Beckham made some plays and moved the chains. He should get better as he gains a better rapport with Mayfield.
Bills 17, Jets 16
Fantasy Stud: Jamison Crowder. Crowder didn't score a touchdown but sure made his presence known in this offense. He had 14 receptions for 101 yards. Crowder also ran once for four yards. He could really rack up the receptions in this offense all season long. Crowder can be a target monster out of the slot.
Fantasy Dud: Robby Anderson. Anderson had a pretty poor first game of the season. He had three receptions for 23 yards, averaging just 7.7 yards per reception. He didn't show his usual big-play ability in the game. Anderson could be up and down like this all season for fantasy owners.
Game Notes: Frank Gore started at running back and led the team in carries, rushing 11 times for 20 yards. He averaged just 1.8 yards per carry. Rookie Devin Singletary was not on the field enough at running back because he made plays with his chances. Singletary ran four times for 70 yards and caught five passes for 28 yards. Expect more work from Singletary in the coming weeks.
Le'Veon Bell was busy in his Jets debut. He had 17 carries for 60 yards, and caught six passes for 32 yards and a touchdown. Bell had 23 total touches in the game. This should be the norm for Bell throughout the season.
Eagles 32, Redskins 27
Fantasy Stud: Case Keenum. Keenum was a big surprise, picking apart the Eagles defense throughout the game. He was 30-of-44 for 380 yards and three touchdowns without a turnover. Keenum was very sharp in the game and hit a host of options, completing passes to eight different players. Keenum should continue to throw often with the team being unable to run the ball.
Fantasy Dud: Derrius Guice. Guice had his struggles in his first NFL start, having a hard time finding running room behind this offensive line. Guice had 10 carries for 18 yards. He also had three receptions for 20 yards. The good news is Adrian Peterson was a healthy scratch and Guice dominated carries at running back. He seems to be the guy at running back for the Redskins.
Game Notes: DeSean Jackson was happy to be back with the Eagles, catching eight passes for 154 yards and two touchdowns. He made several big plays in the passing game.
Rookie Terry McLaurin led the way at receiver for the Redskins. He had a huge game, catching five passes for 125 yards and a touchdown. The speedster looks to be a big part of this passing game.
Rams 30, Panthers 27
Fantasy Stud: Christian McCaffrey. McCaffrey proved why some teams took him first overall in fantasy drafts. He had a monster game, similar to last year. McCaffey hit the 100-yard mark rushing and had double-digit receptions. He ran 19 times for 128 yards and two touchdowns. And he had 10 receptions for 81 yards, finishing with 209 total yards and two touchdowns. This guy is a machine.
Fantasy Dud: Cam Newton. Newton looked healthy and threw the ball pretty well, but did not help fantasy owners. He was 25-of-38 239 yards and an interception. He also lost a fumble, giving him two turnovers without a touchdown in the game. He'll get better going forward, but this game was a bummer for Newton owners.
Game Notes: Malcolm Brown got the goal-line chances in this game, much to the dismay of Todd Gurley owners. Brown had 11 carries for 53 yards and two touchdowns. Gurley ran 14 times for 97 yards, averaging 6.9 yards per carry.
DJ Moore had a nice start to his second season. He led the receivers for the Panthers, having seven receptions for 76 yards. He could get a lot of targets in this offense on a weekly basis.
Chiefs 40, Jaguars 26
Fantasy Stud: Sammy Watkins. Watkins had a career game, catching nine passes for 198 yards and three touchdowns. He was a huge part of the offense from the start and could have an even bigger role going forward with Tyreek Hill injured. Watkins is known for up and down play, though, so we'll see if he can sustain this performance throughout the season.
Fantasy Dud: Damien Williams. We know he scored and his overall fantasy numbers weren't terrible, but Williams owners have to be really considered because LeSean McCoy outplayed him in the game. Williams ran 13 times for 26 yards and a touchdown while McCoy had 10 carries for 81 yards. This has to be a concern for Williams going forward. McCoy could start cutting into his playing time in a hurry.
Game Notes: Nick Foles suffered a broken left collarbone early in the game and is going to be out about six to eight weeks. He was injured on a 35-yard touchdown pass, taking a hit on the play. Rookie Gardner Minshew takes over going forward and looked good in this game. He was 22-of-25 for 275 yards and two touchdowns with an interception.
Tyreek Hill also injured his collarbone and was forced from the game. His official diagnosis is not known yet, but early indications are he is going to miss at least a few weeks of action. He did not suffer a break but apparently had to head to the hospital because of the injury.
49ers 31, Bucs 17
Fantasy Stud: 49ers defense. The 49ers defense scored twice, both on interception returns for scores. The 49ers had three interceptions in game and also recovered a fumble. The team also had three sacks. We wouldn't expect this showing every week for the San Francisco defense but it was good to see the defense take some steps forward in Week 1.
Fantasy Dud: Jameis Winston. Winston was a complete disaster in Week 1. He turned the ball over three times and failed to top 200 yards against a bad defensive team. Winston made some crucial mistakes at critical times. He is yet to take a big step forward in his career and this first game was not encouraging for fantasy teams. It was a very bad showing.
Game Notes: Tevin Coleman injured his ankle during the game and was unable to return. He six carries for 23 yards and two receptions for 33 yards before the injury, finishing with 56 total yards on eight touches. Keep an eye on the player notes for the latest on the injury.
Ronald Jones took the lead at running back for the Bucs. He was a big part of the offense in the second half and played his best football to date. He ran 13 times for 75 yards compared to Peyton Barber, who ran eight times for 33 yards.
Chargers 30, Colts 24
Fantasy Stud: Austin Ekeler. Ekeler put on a show, making the Chargers help forget about holdout Melvin Gordon. Ekeler scored three touchdowns in this game, including the game-winning score in overtime. Ekeler had 12 carries for 58 yards and a touchdown. He also had six receptions for 96 yards and a touchdown, giving him 154 total yards. Ekeler can continue to produce big weekly numbers in this offense because of his dual threat ability.
Fantasy Dud: Eric Ebron. Ebron had a disappointing first game. He had just a catch for eight yards. He scored an apparent touchdown but had it overturned because he was ruled not to have control of the ball through the catch. Ebron might have a hard time repeating last year, racking up at the scores in this offense.
Game Notes: Mike Williams suffered a knee injury during the game and was not able to return. Williams had two receptions for 29 years before suffering the injury.
Marlon Mack showed he could be the centerpiece of the Colts offense moving forward with Andrew Luck out. Mack got a ton of work and played great for his team. He ran 25 times for 174 yards and a touchdown. He also converted a two-point try late in the game.
Seahawks 21, Bengals 20
Fantasy Stud: John Ross. Ross came out of nowhere to lead the way for the Bengals, finally coming up big for the team that drafted him high a few years back. Ross caught seven passes for 158 yard and two touchdown. He made several big plays and showed off his big-time speed. Ross could continue to play a big role in this offense all season, gaining confidence from this performance.
Fantasy Dud: Joe Mixon. Mixon ran six times for 10 yards and caught two passes for seven yards. He also left the game early because of some sort of ankle injury. The good news for Mixon is the Bengals offense actually looked pretty good, so if he can get healthy, he might produce some good numbers despite this game.
Game Notes: Andy Dalton had a great showing on the road against a good defense. He looked great in the Bengals new offense, going 35-of-51 for 418 yards and two touchdowns without an interception. He did lose two fumbles in the game.
DK Metcalf was the leading receiver for the Seahawks, catching four passes for 89 yards in his first NFL game. Metcalf looked the part of a big-time NFL receiver.
Cowboys 35, Giants 17
Fantasy Stud: Dak Prescott. Prescott played one of the best games of his career, finishing 25-of-32 for 405 yards and four touchdowns without a turnover. He made plays, made the right reads and moved the football with ease. He has some to receivers to work with now and a great offensive line blocking for him. This could be a career year for Prescott.
Fantasy Dud: Sterling Shepard. Shepard was pretty quiet for the Giants throwing the ball 48 times. Shepard had six receptions for 42 yards. He was pretty quiet in a game the Giants threw the ball all over the field. This might not be the case most weeks, but Shepard is no sure thing in this offense.
Game Notes: Saquon Barkley got just 15 touches in the game but still managed to finishing with 139 total yards. He ran 11 times for 120 yards, averaging 10.9 yards per carry.
Michael Gallup showed he is ready for a breakout year in season two. He led the Cowboys in receiving, catching seven passes for 158 yards.
Lions 27, Cardinals 27
Fantasy Stud: T.J. Hockenson. The rookie tight end came up huge in his first game, being the top target for the Lions passing game. He finished with six receptions for 131 yards and a touchdown. Hockenson looks to be a big part of this offense and could be setup for a very big rookie season.
Fantasy Dud: Kerryon Johnson. Johnson did not have the game most expected, getting a very favorable matchup to start his season. He got the work but did not produce much for fantasy teams. He ran 16 times for 49 yards, averaging just 3.1 yards per carry. He also caught only two passes for 13 yards. It was not the game fantasy owners hoped with this matchup.
Game Notes: Matthew Stafford looked healthy and ready to put last season behind him. He played well, going 27-of-45 for 385 yards and three touchdowns without an interception.

Kyler Murray did not start his first ever game well but sure finished with a flourish, showing his big potential as an NFL signal caller. He led the team to 18 fourth quarter points to tie the game. Murray was 29-of-54 for 308 yards and two touchdowns with an interception. He also converted a two-point try with a pass to Christian Kirk.
Patriots 33, Steelers 3
Fantasy Stud: Tom Brady. Brady had a dominating game, showing he still has plenty left in the tank. He was 24-of-36 for 341 yards and three touchdowns without a turnover. Remember, he is getting Antonio Brown next week, too. Brady could really rebound for fantasy owners this year in this offense. He is setup for big things with a suddenly very deep receiving corps.
Fantasy Dud: Sony Michel. Michel was one of the only downers for the Patriots in this game. He got 15 carries but managed just 14 yards. He did very little with his work, getting outplayed by Rex Burkead, who ran eight times for 44 yards. Michel won't be losing his job anytime soon, but he'll need to pickup his play if he hopes to keep getting so much work.
Game Notes: Phillip Dorsett had four receptions for 95 yards and two touchdowns. This might be his best game of the year with Brown coming into the fold next week, which could cut into the playing time of Dorsett.
Josh Gordon was back for the Patriots and had three receptions for 73 yards and a touchdown. He looked solid and ready for a big season if he can stay clean.
Jeff Paur is a two-time finalist for FSWA Fantasy Football Writer of the Year and won the FSWA award for Best Fantasy Football Article on the Web in 2011. He also was the most accurate expert in 2012, winning the FSTA Fantasy Football Accuracy Award. If you have any questions for Jeff, email him at jeff@rtsports.com. Follow Jeff on Twitter @jeffpaur.