RTFFC Week 1 Wrap Up
Tue Sep 10 4:30pm ET
By ChrisToeFer
Contributing Writer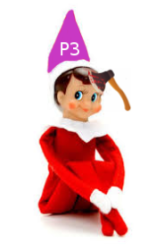 AxeElf for the win in RTFFC Purple
Greetings from RTFFC Headquarters and the desk of Commissioner Toe. We're traveling through the RTFFC leagues this year covering and highlighting a different league color each week, this week we're highlighting the infamous RTFFC Purple. For those not familiar, RTFFC is the RealTime Fantasy Football Championship. Each RTFFC color includes 12 leagues, each league competes individually for prizes, and at the end of the season the top 16 teams from those 12 leagues compete for an overall $10,000 prize. This season there are 9 RTFFC colors.
So lets address the big purple elephant in the room right up front. There has been considerable whining, complaining, griping, and publicity concerning the draft of R.Yost (aka AxeElf ) in the infamous Purple 3 (P3©) draft (click to view). Fortunately for us in the league office, his players out-performed their owner and actually secured a win in Week 1. Not only that but they have the third most points in P3© and are 33rd/144 in all of Purple. Additionally, the top Purple 3 team in the overall standings is in 18th place and not sniffing any overall winnings currently. RTSports and the RTFFC League Headquarters have canceled their vacation plans prior to the end of the season and Defcon 5 has been lowered to Defcon 2.
Top Teams
This week's top Purple league team is R.Offerson's Bobo's Monkeys 1 team with a 195.2, highlighted by great showings from Patrick Mahomes and Sammy Watkins. They also rolled out Le'Veon Bell, Dalvin Cook, Courtland Sutton, and have Desean Jackson sitting on their bench, so this team could be for real.
The top team across all the RTFFC colors is B.Roberson's team from Black 4, which put up 198.9 points in Week 1. They were led by Watkins, Evan Engram, David Johnson, and Josh Jacobs, with Jamison Crowder sitting on their bench. There's quite a few teams in the 190+ point range that look pretty solid after Week 1. If your team has 150+ points, you're in the top 20 of your RTFFC and doing great. Under 75 points and you need to hit the waiver wire a bit harder this week.
Bottom Teams
And if you're feeling down about your team(s), just be happy you don't have the all-disappointment team that only scored 9 more points than Sammy Watkins in Week 1. Things have to get better, but the team of Garoppolo, Jones III, Michel, Adams, Diggs, Hill, Kittle, Badgley, Chargers put up stinkers across the board.
Waiver Gems and Gaffs
We had some interesting waiver activity in Week 1. The highest priced get in the Purple leagues was by a perennial shoot-my-wad-early bidder who shall not be named, but who spent $397 for Dare Ogunbowale (seven points) in Purple 7 and 8. Adding insult to that injury is the fact that Ogunbowale was picked up in 10 other RTFFC leagues for under $20. Whoops.
Other top dollar waiver gets across all leagues were $550 for Jakobi Meyers (two points), $511 Josh Gordon (16 points), $407 Darren Waller, also by mr. shoot-my-wad (14 points), $403 Justin Jackson (seven points), $300 Mark Andrews (25 points), $300 Ty Montgomery (no points), $300 Giovani Bernard (eight points).
Top waiver gems by value would have to be these guys all picked up for $1: John Ross (35 points), Marquise Brown (31 points), Phillip Dorsett (26 points), Jamison Crowder (24 points), and Malcolm Brown (24 points).
Current League Leaders
| | | | |
| --- | --- | --- | --- |
| League Color | Points | Team | Owner |
| RTFFC Black | 198.90 | BigPun | B.Roberson |
| RTFFC Silver | 197.30​ | Assassins RT SILVER-7 | S.Fleming |
| RTFFC Green | 196.55 | Code Green Rain | A.Curry |
| RTFFC Purple | 195.20 | Bobos Monkeys 1 | R.Offerson |
| RTFFC Gold | 187.40 | From Li By Way of Brooklyn | T.Edwards |
| RTFFC Red | 185.85 | Ribeye Express RTFFC 8.24 | R.Lucas |
| RTFFC Platinum​ | 185.70 | Wiggly Worm | B.Eiler |
| RTFFC White | 177.70 | Rivershark 303 | C.Samora |
| RTFFC Blue | 177.20 | Bippidi Boppidi Broke | A.Klein |
Good luck and don't forget to get those waiver claims in before Wednesday and Friday night waivers this week.
ChrisToeFer has been working in the fantasy industry since 2008. His day job is developing apps and other software such as DFS, draft, and auction rooms. His alter-ego is chief cat-herder in the RTSport chat rooms, trying to maintain some semblance of order.