Lineup Prep: Week 2
Wed Sep 11 8:33am ET
By JEFF PAUR
Sr Fantasy Writer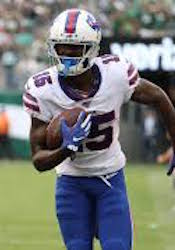 Brown looking good for Week 2
Notice
: Undefined variable: league in
/rtfs/football/php/syndicated-news.php
on line
136
Notice
: Trying to get property of non-object in
/rtfs/football/php/syndicated-news.php
on line
136
Before I get to my random thoughts for the week, I just wanted to mention something. Don't overreact to the first week of the season. That means dropping players that had a bad game or spending all your FAAB money on player that had a big game. You need to remember that the season is a long one. Things even out over time. I'm not saying you should ignore what happened this first week, but don't go crazy one way or the other. It is a loooooooooooong season.
With that said, here are my random thoughts for the week. . . . .
I was really impressed with the Bengals offense. This was a big surprise for me. I think their new coach, Zac Taylor, has that unit headed in the right direction. Andy Dalton was getting the ball out quicker than I have seen him in past seasons and utilizing a lot of weapons. I'm bumping all these players up in my weekly rankings. I think their arrow is pointing up.
My big dud of the week was Jameis Winston. I was really high on for the coming year and he laid an egg in Week 1. I know it was just a week but he looked terrible against a below average defense. He just hasn't made much progress since entering the league and I'm not holding out hope the light goes on anytime soon. I do think he still has some big games this year but more inconsistency is going to come for Winston. Not good.
I can't fathom the Giants not giving Saquon Barkley more weekly touches. He had just 15 touches in the opener but still managed 139 total yards. This guy needs 20-plus touches every game. If he doesn't get that work, the offensive coordinator should be fired. He is one of the best players in all of football. Craziness.
Tyrell Williams could end up being a steal for all the fantasy owners that were able to get him. He is the unquestioned No. 1 receiver in this offense and has a chance to rack up the weekly targets. He is setup for a career year and could be a No. 2 fantasy receiver much of the year.
And speaking of the Raiders, Darren Waller lived up to the preseason hype. He was on the field almost the entire game and was targeted eight times, catching seven passes for 70 yards. Just look at what Jared Cook did last year and expect Waller to match or exceed that in this offense. He is going to have a huge fantasy season.
Lamar Jackson looked amazing, missing on just three passes while topping 300 yards and throwing five touchdown passes. And he ran the ball just three times. I'm still not convinced he is going to be an elite fantasy quarterback based on one game against a terrible Dolphins team. I don't expect him to have this much success throwing the ball on a weekly basis, especially against better defenses. And remember, he attempted just 20 passes last week, which is a very low number. I still consider him a low-end No. 1 or No. 2 fantasy quarterback.
Austin Ekeler and Justin Jackson did nothing to help Melvin Gordon's cause. Both backs looked great with their chances and proved the Chargers offense can function just fine with Gordon not in the mix. This does not bode well for the Chargers caving to Gordon's contract demands. As for Ekeler and Jackson, I like both backs for fantasy purposes. Ekeler is a legit No. 2 back in my view because of his reception potential. And I think Jackson can be a decent streaming flex play. He'll get near double-digit touches on a weekly basis.
Lastly, I'm not sure when all the Antonio Brown drama will end. This is unreal. You have to hold onto him if you drafted him but at this point, I would be preparing for the worst. This guy has been a train wreck most of the offseason. I really didn't think playing time would be an issue for him based on his track record. He was a bit crazy and a diva the last several years but that never cost him games. Well, that isn't the case anymore. This is spiraling out of control. Not good.
As always, don't forget to check out my weekly rankings here: Week 2 rankings.
News and Notes: The Jets are releasing kicker Kaare Vedvik and are expected to sign Sam Ficken. The Jets traded for Vedvik but he struggled in the preseason and the first game of the year. Ficken will get his chance to earn the job going forward. . . . .The Patriots traded receiver Demaryius Thomas to the Jets in exchange for a 2021 sixth-round draft pick on Tuesday. Thomas adds some veteran depth to the Jets passing game. . . . .New Patriots receiver Antonio Brown has been accused of raping his former trainer, according to a federal lawsuit filed Tuesday in South Florida. Stay tuned. The drama continues on for Brown.
HOT PLAYS
Tom Brady, QB, Patriots. Brady had 29 fantasy points and threw for 341 yards and three touchdowns without an interception in the opener. He looked tremendous, showing no signs of slowing down. And now he gets Antonio Brown to work with starting this week. Brown is suddenly looking very good for fantasy teams after seeing his stock drop this offseason. Brady gets the Dolphins this week, a team that allowed 378-passing yards to a Ravens team that is not known for throwing the ball.
Derrick Henry, RB, Titans. Henry got off to a fast start, looking like the back that ended last season on such a high note. He had 159 total yards and two touchdowns against a pretty good Browns defense. Things are looking even better for him this week against the Colts. The Colts allowed the second most fantasy points to running backs in Week 1 and 125-rushing yards. Henry is a must play in this matchup.
John Brown, WR, Bills. Brown was targeted 10 times in Week 1 and caught seven passes for 123 yards and a touchdown. He is the top target in this Bills offense and should get plenty of weekly chances. He can do more damage this week against the other New York team, the Giants. New York was a mess defensively last week, allowing the most fantasy points to receivers. The Giants could not stop any of the Cowboys receivers, seeing Amari Cooper and Michael Gallup run wild in the secondary. This bodes well for Brown to repeat his big Week 1 performance.
Leonard Fournette, RB, Jaguars. Fournette didn't have a huge Week 1 but was solid. He had 13 carries for 66 yards and caught four passes for 28 yards, giving him 94 total yards. He also was targeted six times in the game, which is encouraging. Fournette could be the focal point of the offense the next several weeks with a rookie quarterback now at the helm. He gets the Texans this week, a team that couldn't stop the Saints rushing attack last week. Houston allowed the third most fantasy points to running backs Week 1.
Michael Gallup, WR, Cowboys. Gallup made big play after big play in Week 1, catching seven passes for 158 yards. He really looks to have taken a step forward from last year and the new offense is a plus for his abilities, taking more chances down the field. Expect Gallup to get plenty of chances to push the ball downfield this week against the Redskins. Washington could not contain DeSean Jackson last week. The Redskins allowed the fourth most fantasy points to receivers.
COLD PLAYS
Aaron Jones, RB, Packers. Jones lands on the cold list for the second straight week. Jones struggled against a good Bears defense last week, rushing 13 times for 39 yards. And he caught just a pass in the game, getting fewer than five fantasy points. It was a dud of an opener for Jones. It could be more of the same this week against the Vikings, a team that allowed the third fewest fantasy points to running backs in Week 1. Minnesota allowed just 73-rushing yards last week.
Emmanuel Sanders, WR, Broncos. Sanders looked great in his first game back from a torn Achilles. He caught five passes for 86 yards and a touchdown. The entire Broncos offense did not look good against a mediocre Raiders defense. This is not a good sign for Denver and Sanders. He'll have a much tougher game this week against the Bears, a team that allowed the second fewest fantasy points to receivers last week. Sanders is a player to leave on your bench despite his good showing last week.
Kirk Cousins, QB, Vikings. The Vikings attempted just 10 passes last week, leaning heavily on the run. Cousins looked just fine with his work but the few amount of pass attempts is a concern. This could be a trend in the Vikings new offense, being a run-first team. Cousins is a player to avoid this week, playing the Packers. Green Bay looked great defensively last week against the Bears, shutting down Mitchell Trubisky and the passing game.
James Conner, RB, Steelers. Conner was a huge bust in the opener, rushing 10 times for just 21 yards. The entire Steelers offense was a mess, which is a concern right now. Conner isn't a player to give up on by any means, but another below average game could be in the works for Week 2. Conner plays the Seahawks, a team that allowed the fourth fewest fantasy points to running backs last week.
Jamison Crowder, WR, Jets. Crowder was a monster to open the season, catching 14 passes for 99 yards on 17 targets. It was quite the showing in his first game with the Jets. He is going to get a lot of targets throughout the season. But even with that said, he isn't a sure thing for fantasy teams based on his track record. He could be pretty mediocre some weeks, especially in tough matchups for the Jets. And a game against the Browns isn't a great one for Crowder this week. Cleveland was a huge bust last week and should come out with a lot more urgency this week. The Browns also allowed the fewest fantasy points to receivers in Week 1.
SLEEPERS
Andy Dalton, QB, Bengals. The Bengals lost the opener but played a good game on the road against a tough defense. It was a very encouraging game for Dalton in the new Bengals offense, going 35-of-51 for 418 yards and two touchdowns without an interception. And he did this without A.J. Green, who remains out because of injury. Dalton has an easier matchup this week against the 49ers. San Francisco looked better defensively last week, but Jameis Winston really struggled for the Bucs. Dalton and the Bengals offense can exploit this defense, making Dalton a sneaky play for fantasy teams.
Latavius Murray, RB, Saints. Murray didn't have a huge opener but was solid, playing the Mark Ingram in the Saints offense this year. He had six carries for 43 yards and a touchdown, and caught two passes on three targets. He is going to get around double-digit touches per game. He can improve on last week against the Rams in Week 2. Los Angeles allowed the most fantasy points to running backs in Week 1.
KeeSean Johnson, WR, Cardinals. Johnson was heavily involved in the passing game Week 1, catching five passes for 46 yards on 10 targets. The amount of targets is a great sign as well as Johnson starting the game as the No. 3 receiver. We know the Cardinals are going to throw the ball a lot, so as long as Johnson remains the No. 3 receiver, he has value to fantasy teams. The Ravens are a tough matchup for the Cardinals but if the offense is going to have any success, it is likely through the air, giving Johnson some chances once again.
Vernon Davis, TE, Redskins. Davis got the start last week because Jordan Reed was injured once again. Davis took advantage, catching four passes for 59 yards and a touchdown on seven targets. Reed could return this week but nothing is certain with him. If Davis starts, he could post good numbers against the Cowboys. Dallas could not stop Evan Engram last week, so look for Davis to get a workout in this one.
Duke Johnson, RB, Texans. Johnson had a solid opener for the Texans, getting 90 total yards on 13 touches. Johnson made plays as both a runner and receiver. He should continue to get 15 or so touches per week in a great Texans offense. Johnson has a favorable matchup this week against the Jaguars, a team that struggled to stop the Chiefs running backs in Week 1. Jacksonville allowed the fifth most fantasy points to running backs last week.
High/Low Scoring Games
Each week we will take a look at some of the high and low scoring games for the coming week. In high scoring affairs, get your marginal players on those teams in your lineup to take advantage of the possible points barrage. And in the low scoring games, keep those marginal players on the bench and make sure to have your defenses involved in those contests.
High Scoring Games: Bucs/Panthers, Chiefs/Raiders, Saints/Rams, Eagles/Falcons.
Low Scoring Games: Bears/Broncos.
Jeff Paur is a two-time finalist for FSWA Fantasy Football Writer of the Year and won the FSWA award for Best Fantasy Football Article on the Web in 2011. He also was the most accurate expert in 2012, winning the FSTA Fantasy Football Accuracy Award. If you have any questions for Jeff, email him at jeff@rtsports.com. Follow Jeff on Twitter @jeffpaur.