Waivering: Week 2
Tue Sep 15 9:58am ET
By JEFF PAUR
Sr Fantasy Writer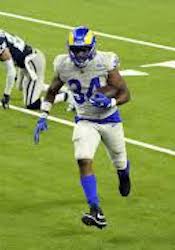 Brown got big workload Week 1
This list is pretty populated this week but just remember, there are a lot of players that won't pan out going forward. Please keep your expectations in check after one week of action. Hopefully, some of the players do work out and can help the rest of the way. But please be judicious with your waiver-wire money when it comes to bidding. Don't blow all your money this first week. These are just a few words of wisdom before getting to the possible additions to your team.

QUARTERBACKS
Mitchell Trubisky, Bears. Trubisky had a really slow start but last week but picked it up in a big way, finishing with 242 yards and three touchdowns without an interception. He is never a sure thing but has some really favorable matchups the next few weeks, making him worth a look. He plays the Giants and Falcons his next two contests.
Gardner Minshew, Jaguars. This might be one of the last few weeks Minshew is available on the waiver wire. He has near perfect in the opener, going 19-of-20 for 173 yard and three touchdowns without an interception. He continues to provide the big game for fantasy teams. Minshew is available in 54 percent of leagues.
RUNNING BACKS

Nyheim Hines, Colts. Even before Marlon Mack was injured last week, Hines was getting his work in the Colts offense. He finished with two touchdowns and eight receptions. Philip Rivers loves to throw the running back and Hines is the top pass-catching back, so don't be surprised if Hines gets a lot of targets on a weekly basis. Hines is available in 39 percent of leagues.
James Robinson, Jaguars. Robinson was the surprise starter for the Jaguars at running back and played pretty well in that role. He ran 16 times for 62 yards and caught a pass for 28 yards, giving him 90 total yards. He looked the part of an NFL back, so he has some value for fantasy teams. Robinson remains available in 44 percent of leagues.
Peyton Barber, Washington. Barber didn't start for Washington but led the team in carries and got the goal-line work. He ran 17 times for 29 yards and two touchdowns. His production with his carries is a concern but if he keeps getting the goal-line work and double-digit touches Barber will have some fantasy value.
Malcolm Brown, Rams. Brown was not the Rams back that was expected to lead the way in that backfield, but that was the case in Week 1. Brown got the most carries and did well with his work, rushing 18 times for 79 yards and two touchdowns. He also caught three passes for 31 yards, giving him 110 total yards. Brown might not lead this backfield in carriers every week but is going to have a role in this offense, making him worth a roster spot in all formats. He is available in 77 percent of leagues.
Jerick McKinnon, 49ers. McKinnon didn't get a ton of touches for the 49ers in their opener but got some touches and found the end zone. He ran three times for 24 yards and caught three passes for 20 yards and a touchdown. With Tevin Coleman doing little with his work, McKinnon could be playing his way into a bigger role in a hurry.
Myles Gaskin, Dolphins. Gaskin was maybe the surprise of the day, getting a lot of work at running back for the Dolphins while outproducing Matt Breida and Jordan Howard. Gaskin ran nine times for 40 yards and caught four passes for 26 yards. This might be the case going forward for Gaskin, getting double-digit touches for the Dolphins. He looked good in Week 1.
Joshua Kelley, Chargers. Kelley served as the top backup for the Chargers and looked good in that role. He ran 12 times for 60 yards and a touchdown. It would not surprise to see him getting double-digit touches on a weekly basis in the Chargers run-heavy offense.
Frank Gore, Jets. LeVeon Bell injured his hamstring and might have to miss some time. That leaves Gore as the starter for the Jets. Gore is not going to produce huge in this offense but any starting back in the NFL is going to have some fantasy value. He is worth adding if you need some tuning back depth.

Benny Snell, Steelers. James Conner is already hurt, leaving Snell as the possible starter. Snell had a great debut last week, producing big as the lead back for the Steeler. He hit the 100-yard mark rushing. Snell is available in 63 percent of leagues and is worth picking up in all formats. His ceiling is high as the starter in this offense.
WIDE RECEIVERS

Russell Gage, Falcons. Gage was a big factor as the No. 3 receiver for the Falcons in the opener. He had nine receptions for 114 yards on 12 targets. This probably isn't a fluke, either, playing in the Falcons pass-heavy offense. Gage won't do this every week but certainly has some upside going forward.

Sammy Watkins, Chiefs. Watkins was boom or bust last year, so you don't want to look too much into one game. But Watkins had a big opener and showed he can still be a factor in this offense. Watkins had seven receptions for 82 yards and a touchdown. He is still available in 44 percent of leagues.
Parris Campbell, Colts. Campbell led the way at receiver for the Colts in Week 1. He had six receptions for 71 yards and ran once for nine yards. The talented second-year receiver was not healthy much of his rookie year, so this game shouldn't come as a huge surprise. He has a chance to have a big second season. Campbell remains available in 53 percent of leagues.

Tre'Quan Smith, Saints. The injury to Michael Thomas might open the door for Smith to get some more playing time and targets in the passing game. Smith was getting some hype during the offseason and training camp. He also has been a player that was hyped in past seasons, so don't discount him going forward. He could get his chance if Thomas misses any time.

TIGHT ENDS
Logan Thomas, Washington. Thomas emerged as the starter for Washington this offseason and showed well in the opener. He was getting a lot of hype in training camp, so this solid showing isn't a huge shock. Thomas had four receptions for 37 yards and a touchdown on eight targets. This could be a common theme for Thomas throughout the season.
O.J. Howard, Bucs. Howard outproduced Rob Gronkowski in Week 1 for the Bucs. He had four receptions for 36 yards and a touchdown. Howard might have the better season of the two Buc tight ends. He could have a breakout year with Tom Brady as his quarterback. Howard is still available in 72 percent of leagues.
Jeff Paur is a two-time finalist for FSWA Fantasy Football Writer of the Year and won the FSWA award for Best Fantasy Football Article on the Web in 2011. He also was the most accurate expert in 2012, winning the FSTA Fantasy Football Accuracy Award. If you have any questions for Jeff, email him at jeff@rtsports.com. Follow Jeff on Twitter @jeffpaur.