Lineup Prep: Week 2
Wed Sep 16 9:24am ET
By JEFF PAUR
Sr Fantasy Writer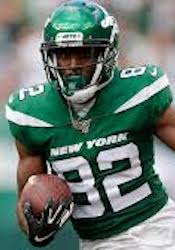 Crowder setup for more success
Notice
: Undefined variable: league in
/rtfs/football/php/syndicated-news.php
on line
143
Notice
: Trying to get property of non-object in
/rtfs/football/php/syndicated-news.php
on line
143
We have one week in the books. It was an interesting first week of the season, having a little bit of everything. There were some big games. Some fantasy stars disappointed. And we had some unfortunate injuries to key players. So it was just a normal week in the NFL for the most part. The best news was there was football, though. That is my big takeaway. Let's hope we can keep it going. I know I'm looking forward to Week 2.
Now for my random thoughts. . . . ..

If you are a Michael Thomas owner, that is a huge loss to overcome. But don't fret. You can get through this. Just try to tread water until he is back in the lineup. The receiver position is deep this year, so hopefully you have options available to help. It is not all doom and gloom for Thomas owners. It is very early and he might not miss much time. Throwing in the towel because of the injury won't help matters.
Saquon Barkley might be the most talented back in the game, but if he doesn't get any help for him offensive line, it could be another long season for him. The Giants were a mess blocking for him last week. I know it was an unfavorable matchup for him but the showing wast still a concern for me. That line looked awful. Hopefully, they can get it going for all those Barkley owners out there. We'll see. . . . .
There are lots of waiver wire running back options this week but my favorite is Nyheim Hines. I just think he has a ton of upside as the top pass-catching back on this roster. Just think of Austin Ekeler the last few years with the Chargers. This is what Hines is capable of with Philip Rivers as his starting quarterback. I expect him to get five-plus receptions every game this year. He is not going to be a touchdown dependent player. He is going to get his weekly targets. Running backs for the Colts last week caught 17 passes!

So if the Jaguars were tanking their season to get Trevor Lawrence, they might want to think again about that first pick. Gardner Minshew continues to impress me. He has the "it" factor and just makes plays. I think he is an above-average NFL starter. I also think he is worth some spot starts for fantasy teams. The Jaguars are going to have some trouble running the ball this year, so don't be surprised if Minshew posts some big passing numbers along the way.
I don't think Tom Brady is done after one week of action. Sure, it was a disappointing first game. He was on the road against one of the best teams in all of football, though. And he hasn't had the normal offseason, getting acquainted with his offense and teammates. I think he will get going. This stuff can take some time. It was just a game. I still have faith in Brady with all the offensive weapons that surround him.
I would not be surprised as all if Davante Adams leads all fantasy receivers in scoring. He was targeted 17 times in the opener and Aaron Rodgers seems on a mission to prove all his doubters wrong. This bodes well for Adams to have a career-best season. He is going to get a weekly workout as the clear top receiver in this offense
I know JuJu Smith-Schuster scored two touchdowns and was the most productive fantasy receiver for the Steelers, but I was more impressed with Diontae Johnson. Johnson led the team in targets with 10, having four more than Smith-Schuster. It is clear that Ben Roethlisberger likes to look for Johnson. He is going to have a breakout year in an offense that looks to be pretty potent.
I could not be more excited about the prospects of the Cardinals offense. Arizona put up some points and yards against a top 49ers defense in the opener. Kyler Murray was on point and looked like a player that has taken a step forward in year two. And DeAndre Hopkins didn't seem to miss a beat with his new team. This offense has a ton of weapons with one of the top young quarterbacks in the game at the helm. The Cardinals offense has the makings of being pretty special this year.
I'm really intrigued by Cam Newton after his Week 1 performance. Sure, the Patriots don't have much at the receiver spot, but that hasn't stopped Newton in the past from producing big for fantasy teams. If he can run the ball like he did the first week of the year and sprinkle in a few passing touchdowns, he really has a chance to be a top-10 fantasy quarterback. Remember, he has two seasons with double-digit rushing touchdowns. Newton can be a difference maker when he is making consistent plays on the ground, which is likely how the Patriots will utilize him this year. Let's just hope he can stay healthy.

Don't forget to check out my weekly rankings here: Week 2 rankings.
News and Notes: The Jets signed running back Kalen Ballage on Tuesday. New York is looking to add depth at running back because of the injury to LeVeon Bell. . . . .The Patriots signed kicker Nick Folk to the 53-man roster Tuesday. He should take over the starting kicking duties for the team. . . . .San Francisco signed receiver Mohamed Sanu on Tuesday. He gives the team some much needed depth at the position and could play a role in a hurry with his new team.
HOT PLAYS
Allen Robinson, WR, Bears. Robinson had a decent first game of the season, catching five passes for 74 yards on nine targets. He got a lot of looks once again, which should be a trend all season. Robinson gets a great matchup in Week 2 against a Giants defense that seems to have a lot of holes once again. New York allowed the third most fantasy points to receivers in Week 1. Robinson can hit the 100-yard mark in this one.
Drew Brees, QB, Saints. Brees might be without Michael Thomas this week and his opener was just alright, but don't bet against him to post big numbers in Week 2. He plays the Raiders, a team that allowed Teddy Bridgewater to throw for 260 yards against them last week. Brees can have a much better showing this week even if Thomas doesn't play. The Saints have enough weapons in the passing game to do some damage to the Raiders secondary.
Ronald Jones, RB, Bucs. Jones got most of the work for the Bucs in Week 1, rushing 17 times for 66 yards. He also caught two passes for 16 yards, giving him 82 total yards. This came against a very good Saints defense, though. Jones actually ran well, considering how much room to run was out there for him. He is the lead back right now for the Bucs, getting 19 touches compared to six for Leonard Fournette. If he gets that much work again this week against the Panthers, look for big things from Jones. Carolina was torched by Josh Jacobs last week.
Jamison Crowder, WR, Jets. Crowder was the top target for the Jets last week and that should be the case much of the year. He had seven receptions for 115 yards on 13 targets. The 49ers have a good defense but don't let that scare you off from using Crowder. The Jets could get down in this game, being forced to throw more. Plus, DeAndre Hopkins had double-digit receptions against the 49ers last week, so it is possible for Crowder to produce big even in a close game.
Nick Chubb, RB, Browns. Chubb had a ho hum first week, rushing 10 times for 60 yards. He also caught a pass for six yards. It was a decent showing against a very good Ravens defense. Things get much easier for him this week against the Bengals. Chubb had a 100-yard showing against the Bengals last year. Cincinnati allowed 155-rushing yards in their opener.
COLD PLAYS
Carson Wentz, QB, Eagles. It is hard to trust the Eagles offense right now, mainly because of all their injuries along the offensive line. Wentz was running for his life last week and that should be the case again this week against the Rams, a team that has Aaron Donald along their defensive line. The Rams also did a good job of holding an explosive Cowboys offense in check, allowing the 12th fewest fantasy points to quarterbacks. Until the Eagles get healthier, you might want to leave Wentz on your bench.

Melvin Gordon, RB, Broncos. Gordon had a pretty good start to his Broncos career, rushing 15 times for 78 yards and a touchdown. He also caught three passes for eight yards, giving him 86 total yards on 18 touches. Those numbers aren't eye popping, though. He was held in check much of the night until late in the game. That could be the case again this week for Gordon against the Steelers. Pittsburgh absolutely dominated the Giants rushing attack, holding Saquon Barkley to just six yards on 15 carries. Gordon might have a hard time repeating his production from last week.
Robby Anderson, WR, Panthers. Anderson had a fantastic first game with the Panthers, catching six passes for 115 yards and a touchdown. He got most of his production on his 75-yard touchdown reception, being held 40 yards on his other five catches. Anderson is going to be worth starting along the way this year because he is a big-play threat. But he is likely going to disappear some weeks, especially in an offense that probably won't force many big plays down the field. Anderson has a tough matchup this week against the Bucs, a team with a solid secondary. Tampa allowed the second fewest fantasy points to receivers last week.
Frank Gore, RB, Jets. Gore might be starting but that doesn't mean he belongs in fantasy lineups. He ran six times for just 24 yards last week and didn't catch a pass. He might get some carries and the goal-line work for the Jets, but he is going to be a touchdown dependent player at this stage of his career. And we don't see him finding the end zone against the 49ers. There are better options out there than Gore.
Tyrod Taylor, QB, Chargers. Taylor had a disappointing first start for the Chargers. He had a great matchup against the Bengals but was only able to manage just more than 11 fantasy points. He failed to score a touchdown and ran for just seven yards. This game was a prime matchup for Taylor and he did next to nothing. He is not a player to put in fantasy lineups until he starts showing something on the field. He gets the defending Super Bowl champs this week, so go with other options.
SLEEPERS

Philip Rivers, QB, Colts. Rivers had a 300-yard showing his first game with the Colts, throwing for 363 yard and a touchdown against the Jaguars. This was a favorable matchup and Rivers took advantage with a 20-plus fantasy point showing. Rivers will be worth using on a spot start basis for fantasy teams. And this week is another good matchup for Rivers, playing the Vikings. Minnesota had a lot of turnover at cornerback this offseason and it showed last week, getting torched by the Packers. The Vikings allowed the third most fantasy points to quarterbacks in Week 1.

Antonio Gibson, RB, Redskins. Peyton Barber might have gotten more carries last week, but he didn't do much with those chances. His fantasy day was aided by two scores. Gibson was the better back of the two and should continue to get double-digit touches in this offense. He has a chance to really build on last week, playing the Cardinals this week. Arizona allowed the second most fantasy points to running backs in the opener. Look for Gibson to break off a few big plays in this one.
Joe Burrow, QB, Bengals. Burrow had a pretty good debut against a good Chargers defense. He completed 23-of-36 passes for 193 yards and ran for 46 yards and a touchdown. He produced just fewer than 20 fantasy points without throwing a touchdown pass. Things will get better for the rookie, especially in better matchups. And this week against the Browns is a good matchup for Burrow. The Browns look to have some defensive issues once again this season. Cleveland allowed the fourth most fantasy points to quarterbacks last week, making Burrow a good spot play in this one.
Diontae Johnson, WR, Steelers. Johnson led the Steelers in targets in Week 1, getting targeted 10 times in the game. He caught six passes for 57 yards, producing solid numbers. It was a good start to the season for Johnson, who seems setup for a breakout year with Ben Roethlisberger as his quarterback. Denver was middle of the road against the pass last week against the Titans, so look for the Steelers to have some success throwing the ball. It would not surprise to see Johnson build on his opener.
Zack Moss, RB, Bills. The good news for Moss in the opener was he found the end zone and had 12 touches in the game. The bad news is he managed just 27 total yards with all his work. But either way, Moss is going to be a big part of this offense, especially with Devin Singletary giving Moss every opportunity to take the starting job away from him. The Bills should have a lot more success running the ball this week against the Dolphins, a team that allowed 217-rushing yards in Week 1. Moss is worth using as a flex play in Week 2.
High/Low Scoring Games
Each week we will take a look at some of the high and low scoring games for the coming week. In high scoring affairs, get your marginal players on those teams in your lineup to take advantage of the possible points barrage. And in the low scoring games, keep those marginal players on the bench and make sure to have your defenses involved in those contests.
High Scoring Games: Bengals/Browns, Falcons/Cowboys, Panthers/Bucs, Chiefs/Chargers, Ravens/Texans, Saints/Raiders.
Low Scoring Games: Vikings/Colts, Broncos/Steelers.
Jeff Paur is a two-time finalist for FSWA Fantasy Football Writer of the Year and won the FSWA award for Best Fantasy Football Article on the Web in 2011. He also was the most accurate expert in 2012, winning the FSTA Fantasy Football Accuracy Award. If you have any questions for Jeff, email him at jeff@rtsports.com. Follow Jeff on Twitter @jeffpaur.