Wagner returns to practice for Seahawks after brief absence
Fri Aug 16 4:37pm ET
By TIM BOOTH
AP Sports Writer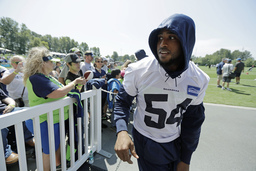 Seattle Seahawks linebacker Bobby Wagner heads to the locker room after giving autographs following NFL football training camp, Monday, Aug. 5, 2019, in Renton, Wash. (AP Photo/Ted S. Warren)
RENTON, Wash. (AP) Bobby Wagner was back in pads and on the practice field for the Seattle Seahawks on Friday although it remains unclear when, or if, the All-Pro linebacker will see any action during the preseason.
Wagner missed most of the past two weeks following a minor procedure on his knee. He took part in Seattle's mock game on Aug. 3 then became a spectator.
The question now is whether Wagner will see the field in one of Seattle's final three preseason games. It's unlikely he will play Sunday night when the Seahawks face the Vikings in Minnesota, but there's a chance he could play in the third game against the Los Angeles Chargers. Seattle has traditionally not played many - if any - starters in the final preseason game.